Wisconsin offense gets rolling in second half, breezes past Hoosiers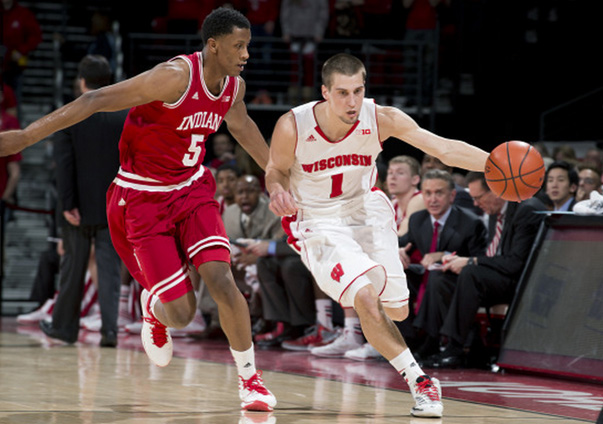 MADISON, Wis. — The opening minutes of the second half have been a telling sign for the Hoosiers on the road this season. A good start, a potentially good result. A bad start, a not-so-pretty final score.
On Tuesday night at the Kohl Center, with Indiana leading the Wisconsin Badgers by 10 points at halftime, it would again prove to be a telling scenario.
And less than 5:30 into that final 20 minutes, Wisconsin had completely erased its halftime deficit. It wouldn't look back, either, as the Badgers (23-5, 10-5) pulled away and eased over the Hoosiers (15-12, 5-9) in a 69-58 win.
"The bottom line is they got some looks and they made them," Indiana coach Tom Crean said following the game. "And in the first half they weren't getting as many of those looks."
In those opening 20 minutes, the Hoosiers, indeed, shut the Badgers down — they averaged only .70 points per possession and a 27.8 effective field goal percentage (7-for-27 from the floor). The Indiana defense defended the dribble well and the Badgers weren't getting their desired looks, going just 1-for-10 from beyond the arc.
But halftime this season has been trouble for the Hoosiers when they have played the first 20 minutes well. And it was clear from the start of the second half in Madison which second half effort the Hoosiers would show.
Just 17 seconds in, Wisconsin's Traeveon Jackson (14 points) drove to the basket and earned a lay-up. Indiana's first possession, Noah Vonleh (18 points) rushed a jumper which resulted in another two Badgers points.
"They were running all of the same sets they were running (in the first half)," sophomore Yogi Ferrell (24 points) said. "But we just broke down defensively. You know, just a lack of communication; just wasn't talking."
Suddenly, the Badgers started hitting 3-pointers. Four straight, to be exact.
Indiana, as Crean pointed out after the game, wasn't defending the dribble as well. Ferrell noted how the Hoosiers were over-helping on defense despite the Badgers "not really" doing anything different on offense. The only thing that was different: The Badgers were now hitting their shots thanks to their open looks.
At one point in the second half, the Badgers averaged 1.88 points per possession. They finished shooting 13-of-21, 6-of-11 on 3s and with a 76.2 eFG%.
And on a night in which the Hoosiers simply couldn't match each blow the Badgers dealt them — only five Hoosiers scored and more than two-thirds of their total 58 points came from just Vonleh and Ferrell — the second half did Indiana in, once again.
"They got some good looks because we were in rotation a little bit, and they got hot," Crean said. "The basket started looking pretty big for them."
Mosquera-Perea returns to action
After it was announced just minutes before tipoff that Crean had reinstated Hanner Mosquera-Perea, the 6-foot-8 sophomore forward saw his first minutes of action Tuesday night, just 11 days after his arrest on Feb. 14 for Operating While Intoxicated.
Mosquera-Perea had been suspended for both the Purdue and Northwestern games but came into Tuesday night's game with 12:18 on the clock in the second half at Wisconsin. He played a total 2:15 on the evening without compiling any official statistics, otherwise.
"In the short period of time, he's done what he's needed to do," Crean said on his decision to play Mosquera-Perea. "He's done it with a great attitude and he's gone above and beyond it. And I wanted to be able to give this back, bit by bit."
That said, Crean told reporters the discipline Mosquera-Perea will face — whatever that might be — is "not even remotely close to being anywhere near finished."
In fact, Mosquera-Perea only found out about Crean's decision to play him when the Hoosiers coach brought him to the front of the team bus on the way to the Kohl Center. Crean said throughout Mosquera-Perea's discipline, he has been playing with the scout team instead of with Indiana's active squad.
"We're in for the long haul with him, he's in for the long haul," Crean said. "I just wanted to have him available tonight. He went in for a couple minutes, but hopefully he can continue to grow from this off the court and be able to get better on the court."
A quick turnaround
Less than an hour after Crean, Ferrell and Noah Vonleh spoke to the media in Madison, the Hoosiers were in the air, en route to Bloomington.
The Hoosiers returned to Indiana early Wednesday morning and will have just a day to prepare for Thursday night's game against No. 20 Iowa, who also arrived in Bloomington just a half hour before the Hoosiers and is coming off a 95-89 loss at Minnesota on Tuesday.
"We just go with what it is," Crean said.
Crean said he and his team will watch tape from Tuesday night's loss on Wednesday and will have to make the proper corrections in time for Thursday's game, a make-up of last week's game that was postponed due to a metal beam falling from the Assembly Hall ceiling.
As far as specific preparations for Iowa go, Crean reiterated during Monday's Big Ten coaches teleconference how pleased he was with his team's preparation prior to last Tuesday's scheduled game. He said he will try to repeat some of that same information on Wednesday but also sensed urgency on Tuesday, just before their trip back to Indiana.
"We've just got to get ready to play," he said. "It's going to be two teams that are coming off a loss that are going to be really hungry to win."
(Photo credit: David Stluka, UWBadgers.com)
Filed to: Hanner Mosquera-Perea, Wisconsin Badgers