Five takeaways from Indiana's loss at Wisconsin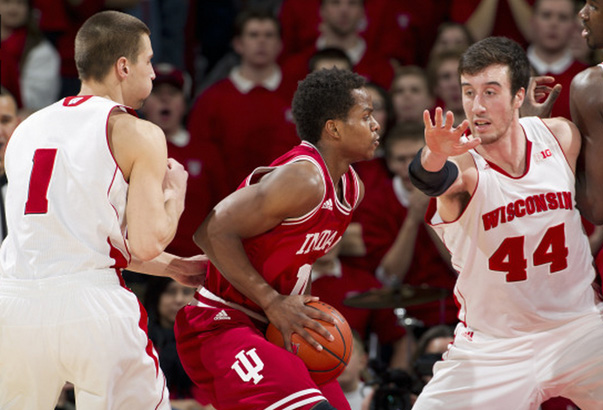 Indiana dropped its sixth conference road game on Tuesday night, falling to No. 14 Wisconsin 69-58 at the Kohl Center in Madison.
Here's a look at five takeaways from the loss to the Badgers:
· Indiana played well in the first half, but there's a caveat: Yes, the Hoosiers had a comfortable 29-19 halftime cushion against a top 15 team on the road. This was Indiana's seventh second half lead in a Big Ten road game. But this one felt a little different because of how inept Wisconsin was offensively through the game's first 20 minutes.
The Badgers entered the game with the Big Ten's third best offense at 1.13 points per possession. After a 7-of-27 first half performance, Wisconsin limped to the locker room with just .70 points per possession. Not to take anything away from Indiana's defense, but Wisconsin was simply missing shots in the first half and Tom Crean even noted that during his brief halftime interview with ESPN's Allison Williams.
So as the second half began, it wasn't a matter of whether Wisconsin would make a run, but more of how Indiana would respond. Once the Badgers started hitting their shots early in the second half, the same ones that clanked off the rim in the first 20 minutes, the game totally changed and did so quickly.
· Indiana's lack of offensive options made the Hoosiers easy to guard: IU's output offensively wasn't really that much different between the two halves. IU scored 29 in the first half on 12-of-29 shooting (1.07 points per possession) and 29 in the second half on 12-of-28 shooting (.99 points per possession). The real difference was a couple of more turnovers in the second half.
What also didn't change much between the two halves was IU's lack of offensive options beyond Noah Vonleh and Yogi Ferrell. The duo combined for 42 of IU's 58 points. Will Sheehey had IU's first seven points and didn't score after that. Troy Williams didn't score in 22 minutes. Austin Etherington didn't score in 15 minutes. Evan Gordon didn't score in 24 minutes.
With just two players who could score with any consistency on the floor, Indiana became very easy to guard. All in all, with the scoring being that imbalanced, the offensive performance was solid and the Hoosiers finished over their Big Ten average in points per possession.
· Some of the defensive breakdowns were tough to watch: There's no sugarcoating this: Indiana had too many defensive breakdowns that could have been avoided. 3-pointers went unchallenged after shoddy defense on ball screens and the Hoosiers allowed the Badgers to get to the basket unchecked too often.
Part of it stemmed from Wisconsin's surgeon-like penchant for working around the ball and finding openings, but plays like the one where Williams let Bronson Koenig blow past him on the baseline can't happen.
· A little more on Vonleh's night: This was one of the better offensive displays from Vonleh this season, but it's hard to call it the best as he didn't take a single free throw, which is a huge staple of what makes him effective. However, the versatility he displayed was a joy to watch.
As much as some like to argue that Vonleh needs to be fed in the post with his back to the basket, he's actually far more effective overall when he catches and faces up. His perimeter stroke was once again on display in Madison, as he connected on two of his three attempts from distance. Vonleh did find some success in the post against Frank Kaminsky, who simply couldn't match his strength, but he also had a few of those moments where he bulled his way in without a plan on how to finish. While there's no doubt that his offensive game is still a work in progress, his continued improvement is a bright spot this season.
· Wisconsin ability to take care of the ball is a thing of beauty: Whatever your opinion is of the system Bo Ryan runs in Madison, there's no disputing that his teams take care of the ball better than anyone. For the season, Wisconsin is turning it over on just 12.7 percent of its possessions (second nationally) and that number is actually slightly better in conference play (12.2 percent).
The Badgers have now won six straight and it's no coincidence that taking care of the ball is a big part of it. ESPN's John Gasaway tweeted earlier this morning that Wisconsin's turnover percentage over its last four contests is 8.5 percent. Ryan's team still has its share of vulnerabilities, but the team that knocks them out in March will have to beat them because Wisconsin is unlikely to beat itself.
(Photo credit: David Stluka, UWBadgers.com)
Filed to: Noah Vonleh, Wisconsin Badgers