Five takeaways from Indiana's loss at Purdue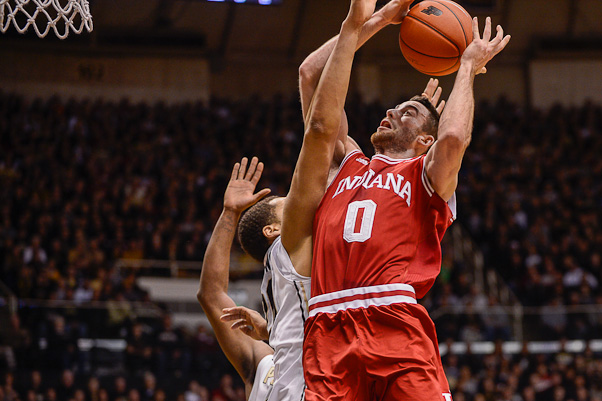 WEST LAFAYETTE, Ind. — Indiana dropped its third straight game on Saturday afternoon in catastrophic fashion, falling 82-64 to rival Purdue at a sold out Mackey Arena.
The Hoosiers are now 14-11 overall and 4-8 in the Big Ten. Here's a look at five takeaways from the blowout loss to the Boilermakers:
· IU's didn't respond to adversity: The collapse against Penn State coupled with the arrest of Hanner Mosquera-Perea made for a somewhat compelling storyline heading into Saturday. Would Indiana come together and deliver an inspired performance in a tough spot? Or would the Hoosiers let the momentum continue to move in the wrong direction?
When Indiana claimed a five-point lead in the first half after digging out of a hole early because of turnovers, it looked like the response might be to rally in a difficult environment. But as Purdue extended the lead to five going into halftime and started the second half on a major 14-1 run, Indiana couldn't answer and was beaten convincingly.
"We didn't take the hit, we didn't fight back like we should have," Austin Etherington said. "And it got to where it was."
· Is part of Indiana's problem mental? It was a question raised in the postgame press conference as both Tom Crean and Yogi Ferrell were asked about the team's inability to make a play to turn things in the right direction and how much of that problem is mental.
Crean said that "quite a bit of it is" and Ferrell said "I feel like it's pretty much mostly mental." And given how Indiana has failed to hold onto leads, particularly in the second half of games, it's an argument that is hard to dispute. At some point, a team either learns to finish games or it takes a step back. The prior hasn't happened for Indiana and its confidence has clearly taken a major hit as a result.
"When other teams make that run, guys get quiet on the court," Ferrell said. "Those are times when we've got to come together."
· Indiana's offense was stagnant: The Hoosiers had an effective field goal percentage of 39, which was obviously aided by making eight 3-pointers. But Indiana's 2-point shooting was very poor as it has been for most of the Big Ten season. The Hoosiers came into Saturday hitting just 44.2 percent of their 2s in Big Ten play and against Purdue, they only hit 30.6 percent of their 2s. IU also had a stretch from the 8:03 mark of the first half to the 13:04 mark of the second half where it made just one field goal.
Crean said he counted 12 missed layups in his postgame remarks and while it's true that Indiana did miss several point blank shots, it's also fair to say that the Hoosiers took plenty of poor shots in the half-court as a result of poor movement and spacing.
· Crean not afraid of a "snowball" effect: Given what has transpired over the last week, Crean was asked whether he has any fear of a losing streak having a "snowball" effect as the schedule isn't going to get any easier. Even with the NCAA tournament clearly out of the discussion, there's certainly still pride to play for and the potential to get in the postseason in the N.I.T.
"I don't think like that. I will just reiterate it, I don't ever think like that. That's not how I'm built and that's not how I'm going to coach the team. That's what we have to work through, and if I thought there was anybody that was in that situation where they weren't going as hard or weren't as locked in you would see them play a lot less. You might still see them play because we've got a few numbers issues right now.
"I've dealt with doubts most of my life. Maybe not all of it but most of it. I'm pretty good at dealing with that. And I'm pretty good at spotting it when other people have them and I won't tolerate it. So I'm concerned about making sure we're really ready to play at home against Iowa on Tuesday night."
· Where do things go from here? It's an interesting question as Indiana is in the midst of its first three-game skid of the season and sliding towards the bottom of the conference standings. IU's two best games of the season have come at home against Michigan and Wisconsin in games in which the Hoosiers weren't favored. Tuesday's game, with ESPN and Dick Vitale scheduled to be in Assembly Hall, is a similar situation.
On the other side of things, given IU's difficulties of the last week and in the Big Ten in general so far this season, it'll be interesting to see what this group has left coming off one of the more turbulent weeks in recent memory.
Filed to: Purdue Boilermakers