Indiana suffers worst loss of its season in 82-64 rout at Purdue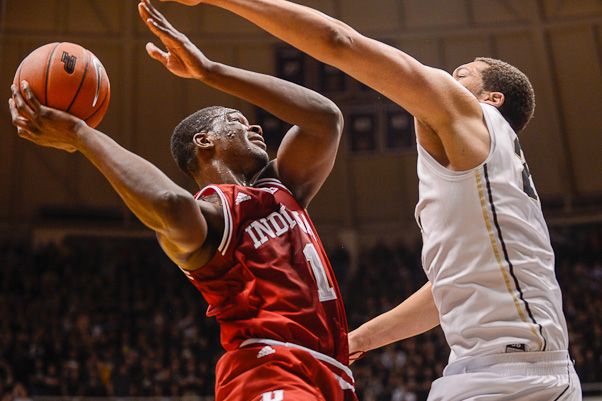 WEST LAFAYETTE, Ind. — Proceedings similar to Saturday's game have unfolded plenty of times for Indiana this season. Turnovers, missed shots and poor defense have plagued the Hoosiers frequently, including most recently on Wednesday, at home, to Penn State in an 11-point collapse in the final 2:26.
But perhaps no performance this season shattered more decisively than Saturday's at Purdue, as the Hoosiers (14-11, 4-8) suffered their worst loss of the season in an 82-64 defeat (their previous losses to now No. 1 Syracuse and No. 9 Michigan State were each by 17 points) at the mercy of the Boilermakers (15-10, 5-7) in a raucous Mackey Arena.
"We did not answer the bell the way that we needed to when they were on that run and get back and get stops the way that we needed to," Indiana coach Tom Crean told reporters after the game. "And they took advantage of it."
Just 6:45 into Saturday's game, Indiana had seven turnovers and the Hoosiers found themselves trailing, 16-8. Freshman Noah Vonleh had two fouls. After what had been an already disappointing week for Indiana, which included the arrest of a current player for the first time since 2001, it appeared the team would get blown out by its rival for its third straight loss.
But for the next 12 minutes, the Hoosiers almost made fans believe they had righted the ship. They went on a 19-6 run to take a 27-22 lead, and the Hoosiers were shooting 8-for-16 from the floor. Crean had also put Vonleh in the game despite his foul trouble.
"We needed to put him in at that point," Crean said. "I've sat him at two fouls before, but we're not in that position right now. We're not getting enough off the front line to be able to keep him out for very long."
Right as the Hoosiers got what would be their biggest lead of the day, however, Vonleh picked up his third foul as he left his feet anticipating a block. Purdue would quickly close the gap, but Indiana fought its way to a 33-33 tie with just 1:07 to go in the first half.
And then, things turned for the worse. Evan Gordon fouled Rapheal Davis with less than a minute to go, and he made two free throws. On Indiana's following possession, Yogi Ferrell missed a 3-pointer, and freshman Devin Davis fouled Purdue's Basil Smotherman on the rebound with 1.9 seconds left. He would make the first free throw, miss the second, grab his own rebound and make the put-back lay-up just before the buzzer. What had been a tie was now a five-point Purdue lead at halftime.
"You can say, ok, that's just part of the game, well then you can't give up those lay-ups at the other end," Crean said. "That's the big thing."
And to start the second half, things continued to get worse for the Hoosiers. Shots weren't falling. Perhaps they were rushed, perhaps they missed point-blank shots. On defense, Crean noted his players weren't active with their hands. Purdue made its shots. Plenty of them.
By the 15:19 mark of the second half, the Boilermakers had gone on a 14-1 run to start the half (with 10 provided by Seattle transfer Sterling Carter, who averages 4.9 points per game). The score, from 38-33 at halftime, was now 52-34.
"Especially when teams make that run, guys kind of get quiet on the court," Ferrell said. "And those are times where you've got to come together."
That didn't happen for Indiana on Saturday. The Hoosiers would never get closer than 15 points for the remainder of the game. After the 8-for-17 start, the Hoosiers went 11-for-43 (25.5 percent) from the field the rest of the way. In contrast, the Boilermakers shot 12-for-21 from the field in the final 20 minutes and 5-for-7 from beyond the arc.
Purdue, a team that had lost five of its past six, was able to breeze to its largest margin of victory since Dec. 17 against Maryland Eastern-Shore and its first win over Indiana since February 23, 2011.
"We thought we were right there," sophomore Austin Etherington said. "And then they went on the run to start the second half and we didn't take the hit and we didn't fight back like we should've. That's the way it was."
During his post-game press conference, Ferrell was asked what the key is to turning the season around, at this point. After its worst week of the season, the Hoosiers find themselves in 10th place in the Big Ten standings with a matchup with 19-6 Iowa on Tuesday.
With the daunting task ahead and not many positives to take from this week, Ferrell paused. He calculated his response, carefully.
"We've just got to take it game-by-game right now," he said. "Stay together, really. You know, just go to film. Just keep working. That's all we can do, really."
Sheehey eclipses 1000 career points
Scoring on a right baseline 3-pointer just 1:40 into Saturday's game, Indiana senior Will Sheehey eclipsed 1,000 career points, becoming the 47th player in Indiana University men's basketball history to do so.
Sheehey finished with 10 points on the afternoon and now has 1,009 for his career, putting him at No. 46 all time in the school's career scoring list — just ahead of Jared Jeffries (1,008) and 21 points behind Harry "Butch" Joyner (1,030).
Filed to: Purdue Boilermakers, Tom Crean, Will Sheehey