The Minute After: Penn State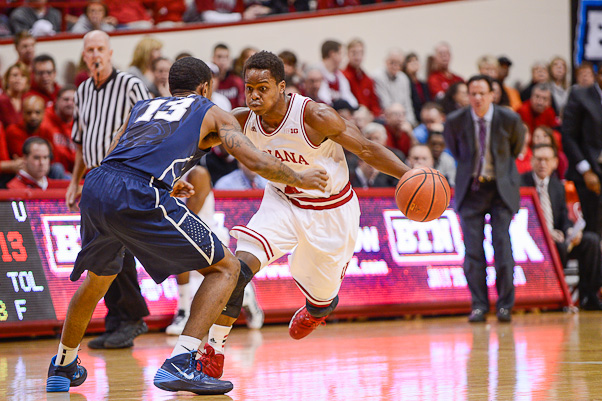 Thoughts on a 66-65 loss to the Nittany Lions:
The scoreboard read 64-53 with 3:19 to go. Indiana, despite another game full of wasted possessions via unforced turnovers, were in control at Assembly Hall. The offense hummed for most of this one when it wasn't handing it back to Penn State. A fifth conference win lay just over the horizon.
But the bus broke down, the wheels fell off, and Indiana now takes the shameful long walk home. This was a terrible, no good, bad loss. There's no other way to describe it. Just Penn State's third win ever in Bloomington. Tim Frazier and D.J. Newbill a combined 6-of-22 and the Nittany Lions still won.
So what the hell happened?
For starters: Just one field goal over the last 5:16 of the game and a 2-of-12 finish down the stretch. A team that had been scoring in the paint with relative ease, one that was flirting with its most points per possession in conference play, one that Penn State could only foul at times to try and slow down … fell apart. As Alex said, Indiana appeared to play more to not lose than to win. Penn State hit a 3-pointer on both sides of Tim Frazier free throws for eight quick points. During this stretch, Indiana got hung on a five second call as Jeremy Hollowell couldn't get the ball inbounds and opted not to call a timeout.
After a missed Evan Gordon 3-pointer, Brandon Taylor hit a jumper with 1:07 left to pull Penn State within two, 65-63. It went from bad to worse. Gordon got called for a travel call on a drive in the paint. Turnover. On the other end, Indiana got a huge break when John Johnson was called for an offensive foul after a replay made it clear Austin Etherington had left his feet on the charge attempt. Sixteen ticks left and Indiana had the ball and the lead. But Frazier would steal the ball from Will Sheehey on the ensuing inbounds. Turnover. Sheehey fouled Ross Travis on a shot attempt, who made one of two from the line.
Indiana again had the ball with the lead. 12 seconds to go, 65-64. But Penn State opted not to guard the inbounder and Indiana — after being called for two 10-second violations earlier in this game en route to a 30.3 turnover percentage — couldn't get the ball in again. Another near five-second call as Noah Vonleh, who lost calm in the chaos, tossed it up over Sheehey's head. A D.J. Newbill steal gave the ball back to the Nittany Lions. Another turnover in the closing two minutes and change, four in total during this stretch and five over the last 2:53 of the contest.
Frazier got a huge bucket with six seconds to go, a lay-up and drive past Yogi Ferrell. Indiana, having led the whole game, now trailed for the first time, 66-65. The life had been sucked out of Assembly Hall and a doubled-teamed Ferrell heaved a long 2 at the buzzer that had no chance of dropping. And that was that.
The broken record keeps playing over and over this season. Turn it over, don't value the basketball, give the opponent more chances, lose focus and awareness or whatever word you want to use, and it can doom you.
Never was it more apparent for these 2013-2014 Hoosiers than tonight's meltdown.
Filed to: Penn State Nittany Lions