The Minute After: Nebraska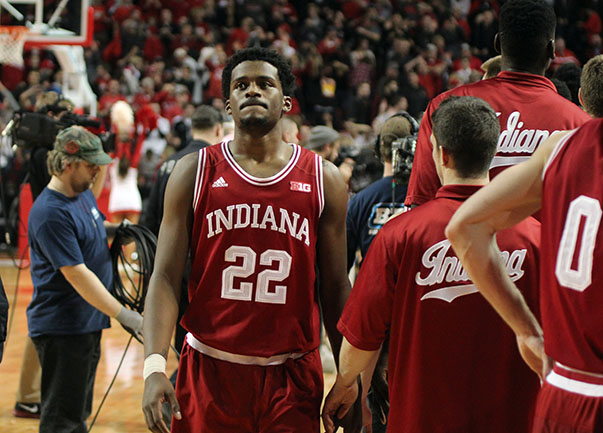 Thoughts on a 60-55 loss to the Cornhuskers:
This one, with its epic collapse by the Hoosiers, will give you a headache.
Indiana's zone D flustered the Cornhuskers in the first half. They scored just 19 points on a woeful .57 points per possession. It was a lot of individual play for Nebraska, an offense that also turned it over on 33.1 percent of its possessions. Terran Petteway had just five points. Indiana had its turnover issues as well (36.1 turnover percentage), but it scored 10 second-chance points by rebounding 46 percent of its misses. Stanford Robinson had 10 points on 4-of-5 shooting; Yogi Ferrell added 11 points by hitting 4-of-8 (3-of-4 from distance). Indiana punched the margin out to 16 before it settling at a 13-point lead at half, 32-19.
It was a strong first 20 for IU — though also a bit lucky with two banked 3-pointers — and it had a victory in its sights.
But the Hoosiers failed to do it for a full 40 tonight and it doomed them in an arena that can get rowdy and where Nebraska is now 10-1 on the season. The Cornhuskers scored on their first six possessions of the second half and IU's 13-point lead dwindled to just four with 15:49 to go. Nebraska would get hot from behind the arc after intermission, draining 6-of-11 from distance. Some of those 3-pointers came on open looks in Indiana's zone that crumbled after a strong first half. No bigger 3-pointer came for Nebraska than Petteway's with 2:39 remaining to put Nebraska up six, 56-50. Despite Indiana flirting with a full comeback during the final two minutes of this one, it just wasn't in the cards.
After scoring that paltry .57 points per possession in the first half, the Cornhuskers reversed the trend in a big way in the second, scoring a strong 1.46 points per possession over the final 20 minutes.
Where Indiana's D let Nebraska go off in big ways to come back and eventually win the game, its offense also did it no favors. It was outscored 41-23 in the second half. Ferrell's only points came on a late 3-pointer. Vonleh ended the game with five turnovers, just three rebounds (only one second-chance point for the Hoosiers after the break to go along with it) and seven points. The thing about Indiana's drive-drive-drive offense is a defense can pack it in and take the driving lanes away, and Indiana has no shooters with which to keep the defense honest.
So Nebraska would pack it in and the shot clock would tick and tick and tick and Indiana would have to flail something up late. As Tim Miles said after the game: "They were looking at their bench, they were looking around. We got 'em."
Evan Gordon made some bad decisions for turnovers at crucial times. Vonleh was a non-factor. A lineup featuring Devin Davis and Hanner Mosquera-Perea played the stretch before the final stretch and they aren't exactly two guys that are going to get the offense over the hump.
Add in a season high turnover percentage (31.4) for the Hoosiers and it was yet another reason they didn't pull this one out. So it goes this season for IU. Head-scratching stuff mixed in with promise, but ultimately a loss.
Undefeated-in-the-Big-Ten Michigan heads to Assembly Hall on Sunday. A loss and the Hoosiers fall to 3-6 in conference, the road to an NCAA Tournament spot getting darker by the day.
Filed to: Nebraska Cornhuskers