Hoosiers try to solve Nebraska in Pinnacle Bank Arena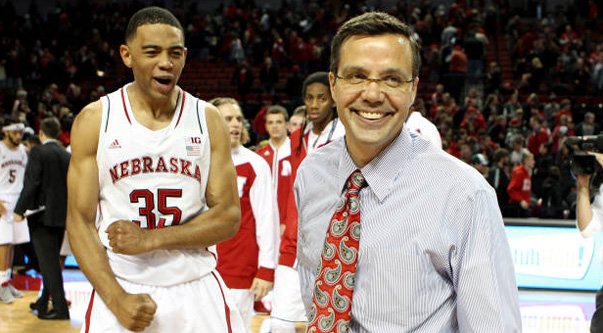 Tonight in Lincoln, Neb., Indiana will try to do something that nine of the ten teams that have faced Nebraska in Pinnacle Bank Arena have not been able to do: win.
The Cornhuskers this season are 9-1 at home, despite a 10-9 record overall, and have won their past two games in the arena, which opened in August. Those two wins have come against Ohio State and Minnesota — teams with much better records than theirs.
Their only loss? A 1-point defeat at the hands of still-undefeated (in Big Ten play) Michigan. So what makes Nebraska so tough at home?
"I think what has happened there is the teams that have been there shot it quick, taken bad shots, taken corner shots, things of that nature, and Nebraska capitalizes on that," Indiana coach Tom Crean said. "Because with the 73 points they're scoring at home, in the Big Ten they are very good on the fast break and they are defensive rebounding at a high rate. I don't have a great answer for that."
Indeed, for whatever reason, opponents have simply struggled against Nebraska in Lincoln this season. In all but two of their home games, opponents have scored less than one point per possession. In only three have opponents shot better than 50 percent on 2-point attempts. And in their new building, the Cornhuskers have dominated the glass as of recently, as opponents in Big Ten play haven't been able to rebound more than 24.2 percent of their misses in a game at Pinnacle Bank Arena.
But numbers are only half the story. With the new arena, there is a new buzz about Nebraska basketball in Lincoln. More fans are showing up to games. The environment is more exciting. And the Cornhuskers have benefitted from that, proving they can stick with any team for a full 40 minutes at home, whether it be Florida Gulf Coast, Miami (FL), Ohio State or Michigan.
"Obviously, there's a comfort level of being at home," Indiana senior Will Sheehey said. "I think a majority of teams would say they play better at home than they do on the road, so you have that. But they're a hard-playing team. They shoot the ball well, so obviously being at home helps your shooting percentages a bit."
For Indiana, specifically, its test at Nebraska comes only four days after the Cornhuskers upset Minnesota, 82-78, at Pinnacle Bank Arena. And in that game, the Cornhuskers had one of their biggest offensive explosions of the season, shooting a 61.0 eFG% behind 35 Terran Petteway points and 1.18 points per possession. It also was their fourth game without junior guard Deverell Biggs, who was officially dismissed from the team soon after the win.
Though it wasn't perhaps Nebraska's greatest defensive showing, Crean said the Cornhuskers are simply getting more dangerous. He called Sunday's performance their best this season.
"They play with great intensity and they have great confidence at home — there is no doubt about that," he said. "And you can see the crowd support on film. You can see it, you can hear it and I think they are responding very well to it.
"To me, I think they are going to get better and better, and I think they cause a lot of issues for us."
In only Tim Miles' second season in Lincoln, the Nebraska's head coach has shot life into a fan base. He has turned a group of players that ranges from veterans such as senior Ray Gallegos, junior David Rivers and sophomore Shavon Shields; transfers in Petteway (Texas Tech) and sophomore Walter Pritchford (Florida); and even a freshman in New Zealander Tai Webster, into a team that holds its own and rarely loses on its home court.
As much as Indiana has been compiling talent and building a cohesive a team this season, Nebraska has been, too. And come tonight, those prospects have sophomore Yogi Ferrell excited for the matchup.
"They've gotten a lot better over the years," Ferrell said. "It's definitely going to be tough to go in there and play in that environment. I know it's a great environment, so the challenge is going to be fun."
(Photo credit: Huskers.com)
Filed to: Nebraska Cornhuskers