The Minute After: Northwestern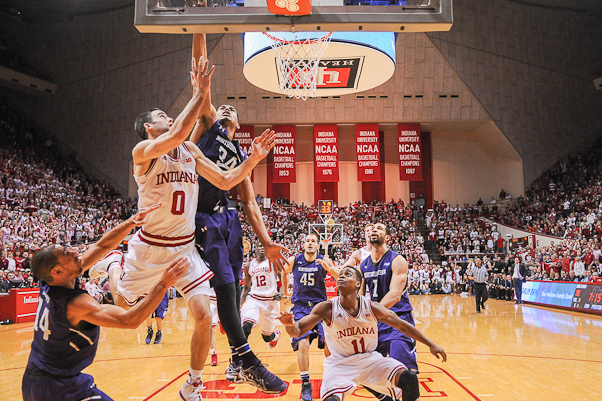 Thoughts on a 54-47 loss to the Wildcats:
The Wildcats arrived in Bloomington with a plan. Pack the paint in both the halfcourt and in transition. Force the Hoosiers out of the driving lanes, out of their comfort zone that led them to victory just days ago against Wisconsin.
They left with a victory.
Make no mistake: This is a bad loss for the Hoosiers, a black mark on their NCAA tournament résumé.
From the opening tip, Indiana had issues figuring out what to do against a Northwestern defense that deserves a lot of credit. It was a D that seemed to have a forest of players in the paint at all times. They were physical and mucked things up. The 3-ball was there for Indiana because of this, but the Hoosiers struggled to connect on many (4-of-18, 22.2 percent). A few late desperation attempts were horrendously off the mark.
The numbers across the board ain't good. The Hoosiers were just 15-of-60 (25 percent) from the field and sported a season-low effective field goal percentage of just 28.3. They scored a season-low .74 points per possession. With all the missed shots, Indiana also had plenty of opportunities for offensive boards and second-chance points, but they grabbed just 28.3 percent of their missed shots — another season low. Yogi Ferrell (2-of-14), Evan Gordon (3-of-12) and Will Sheehey (1-of-7) had games to forget. The shot selection was poor and a product of a team out of sync for much of the contest.
Northwestern also had a higher free throw rate than the Hoosiers (33.3 vs. 28.8). Indiana defended the Wildcats' weak offense good enough to win this one (allowing .85 points per possession), but Northwestern's Tre Demps abused Ferrell and hit some big shots late. A step-back jumper of his put the Wildcats up 47-40 with 1:23 to go. It was a big enough cushion to make sure they'd pick up the W, as some late-game fouls and desperation shots from Indiana didn't get them over the hump.
About the only positive takeaway from this one is the Hoosiers' turnover percentage of 14.1. This is now three straight games Indiana has been smarter with the ball and it's encouraging. Vonleh also stood up to Alex Olah strong and continues to stroke treys (2-of-4). He posted his first double-double of the Big Ten season (17 points, 12 rebounds), but he shot just 5-of-15 from the field. While he would get his points, Northwestern did a nice job of not making it easy for him.
Its awful job against this kind of defense is concerning, but Indiana needs to turn the page on this one and keep moving forward. There's plenty of Big Ten season left to continue to work towards an NCAA Tournament spot.
Filed to: Northwestern Wildcats