Hoosiers finally overcome adversity en route to 79-76 win at Penn State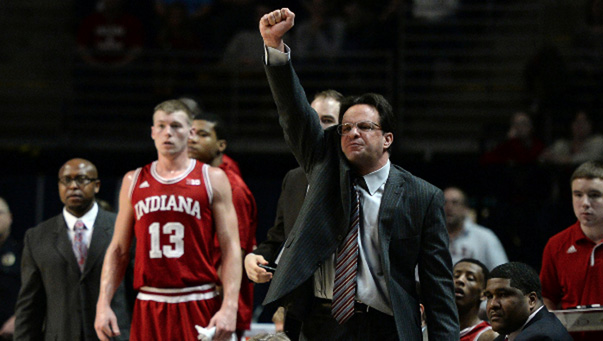 (Photo credit: Chris Howell, Bloomington Herald-Times)
STATE COLLEGE, Pa. — Austin Etherington ran to a spot near the left baseline with his team trailing by two points and stopped. He extended his arms ahead of him as the action unfolded to his right. He wanted the ball.
With his team in a battle at Penn State — each team exchanging the lead in the prior five minutes — and less than two minutes remaining in the game on Saturday, Etherington was unguarded on the play as senior Will Sheehey drove to the basket. He demanded the ball, yelling as the shot clock ticked down to 12 seconds.
Sheehey heard him and saw him, passing it to the redshirt sophomore that had taken only shot since the Dec. 20 game against Nicholls State (a missed layup about six minutes earlier). All eyes were on Etherington. The pressure was on, once again.
"Coach always preaches no corner threes sometimes," he said, "but you know, I felt good and I felt like it was the right shot."
At that point in the game, the Hoosiers (11-5, 1-2) had battled their demons all afternoon, much like in their prior 15 outings this season. An eventual 79-76 win over the Nittany Lions (9-8, 0-4) seemed questionable, at best.
From the get-go, Indiana struggled. Within the first 4:20 of game time, Penn State had a 17-4 lead. The Hoosiers started 1-for-9 from the field. By the 9:15 mark of the first half, the Nittany Lions led, 31-16, a 15-point margin. Indiana was on pace for yet another 20-turnover performance, too.
"When we've been down, we haven't had the maturity yet to be able to respond to that," Indiana coach Tom Crean said. "The team last year, the team the year before that, I wouldn't have worried about that. But it's a whole new deal."
Throughout the waning minutes of that first half, the Hoosiers clawed back. By the 5:39 mark, they cut their deficit to seven points. Penn State took the lead back to 12. By the time that only 49 seconds remained in the half, Indiana had cut the lead to only three points. Sophomore Yogi Ferrell had just drained a 3-pointer.
Only 3:22 into the second half, Indiana had its first lead of the afternoon — a 45-43 margin after Sheehey knocked down a 3-pointer off an in-bounds pass. Momentum had swung the Hoosiers' way by the 13:18 mark of the second half: A Troy Williams dunk off a Stanford Robinson pass gave the Hoosiers a 52-46 lead.
Remember, though, Crean said his team hasn't been through enough of those ups-and-downs. Just 3:26 later, the lead was gone. But thanks to one Jeff Howard free throw, an offensive rebound of his own — one of his three on the night— and another two free throws of his own, the Hoosiers had regained a 56-53 lead.
Ferrell then knocked down another 3-pointer on the following possession, with 7:38 left, to put Indiana up six. Again, it appeared the Hoosiers had momentum, and again, the lead was gone just 1:12 later.
"Well a lot of guys, especially guys like Austin and Jeff coming off the bench, made great contributions," said Ferrell, who finished with 15 points, seven assists and only one turnover in 35 minutes of action. "We just wanted to do it possession-by-possession, really. We never wanted to give up."
After Indiana's lead had evaporated to a 59-59 tie, the two teams exchanged blows. In fact, there were six lead changes and five ties from 6:14 to 1:51.
And after Penn State's D.J. Newbill hit two free throws to give the Nittany Lions a 72-70 lead at the 1:51 mark — he was their leading scorer with 24 points — the ball landed in Etherington's hands in the left corner on the following possession.
As Penn State's Ross Travis closed in, raising his arms to block anything, Etherington head-faked as the defender ran into fans sitting courtside. As Travis stopped himself and looked back to see what would happen next, Etherington looked down, backed up and jumped. He was behind the 3-point line.
And without hesitation, he launched the ball. The shot? Nothing but net.
"Monstrous," Crean said.
Etherington hit his first 3-pointer since Dec. 7 on that play. It gave the Hoosiers a one-point lead with 1:22 left. They wouldn't relinquish it.
On the following Penn State possession, after Pat Chambers called a timeout, the Nittany Lions got two offensive rebounds after two missed shots. Off an in-bounds pass with 55 seconds left, Tim Frazier passed up a shot and instead gave it to Brandon Taylor. He missed a 3-pointer, Ferrell rebounded, Frazier fouled (his fifth one) and the Indianapolis native drained both free throws.
In that final 1:22, Indiana forced Penn State to shoot 2-for-7 from the floor.  The Hoosiers shot 6-for-6 from the free throw line in that same span. Unlike their games against Connecticut, Notre Dame and Illinois, the Hoosiers had finished the job.
Indiana only turned the ball over five times in the second half. It allowed an effective field goal percentage of 46.4, a 10-percent improvement from the prior 20 minutes.
As Penn State's D.J. Newbill took the final shot, a desperation 3-pointer, it bounced off the rim. Ferrell rebounded the ball as the buzzer sounded.
In a game in which Indiana finally held on late to emerge victorious, its first single-digit win since the second game of the season, the Hoosiers' win was their first in the Tom Crean era after being down by that many points.
After they battled their demons all the way to the end, for the first time this season, they prevailed.
"We grew up a lot today as a team," Crean said. "We needed to, and we did. We played with tremendous togetherness. We never got down, we had some monstrous deficits for us, things that we had not been through and responded to — this team hadn't. We got a lot of great efforts and contributions."
Hollowell rides the bench
For the entire game on Saturday, sophomore Jeremy Hollowell sat on Indiana's bench in his candy-striped warmup pants, hunched over with his hands crossed at his knees.
After he started 14 of Indiana's 15 games, Hollowell did not play a single minute against Penn State, replaced in the starting lineup by senior Evan Gordon.
Crean didn't say, specifically, why Hollowell didn't play or if he was even available to, but he did offer an explanation that he thinks Hollowell's mind isn't where it needs to be.
"He needs to get his focus where it needs to be, and that's the biggest thing there," Crean said. "He just needs to get his focus ready. He needs to build his focus."
Filed to: Austin Etherington, Jeremy Hollowell, Penn State Nittany Lions