Five takeaways from Indiana's win at Penn State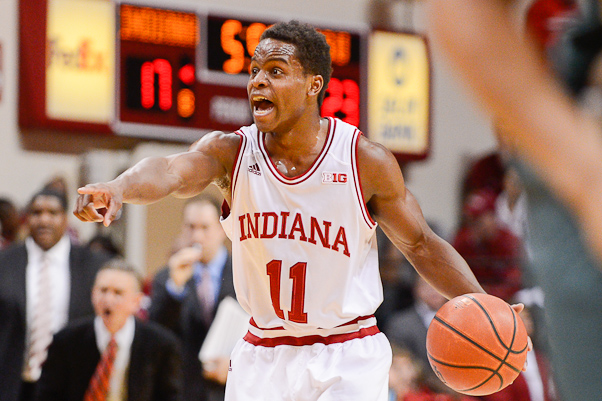 STATE COLLEGE, Pa. — Indiana overcame a 15-point first half deficit to Penn State on its way to a 79-76 win over the Nittany Lions on Saturday afternoon at the Bryce Jordan Center.
Here's a look at five takeaways from IU's first Big Ten win:
· Indiana dominated the free throw line and the glass: In order for the Hoosiers to succeed in the nation's toughest conference, getting to the foul line and on the offensive glass are essential. On Saturday against Penn State, Indiana posted a free throw rate (FTA/FGA) of 60.3 and rebounded 48.6 percent of its misses.
The result was Indiana outscoring Penn State by nine points on the foul line and by five on second chance points. Through three Big Ten games, the Hoosiers are the league's best free throw shooting team (77.6 percent) and second best offensive rebounding team (40.4 OR%).
· Indiana was balanced offensively: Rather than relying on one or two guys to shoulder the entire scoring load, Indiana produced a balanced scoring effort with two guys in double figures and four others with eight or more points. Noah Vonleh was obviously the standout with 19 points, including the first 12 of the game for the Hoosiers, but credit must also be given to guys like Stanford Robinson (eight points), Troy Williams (eight points), Evan Gordon (eight points) and Will Sheehey (nine points).
The effort of Robinson and Williams was especially encouraging as both players played their respective roles well and limited their mistakes in the second half.
"I felt like they played well off of each other," Yogi Ferrell said of Robinson and Williams. "They're great friends off the court and even on the court. Stan knows he can attack and kick it and Troy boards and he's always driving into the lane and he's very athletic. We're definitely going to need both of them."
· A little more on Vonleh's performance: Following IU's loss to Michigan State, one of Tom Crean's critiques of Vonleh was that he needed to become more selfish. On Saturday, Vonleh made himself more available for touches in the post and his teammates made it a priority to find him.
The result was Vonleh scoring a team-high 19 points and also grabbing six rebounds in 27 minutes. In the postgame press conference, I asked Crean if Vonleh was more selfish against the Nittany Lions.
"I'll be honest with you and it's simple, but it is what it is, he's just learning," Crean said. "I think if you look at it, for those of you who watch us, he rarely faces up in the previous games. I'm pretty sure, I'll have to watch the film to be accurate, but pretty much everything he did at the beginning was face up. And then he played off the face up.
"It may sound simple, but that's what the game is. You've got to be able to see it. And it's like, we work on that numerous times throughout the day and in practice, stress it in games and it takes time to get it."
· Indiana limited its mistakes in the second half: After eight first half miscues, it appeared as though Indiana would again post a turnover percentage of over 20 for its fifth straight game. But the Hoosiers committed just five turnovers in the second half and while the turnover percentage of 19.1 is still higher than what Indiana is aiming for, it is progress.
So what was the difference?
Start with the three of the guys who had the ball most often on Saturday and played the most minutes: Yogi Ferrell, Evan Gordon and Will Sheehey. In 102 minutes, the trio combined for three turnovers. The move to bench Jeremy Hollowell in favor of Gordon gave Indiana better ball handling as well as a better perimeter shooter. And Ferrell and Sheehey, IU's two floor leaders who both said before the start of Big Ten play that they needed to lead the effort to stop the unnecessary mistakes, did just that on Saturday.
· Crean and the IU staff coached an excellent game and IU's role players stepped up: As IU trailed 31-16 at the 9:15 mark of the first half, things looked bleak for the Hoosiers. Penn State was gaining confidence, the crowd was into the game and Indiana looked out of sync as Crean called for a 30-second timeout.
Indiana responded after the timeout with a 21-10 run to close the half to get within four at halftime. And in the second half, Crean utilized Jeff Howard and Austin Etherington, both of whom made winning plays when it mattered most. Howard came up with three offensive rebounds and four points and Etherington hit the game-winning 3-pointer from the left corner with 1:22 remaining.
"It was a grinder," Crean said. "It was two teams playing well inside and outside in the sense of really working to get what they wanted. For us to get a win like that because when we've been down, we haven't had the maturity yet to be able to respond to that. The team last year, the year before that, I wouldn't have worried about that. But it's a whole new deal."
Filed to: Penn State Nittany Lions