What to Expect: Illinois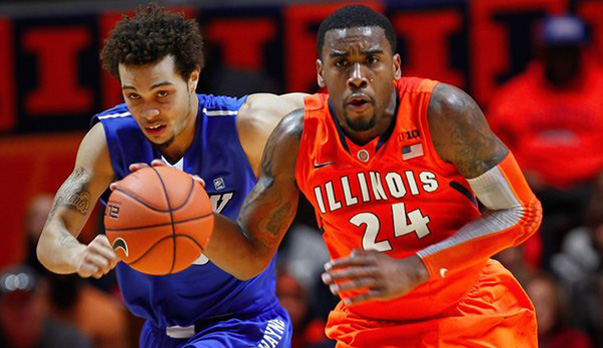 For the fifth straight year, Indiana will open Big Ten play on New Year's Eve. This season's assignment is Illinois at the State Farm Center in Champaign. The Fighting Illini are 11-2 and 7-0 at home.
The game will be broadcast at 3 p.m. ET on ESPN2 and the IU radio network.
We've discussed Indiana's 10-3 performance in the non-conference throughly over the past week, but the ultimate fate of the 2013-2014 season for the Hoosiers will be determined over the next 18 games.
Despite losing players like Cody Zeller, Deshaun Thomas, Tim Hardaway Jr., Trey Burke and Victor Oladipo early to the NBA and graduating seniors like Jared Berggren, Trevor Mbakwe, Brandon Paul, Christian Watford and many others, the Big Ten is right back in the discussion for the nation's top league.
Ohio State, Wisconsin and Michigan State are all ranked in the top five nationally and the middle of the pack is even more crowded with five or six other programs with legitimate NCAA tournament aspirations.
Two of those teams, Illinois and Indiana, will get a first shot at resume building inside the conference on Tuesday afternoon in Champaign.
PERSONNEL
Brandon Paul, D.J. Richardson and Tyler Griffey are all gone, but John Groce has retooled Illinois with a impact transfer player, increased production from some key returning pieces and a trio of freshman who are being eased along slowly off the bench.
The impact transfer, junior Rayvonte Rice, enters league play scoring a team-high 18.2 points per game with an effective field goal percentage of 56.1. Rice is hitting close to 60 percent of his 2s and a big reason is his 6-foot-4, 235 pound frame that allows him to overpower defenders.
Joining Rice in the backcourt are senior Joseph Bertrand and junior Tracy Abrams, who are both scoring in double figures but going about it in very different ways. Bertrand has been extremely efficient as his 59.2 effective field goal percentage leads the team. Abrams, on the other hand, has been woeful from the field as he's hitting just 42.7 percent of his 2s and 25 percent of his 3s. Abrams has struggled from the field throughout his career, but does hold some value as a distributor (22.1 assist rate) and as a player who can get to the foul line (49.3 free throw rate).
Freshmen Malcolm Hill, Kendrick Nunn and Jaylon Tate all see time as reserves in the Illinois backcourt, but Groce's preference for a tight rotation has resulted in limited minutes for all three. Nunn has been the most effective offensive player (50.0 eFG%) while Hill (31.2 eFG%) and Tate (32.1 eFG%) have been poor shooters that have done a decent job at getting to the foul line.
The frontcourt rotation is anchored by graduate student Jon Ekey and junior Nnanna Egwu. Ekey, who used the same rule that landed Evan Gordon in Bloomington, played three seasons at Illinois State before arriving in Champaign. At 6-foot-7 and 225 pounds, he's a stretch four man that loves to shoot from the perimeter. Ekey is 27-of-70 from behind the 3-point arc and is also the team's best offensive rebounder (9.2 OR%). Egwu is a shot blocking presence at the rim who doesn't finish particularly well for his size on the offensive end. Egwu is shooting just 46.7 percent on 2s and is just third on the team in rebounding at 5.4 per game.
TEMPO-FREE PREVIEW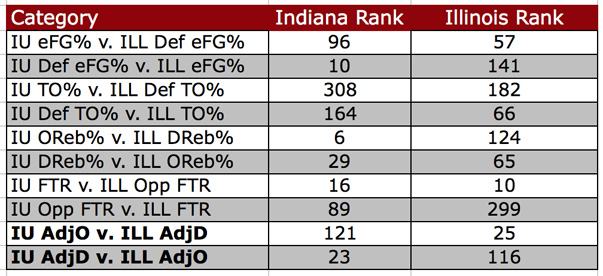 (National rankings via KenPom.com.)
The contrast in styles between Indiana and Illinois is apparent with a quick glance at each team's KenPom profile. The Hoosiers are playing the fastest pace of any Big Ten team with an average of 73.2 possessions per game and the Illini are playing the second slowest with an average of 64.2.
One of the criticisms of IU's frantic pace this season has been the turnovers, where the Hoosiers rank 308th nationally in turnover percentage. Illinois, on the other hand, is turning it over on just 16.3 percent of its possessions and its controlled pace is likely a big reason for that.
Neither team shoots it particularly well and while the turnovers certainly loom large for Indiana, rebounding and free throws are where the Hoosiers have a chance to win the game. Illinois has done a stellar job of defending without fouling, but has faced just two teams that rank in the top 50 nationally in free throw rate. Settling for perimeter shots rather than attacking off the dribble is something IU must avoid. On the flip side, Illinois ranks just 299th nationally at getting to the line, so it's imperative that the Hoosiers make the free throw numbers as one sided as possible.
On the rebounding front, Illinois has been solid on the offensive glass while Indiana has been superb. The Illini are rebounding 36.1 percent of their misses on offense while Indiana is rebounding 42.7 of its misses. For Indiana to maximize its rebounding prowess, Noah Vonleh must avoid foul trouble and try to take advantage of an average defensive rebounding team.
WHAT IT COMES DOWN TO
The road is unforgiving in the Big Ten as Indiana fans learned in Tom Crean's first three seasons in Bloomington. But as the program grew, so too did Indiana's ability to win away from Assembly Hall. Over the past two seasons, the Hoosiers are 10-8 in conference road games. Indiana caught a break avoiding Iowa and Ohio State on the road this season and as a result, this game on paper is one of the tougher league road games on the docket.
The Pomeroy prediction has Illinois winning 69-65 and gives the Hoosiers just a 35 percent chance to leave Champaign with a victory. That figure is actually the lowest for IU in its first four Big Ten games which speaks to the difficulty of winning on the road even against an opponent that is, on paper, a relatively even matchup.
Indiana's gameplan must start with limiting Rice as much as possible while trying to use the free throw line and offensive rebounding as a springboard for success. With students out for winter break, the State Farm Center atmosphere may be a little more subdued than usual. Still, the challenge for a young team going on the road for the first time in the Big Ten is a major one and we'll soon learn if the Hoosiers are up for it.
Filed to: Illinois Fighting Illini