Five takeaways from Indiana's non-conference schedule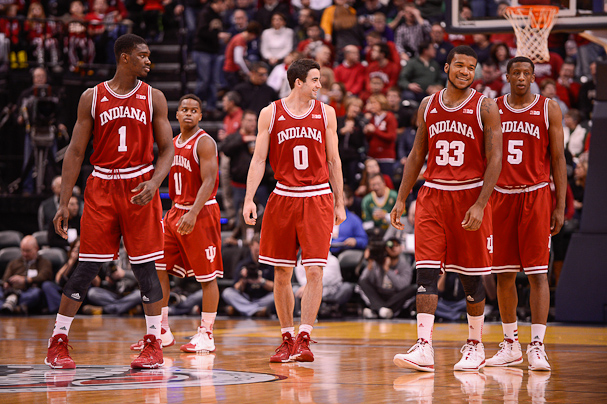 The non-conference portion of IU's schedule is complete and the Hoosiers are 10-3 heading into Tuesday's Big Ten opener in Champaign.
Here's at look at five takeaways from IU's non-conference schedule:
· Indiana is talented, young and inconsistent: This group of Hoosiers has a solid mix of talent across multiple positions, but as one of the youngest teams in country, it's hard to know what to expect from Indiana on game-to-game basis.
For a half in Syracuse in early December, Indiana looked fully capable of giving the Orange a game. And for the other half of that game, the Hoosiers looked completely overmatched. It's a theme that is likely to continue into Big Ten play as Tom Crean and his staff will try to figure out a formula to ensure that the steady moments outweigh the erratic ones.
"We have to be able to develop consistency and decision making," he said after IU's win over Kennesaw State. "Style of play for us has got to be very, very clear that we have to do things at a high level. Whether it's successful or not, the ball goes through the paint, we challenge shots, we talk on defense, we get to the glass, we get out and play."
· Yogi Ferrell is developing into an elite point guard: IU's sophomore floor general has easily been the team's most consistent player through 13 games. He's scored in double figures in every game and his effective field goal percentage of 55 is up nearly 10 percent over last season.
So what's been the difference for Ferrell? His perimeter shot is significantly better than it was as a freshman. He hit just 30.3 of his 3-point attempts last season and he's shooting 42.7 percent as a sophomore. His assist rate is also up (from 25.7 to 27.4) while his turnover rate is down (from 24.5 to 19.7), although the latter figure still has plenty of room for improvement.
"When you're playing as fast as he's played the last couple days, made those kind of decisions, you're going to have a couple mistakes and turnovers," Crean said on Sunday. "Now comes the consistency part. That's for him to take that next step and for our team to take the next step."
· Beyond Ferrell, IU needs more consistency: If Indiana is going to finish in the top half of the Big Ten and reach the NCAA tournament, the Hoosiers need three or four guys beyond Ferrell to provide consistency. At times, Noah Vonleh has played like a future lottery pick. At other times, he's disappeared offensively and committed unnecessary fouls. Will Sheehey also battled a scoring and rebounding slump in non-conference play that IU won't be able to combat very easily if it happens in conference play. Evan Gordon has been streaky as have Troy Williams and Jeremy Hollowell.
Indiana's offense needs to become balanced to the point where it doesn't rely on a big night from Ferrell to win and the rebounding and defense need to become consistent from the starting lineup and main rotation players.
· IU must take care of the ball better to reach its full potential: It's a fairly straightforward point, but it's the truth: IU must cut down on its turnovers to reach the NCAA tournament. The most recent version of film session dives into the issue with far more depth, but a lot of these mistakes are correctable: Careless passes, stepping on the sidelines or baseline, starting a drive with a step rather than a dribble that results in a travel call.
So what's the answer? It has to start with Ferell and Sheehey, who both shouldered plenty of the blame following Sunday's win over Kennesaw State. Beyond that, IU's younger players must develop more awareness of just how adversely the mistakes will affect beating good competition. While IU beat Kennesaw State on Sunday despite 20 turnovers, Crean gave a perfect example of how the miscues hurt his team.
"We scored 90, gave the ball back 20 times," he said. "What do you think we could have scored with some of those being for us, especially the way we offensive rebound?"
· IU's non-conference schedule won't determine whether it goes dancing: According to KenPom.com, the Hoosiers played the 319th hardest non-conference slate which won't help come Selection Sunday.
However, Indiana has plenty of chances to build a solid tournament resume in Big Ten play. The Hoosiers have a favorable road schedule as they avoid trips to Columbus and Iowa City and have home dates with Michigan State, Ohio State, Iowa, Michigan and Wisconsin.
As big of a deal as losing the Notre Dame seemed to be at the time, Indiana's fate will ultimately be decided by how it performs in what is once again the nation's toughest conference. In five days, we'll get our first answer on how prepared the Hoosiers are to meet that challenge.
Filed to: Noah Vonleh, Tom Crean, Will Sheehey, Yogi Ferrell