A non-conference player-by-player breakdown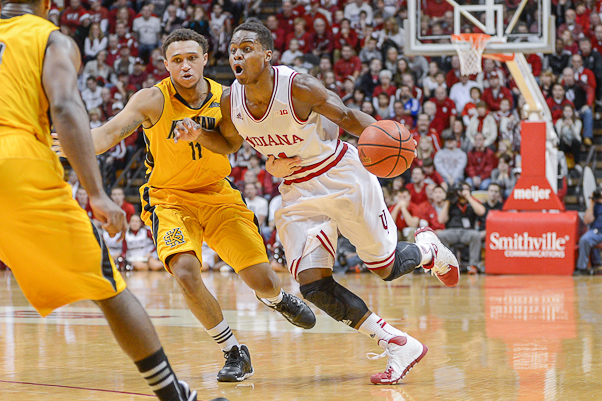 The non-conference portion of IU's schedule is complete and the Hoosiers are 10-3 heading into Tuesday's Big Ten opener in Champaign.
Here's a player-by-player look at how each Hoosier performed in the non-conference portion of IU's schedule:
Yogi Ferrell
Tom Crean and his staff are asking a lot of Ferrell. So far, he's risen to the challenge in an expanded role. As we noted in Five Takeaways from the non-conference slate, Ferrell's 3-point numbers are way up from a season ago (42.7 percent vs. 30.3 percent), as is his effective field goal percentage (55 percent vs. 45.3 percent). The Park Tudor grad is also doing a better job taking care of the ball (his turnover rate of 19.7 is down from last season's 24.5 mark).
Ferrell is distributing the ball a bit better as well (27.4 vs. 25.7 assist rate), but his challenge come Big Ten season is to try and get other players going and find some more consistent scoring outside himself.
Will Sheehey
Sheehey's role has changed significantly this season. Gone is his sixth-man bench bravado, replaced with a daunting task: Upstanding leader off the floor, coach on it. It's been a dramatic switch. But as the only four-year upperclassman getting significant minutes, it's been necessary. Sheehey's had a rough offensive stretch for four straight games in the non-conference slate, but the last three games he's pumped in a total of 51 points (22, 14, 15) on 59 percent shooting.
He'll need to continue to score in double figures once Big Ten season hits to give the Hoosiers the best chance at making the dance.
Noah Vonleh
Vonleh started the season with four straight double-doubles — and nearly a fifth with a 18-9 performance against Washington at Madison Square Garden. Suddenly, Vonleh was being launched into the discussion with the likes of top freshman like Jabari Parker and Andrew Wiggins. But after foul trouble against UConn (zero points, two rebounds) and a stretch of games late in the non-conference slate in which he didn't take many attempts from the field, the buzz has died a bit.
Still, Vonleh's rebounding skills are tremendous and his moves in the paint often look effortless. He's also shown an ability to handle the ball and hit a jumper. Perhaps most important, he followed up an 0-of-8 performance at the line in the preseason with a 70.4 percent mark through 13 games.
Jeremy Hollowell
Hollowell began the season as the appointed second-best ballhandler on the team by Crean and looked to be playing with some newfound confidence. But Hollowell's motor hasn't always been revved high — he was replaced by walk-on Jeff Howard to start the Evansville game — and he's been inconsistent. His effective field goal percentage of 40.8 also ranks last among regulars not named Austin Etherington.
From a talent and experience standpoint, the Indianapolis product deserves the playing time he's been getting. But in games he's failed to produce, that argument loses a little weight.
Troy Williams
Williams' athleticism has tantalized, but his decision-making and turnover issues have limited his on-court effectiveness. His effective field goal percentage (46.9) ranks third worst behind those receiving consistent minutes. However, the freshman ranks first on the team in steal percentage (3.2) and he would have converted more of those takeaways into easy breakaway scores had he been able to stay inbounds after stealing the ball off the wing.
A role in which his one-on-one play is curtailed and replaced by some off-ball movement on the baseline — along with some aggression on the offensive boards — might suit Williams best come Big Ten season.
Evan Gordon
On a team lacking experience, the younger brother of former IU star and current New Orleans Pelican guard Eric has plenty of it after stops at Liberty and Arizona State. Gordon scored in double figures in five of Indiana's 13 non-conference contests and has been about the only other (somewhat) reliable shooter from distance (34.6 percent).
Hanner Mosquera-Perea
Mosquera-Perea is much improved from last season, contributing on both ends of the court and finishing with some rim-rattling dunks. Perhaps most impressive has been his free throw stroke, which looks quite pure. Problem is, Mosquera-Perea is coming from such a place that even his marked improvement still might mean freshman Luke Fischer will get the run over him in Big Ten season. The sophomore's court awareness, coordination and basketball IQ lacks at times and can make him a liability on the court.
Luke Fischer
Fischer started slow due to a shoulder injury, but has come on strong of late after notching a career-high 10 points against Kennesaw State on Sunday. The Wisconsin native leads regulars in block percentage (8.1) and has a good feel for the game on both sides of the ball. If Fischer continues to improve, he figures to get some quality minutes in the Big Ten season. And, as noted above, might be called upon before Mosquera-Perea more times than not.
Devin Davis
Davis has played with a relentless motor and is second among regulars in block percentage (7.6) behind Fischer. He's been impactful when given the opportunity. But on a team ranking in the 300s in turnover percentage in the country, Davis leads the team in turnover percentage (28.7 percent).
Austin Etherington
While it seems at times that Etherington is perhaps getting a lot of playing time, he actually ranks just 11th on the team from a minutes percentage standpoint. While he's in, Etherington has garnered KenPom's "nearly invisible" standing on the offensive end, using just 11.5 percent of the team's possessions. This passes the eye test, as Etherington — save for a 2-of-3 performance from distance against North Florida — has been reluctant to shoot the ball, even when facing limited (or no) defensive pressure.
Stanford Robinson
Robinson was also slowed a bit to start the season due to injury. He's shown the ability to get to the rim on the break and in the halfcourt and his effective field goal percentage (54.8) ranks fifth among regulars. The path is there for Robinson to be a factor for the Hoosiers in the Big Ten if he can improve his game as the seasons winds along.
Collin Hartman
After playing 10 and then 12 minutes against Samford and Stony Brook, respectively, it appeared as if the Cathedral product might be in line for an energy role off the bench like Sheehey before him. But he's never seen double-digit minutes since and has taken just three shots in IU's last nine contests.
All tempo-free stats via KenPom.com.
Filed to: Noah Vonleh, Will Sheehey, Yogi Ferrell