The Minute After: Kennesaw State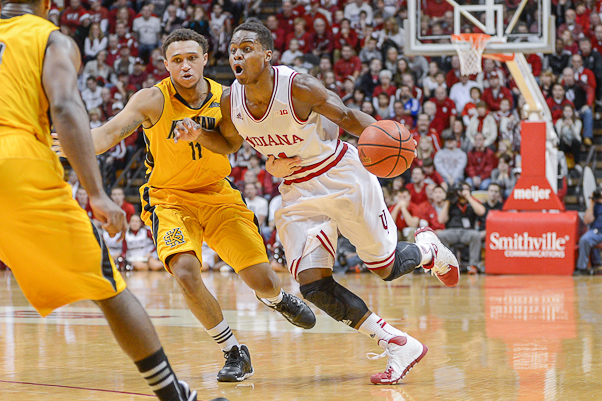 Thoughts on a 90-66 win over the Owls:
This was a little more like it.
Following up Friday's uninspired victory over Nicholls State, the Hoosiers grabbed the bull by the horns in this one. Save for a defensive lapse in the second half which allowed a run for the Owls (and a bit of a scoring drought for the Hoosiers after that), Indiana dominated this one.
Yogi Ferrell, as he needs to do, set the tone. He scored 10 of Indiana's first 12 points on his way to 25 total — one shy of his career high. Ferrell hit two 3-pointers in that early stretch and connected on 3-of-6 for the contest.
The Park Tudor grad proved to be Indiana's best long distance threat in the non-conference season, and opposing Big Ten defenses are going to have to honor him beyond the arc — not an easy task when you couple it with his ability to also get to the rim and break down a defense.
Noah Vonleh (14 points, nine rebounds) had his best game in weeks. It helped he got looks in more ways than just the Hoosiers trying to feed him on the low block. Vonleh made a nice move for a score after receiving the ball out near the free throw line and was the recipient of a few passes at the rim after other Hoosiers had attracted or broken down the Owls' defense.
His double-double-ish output could be huge for IU in the conference slate if he's able to provide it on a consistent basis. Vonleh's defense is still a work in progress as he fouled out this afternoon and was also the recipient of an earful from Ferrell during the first half after he wasn't doing what he was supposed to during a defensive possession.
Will Sheehey (15 points, 6-of-9 from the field) has now ripped off three strong offensive outings in a row, and that's important as conference season hits. Sheehey remains the coach on the floor, at one point harping at Hanner Mosquera-Perea for improper defensive positioning. It appears the days of the fired-up-off-the-bench Sheehey are over, but if he can keep scoring like this while also providing teaching and leadership to Indiana's youth, he bring incredible value to this team.
Luke Fischer looked confident out there today, racking up three blocks in the first half. And, in a shades of Cody Zeller performance, ran ahead of the pack and got the ball for a breakaway dunk. Fischer scored a career-high 10 points on 4-of-5 shooting. He certainly has plenty of room for growth and has flashed some freshman moments. But his fundamentals and basketball IQ could make him a safer play as the first big off the bench behind Vonleh instead of Mosquera-Perea during conference play.
The turnover issues remains. Indiana turned the ball over on 26.2 percent of its possessions this afternoon, an unacceptable rate against a team like this. A good chunk of them came for mental lapses or silly decision-making. Troy Williams accounted for six of Indiana's 20 turnovers amidst some crazy athletic dunks on both sides of halftime. Williams continues to get the start and the tools are all there. But his decision making at times is head-scratching and it's the kind of stuff that's going to hurt the already turnover-prone Hoosiers in conference play.
Indiana's non-conference season would look a little better if they were able to score a win against Connecticut, Syracuse or Notre Dame. But it beat all the teams it was supposed to en route to its 10-3 mark. All of this is amidst a lot of experimenting and unknowns about just what you could get night-to-night from a host of young players trying to emerge on a team with so much turnover and one that's searching for an identity.
Conference season is here, and if Indiana's able to improve as it goes along, a trip the dance is there to be had.
Filed to: Yogi Ferrell