Film Session: Defensive lapses against the Irish
Entering Sunday's matchup against the Fighting Irish, the Hoosiers ranked ninth in the nation in terms of adjusted defensive efficiency. But after giving up 1.16 points per possession, the Hoosiers fell to 16th. Noah Vonleh gave little resistance in the paint in the first half and Notre Dame got a number of easy looks near the hoop from its frontcourt.
Additionally, Indiana had issues communicating during transition defense. It was lucky Notre Dame missed a few wide open looks from beyond the arc or the score wouldn't have been so close over the final couple minutes. The Hoosiers also had trouble containing simple halfcourt action like pick and rolls; the Irish simply out-executed Indiana's youth.
And as these first two plays in today's Film Session illustrate, even when Indiana knew what was coming on an inbounds play, it still allowed Notre Dame buckets:
I. With the Fighting Irish up six in the first half, Will Sheehey points up and over Luke Fisher, seemingly letting him know, "hey, pay attention, action is coming your way":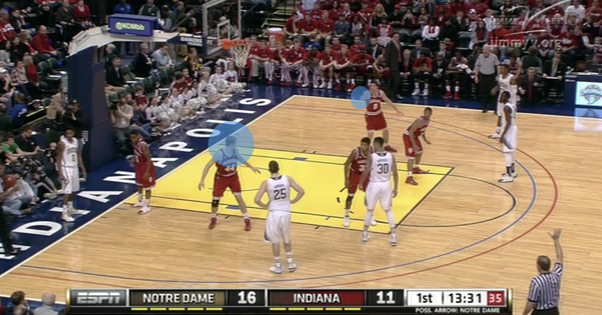 Jerian Grant uses a double screen to free himself and he's about to get the ball near the left wing/corner, just as Sheehey looked to be pointing out: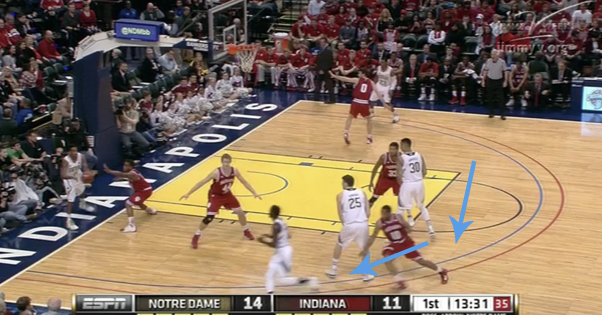 Fisher, perhaps reacting too strongly because of Sheehey's instruction, perhaps just looking to contain a potential 3-pointer, comes up to the ball as Evan Gordon continues to chase. This leaves Tom Knight a lane to the rim and he calls for the ball: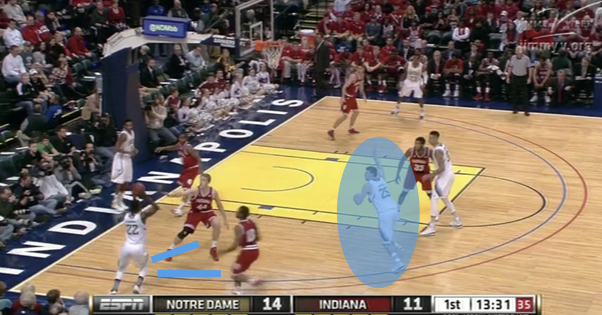 Fischer doesn't get a hand in the passing lane and Grant threads a pass through to the cutting Knight: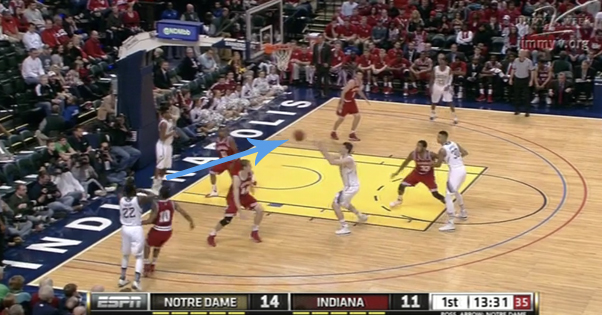 Hollowell is unable to get in front of Knight. Yogi Ferrell comes off the inbounder to get a body in front of Knight and the hoop, but it's just about the biggest size mismatch on the floor and the Notre Dame senior has no problem getting the ball in the hoop over the top of the smaller Ferrell: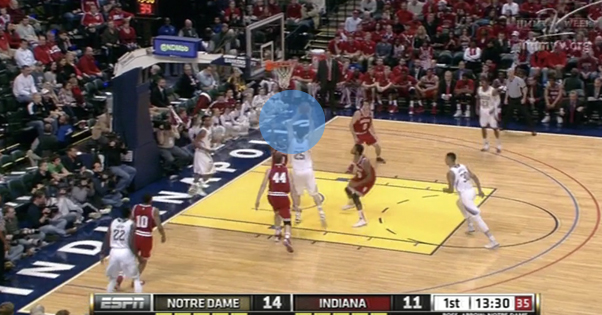 Video:
Filed to: Notre Dame Fighting Irish