Crean takes "full responsibility" for Notre Dame loss in radio show comments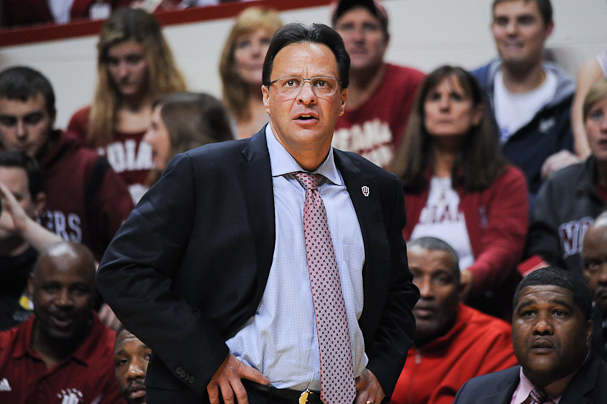 Don Fischer hosted the third edition of Inside Indiana basketball with Tom Crean this season on Monday night, which is broadcast live from the Holiday Inn in Bloomington. The show is broadcast each Monday at 7 p.m. ET during the season.
Here are some notes and quotes from Crean's comments:
· One of the first topics Crean addressed was his team's inability to break through on Saturday in a 79-72 loss to Notre Dame in the Crossroads Classic at Bankers Life Fieldhouse.
"We had chances the other day against Notre Dame where we just needed to string together a couple of stops and we didn't. Every time we would cut it, it remained close until the very, very end, but we never got that combination of a couple of stops with a couple of buckets to get us over the hump. We just have to learn how important those things are. No matter how you're playing, you've got to keep grinding it out, grind it out and figure out how to win the game at the end."
· Crean talked about the recent offensive surge for senior Evan Gordon and noted the extra time he's spending in the gym as a primary reason for his success.
"That's really the culture of the program. The guys who spend that extra time, it's amazing how well that works out. The guys that just practice, it's amazing how poorly that turns out. There really is no secret."
· Fischer asked Crean what stood out about the Notre Dame after going back and watching the film:
"We played worse than what I thought during the game. I take full responsibility because I should have done a much, much better job in the game of making sure at the end that the ball went inside. We made mistakes and we never got really over the hump even though we were right there. We defended at a pretty good rate. We didn't defend at a great rate. We made numerous game plan mistakes in this game. That's concerning because we're 11 games in and we've got to be better than that. And I know there's a certain amount of fatigue that kicks in when you haven't been through it like we haven't been through it and how important every one of these things are.
"The game plan the other night was (against Oakland), we're going to defend the 3-point line. And Travis Bader didn't get one. Well in this game we needed to do a better job, but the bottom line is the ball has to go in the post more. And we've got to do a better job of making sure we get better possessions, especially at the end of games."
· Crean said that as a coach, he has to do a better job of helping his team understand momentum. He added that his team is "a work in progress" in terms of communication. Also says that team still has to grasp "momentum, time and score."
· More on the Notre Dame loss: "Frankly, with the mistakes we made in the game and the poor coaching job that I did, I'm amazed we were even in it at the end. But it was still a very winnable game in all honesty and we've got to do a better job of understanding what we want and that starts with making sure it's going through the paint and going through the post."
· Fischer said that Royce Waltman had surgery this afternoon and it went well. Fischer said it is "a serious issue."
· Crean was asked by Fischer if Noah Vonleh has a better understanding of the need to demand the ball in the post.
"Not yet. Not yet. Noah should be a senior in high school. I'll defend him 'til the day ends. He's being coached hard now. He can take it, but Noah should be a senior in high school. It is what it is. He's not your typical freshman in body or mentality, but he's also not your typical freshman in age because he re-classified."
· Crean said that Indiana had yesterday off to focus on academics with finals week underway.
· Crean had a chance to watch Robert Johnson on Sunday and offered some comments on his play.
"Really impressed watching him, watching his toughness, watching his strength. He's got a lot of things," he said.
· Crean also touched on James Blackmon Jr., whom he called "the best player in the state." He added: "He knows how to make everybody else better."
· Crean said one of his regrets in Notre Dame game was not playing Hanner Mosquera-Perea more minutes.
· Crean said he'll be recruiting on Wednesday and they haven't really started to prepare for Friday's game with Nicholls State yet.
· Crean noted that his team will be watching film of its turnovers from last few games.
"To some it will look like the Rocky Horror Picture Show," he said.
· Crean said he's not sure if the deep bench will continue. Said there are some guys playing too many minutes, some are playing too few.
"I wouldn't look at this say, 'oh wow, what a starting five they've got.' I don't think that's how it is right now," he said.
Filed to: Hanner Mosquera-Perea, Noah Vonleh, Robert Johnson, Tom Crean