Film Session: Evan Gordon's run
After picking up his second foul, Yogi Ferrell exited Tuesday night's win over Oakland at the 15:45 mark of the first half. Evan Gordon entered in his place and went on a tear. The fifth-year senior scored 12 of Indiana's 19 points in a stretch before he was subbed out for Ferrell at the 7:29 mark.
While it was an impressive run and a half the Hoosiers posted an excellent 1.38 points per possession and an eFG% of 66.6, Oakland's weak transition D paid Gordon and IU some favors. It's a defense as a whole that KenPom's adjusted defensive efficiency metric places at just No. 257 in the nation.
Four of Gordon's points came on two layups on the break. One of those was a outlet breakaway in which he didn't even have a defender in front of him. Another two points came on a one-and-one opportunity where he was fouled on the floor out on the perimeter on a ball screen hedge in the halfcourt. The remaining six came on two wide open 3-pointers.
We'll take a look at those two 3-pointers as well as a Noah Vonleh and Stanford Robinson score from this same stretch in the latest edition of Film Session:
I. Jeremy Hollowell grabs a rebound and brings the ball down the court. Hanner Mosquera-Perea tries to find a seam in the middle of the defense: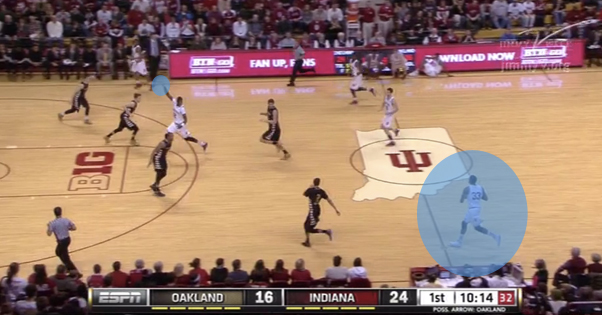 Hollowell passes to Will Sheehey. Sheehey has Stanford Robinson and Gordon on the right side of the court and just two Oakland defenders on that side. Duke Mondy, highlighted near the left elbow is in a bit of a no man's land defensively: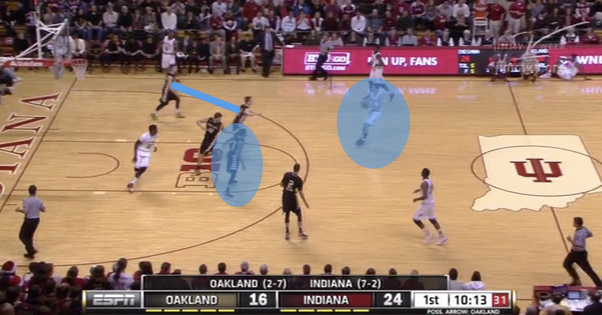 From there, it's just simple ball movement. Sheehey passes to Robinson: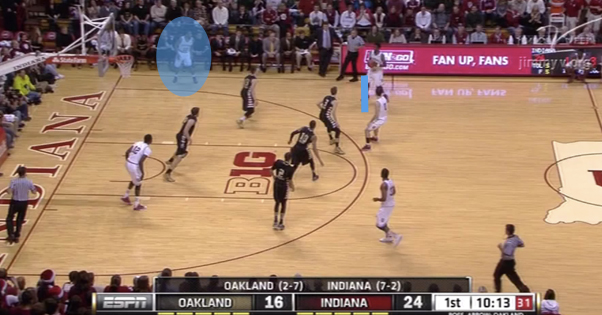 Who passes to Gordon. He has even more room now in the corner with the defense coming up to Robinson: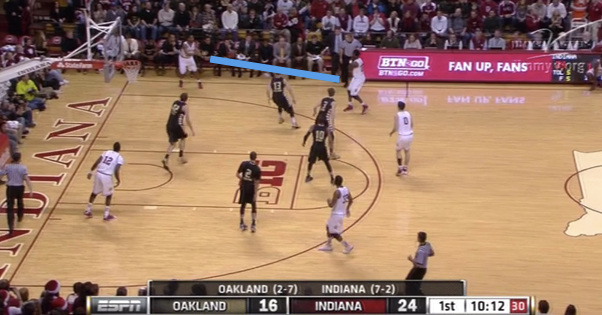 He rises and fires with little resistance for the 3-point score: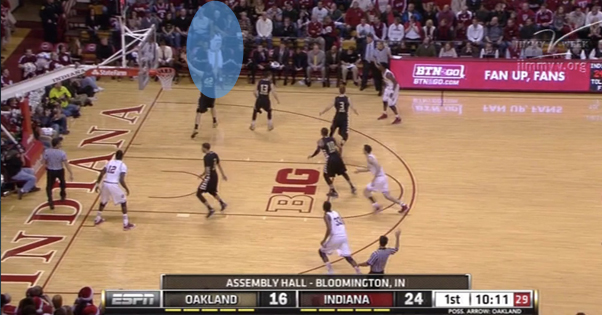 Video:
Filed to: Evan Gordon, Noah Vonleh, Oakland Golden Grizzlies, Stanford Robinson