The Minute After: Oakland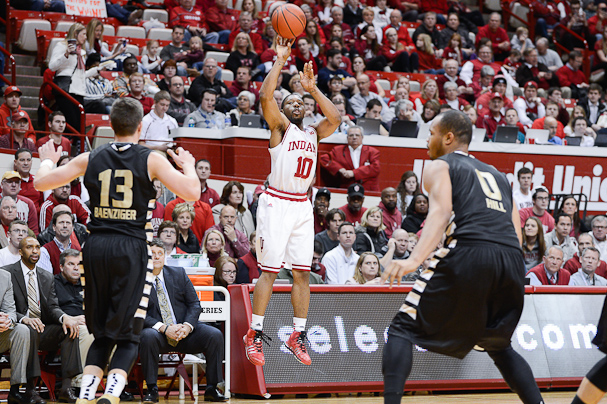 Thoughts on a 81-54 win against the Golden Grizzlies:
As Yogi Ferrell sat on the bench with two fouls in the first half, Evan Gordon found an offense groove. He kept the needle on it all night, eventually garnering "Ev-an Gor-don" chants from the Assembly Hall faithful and finishing with an eye-popping line (26 points on 10-of-12 shooting, including 4-of-5 from distance, five rebounds, three assists, three steals).
Gordon played with serious confidence and now sports two strong offensive outings in a row after posting 15 against North Florida on Saturday. It comes at a good time. The Hoosiers desperately need more balance in their offense with Big Ten season just three weeks away.
And Gordon wasn't the only encouraging shooter from distance tonight.
For the second game in a row the Hoosiers started out hot from beyond the arc. This time, it continued through the game — save for a rough stretch to start the second half where they settled instead of finding 3-pointers in the flow of the offense — as they hit 9-of-21 (42.9 percent). Troy Williams added a 1-of-1 mark from 3-point range and finished with 13 points. Ferrell hit 3-of-8 attempts. Stanford Robinson connected on 1-of-2. Jeremy Hollowell (0-of-3) and Austin Etherington (0-of-2) didn't make any this evening, but it's a good sign Etherington is continuing to shoot from 3-point land.
Luke Fischer had a nice night, picking up three offensive boards and putting them all back in for scores.
Will Sheehey did an admirable job shadowing 3-point specialist Travis Bader, as he hit shoot 0-of-10 from distance and just 2-of-15 from the field. But Sheehey appears lost at the other end of the floor. He was 0-of-5 tonight, which makes him 7-of-27 in his last four contests in which he's averaged just 4.5 points. Sheehey was both blocked at the rim — a common occurrence this season — and stripped in the closing minutes of this one.
Perhaps Sheehey's struggles are a result of the changing tides in the program. His scores on the break last season came in the mid-range as trailers like Jordan Hulls and Christian Watford spread the floor on the wings and the likes of Victor Oladipo and Yogi Ferrell brought the ball up quick, looking to get to the rim or pawn it off to efficient scoring teammates (Cody Zeller was also there, rim running better than pretty much any big in the country). He doesn't have those kind of teammates this year on the break. It's often much more haphazard, as a number of players (Ferrell, Hollowell, Noah Vonleh, Williams, Robinson, Gordon, etc.)  have tried — and sometimes failed — bringing the ball up with control and sound decision-making after a quick rebound. The consistently and familiarity just isn't there right now.
Sheehey's looks in the halfcourt never came on one-one-one stuff last season. Rare, too, was Sheehey getting a ball screen on the perimeter and reading the defense. That continues this year; there is no new wrinkle to his offense repertoire. He found, and continues to find, his points off the baseline and in the small spaces around the hoop and in the mid-range. He could shoot the 3 a bit as well last year. This year, with an offense that has struggled to spread defenses because of poor outside shooting and one that's still trying to figure itself out with new pieces and styles, perhaps Sheehey's role just hasn't fully formed yet (Other than the fact that he's no longer the fire off the bench. Instead, he's the starting senior leader). Perhaps it's just a mini-slump.
Whatever the case may be, he's too good and too valuable to be seemingly so lost in the flow of this team's offense.
The Hoosiers get the Fighting Irish on Saturday in Indianapolis. It's a measuring stick and maybe even a must-win. IU failed to win a close one against Connecticut and failed to show up in the second half against Syracuse. But at a more friendly neutral site in the Crossroads Classic, a win against the current No. 50 squad in the KenPom rankings would be a nice feather in the cap for the Hoosiers before conference play begins.
Filed to: Evan Gordon, Oakland Golden Grizzlies, Will Sheehey