Five takeaways from Indiana's win over North Florida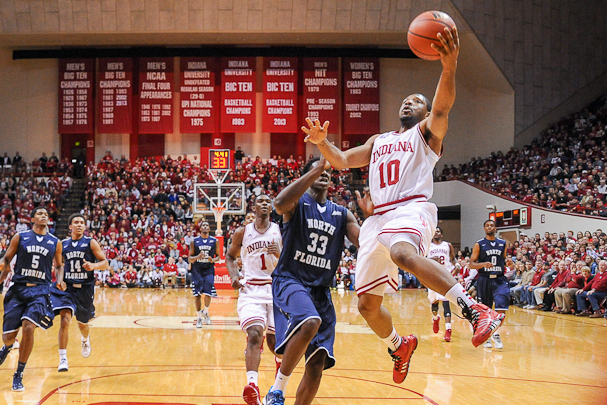 Indiana bounced back from Thursday's second half debacle at Syracuse with a comfortable 89-68 win over North Florida on Saturday night at Assembly Hall.
Here's a look at five takeaways from the win over the Ospreys:
· The Hoosiers didn't let the Syracuse loss linger: With a young team, there's always the possibility of a loss carrying over to the next game. Aside from a narrow defeat at the hands of Connecticut and a narrow win over LIU-Brooklyn, Indiana had yet to experience much adversity this season until the Syracuse game. Tom Crean talked at length in his Friday press conference about putting the loss to the Orange to bed quickly and for the most part, his young team did just that.
Indiana moved the ball early, hit some perimeter shots and forced North Florida out of its zone. It rebounded relatively well and got to the line at a decent clip.
In other words, it got back to establishing its identity.
"I think this team can be a very good rebounding team and can be a team that gets to the foul line," Crean said. "I think what we saw tonight is can we keep building on this, when we move the ball and we get in rhythm on 3s, we're pretty good with it."
· Evan Gordon had his best performance of the season: Evan Gordon hadn't had much of an offensive role through the first eight games despite averaging in double figures in each of his first three collegiate seasons.
That changed on Saturday night as the graduate transfer from Arizona State gave IU a major lift off the bench with 15 points (7-of-9 shooting), four rebounds, two assists and a steal in 19 minutes.
Beyond Yogi Ferrell and Noah Vonleh, Indiana has yet to establish another consistent scoring threat. In some games, it's been Jeremy Hollowell while Will Sheehey had his share of bright spots early. Gordon's career numbers suggest that he's as good of a candidate as any to put up points for an offensive that currently sits outside the top 100 in the KenPom adjusted efficiency ratings.
"When we recruited Evan, I said this to him on the bench tonight, when we recruited him — hopefully he's figuring this out, we saw a lot left in the tank that he could get better at," Crean said. "We didn't just see a guy that had played four years of college basketball that was coming in for his fifth year. We didn't just see that. We saw a guy that could make improvements. We saw a guy that could have a bigger role."
· Robinson's role key in IU run: After North Florida closed the gap to 35-29 at the 6:11 mark, the Hoosiers reeled off 14 straight points to push the lead to 49-29 at the 2:45 mark. This was IU's best stretch of basketball all night.
One of the catalysts in the run was freshman Stanford Robinson, who scored the first five points of the run and finished the evening with six points, eight rebounds, two assists and two steals in 17 minutes.
While he's still too careless with the ball at times (19.5% turnover rate), Robinson is usually in attack mode when he's on the floor. He's taken 23 free throws in 78 minutes this season and is shooting 52.2 percent on his 2s. He's a player who should continue to expand his role as the season moves on.
· Another double-double for Vonleh: It's becoming the rule that if Noah Vonleh is able to avoid foul trouble, he's going to either nab a double-double or get close to it. The freshman from Haverhill (Mass.) now has six double-doubles in nine games and is averaging 13.3 points and 10 rebounds.
A deeper dive into Vonleh's numbers show just how special he's been so far: He's fourth among Big Ten players with an offensive rebounding percentage of 15.9 and second with a defensive rebounding percentage of 27.3. Vonleh's free throw rate is 104.5 (70 free throws attempted/67 field goals attempted) and he's drawing 9.2 fouls per 40 minutes, which ranks fourth nationally.
· Sheehey's struggles continue: It was another tough evening for Will Sheehey as he followed a three point, zero rebound and zero assist performance in Syracuse with six points (3-of-9 shooting) and four rebounds in 21 minutes.
Over his last three games, Sheehey is averaging five points, three rebounds, one assist and a steal in 23.7 minutes. Against North Florida, Sheehey picked up a few ticky tack fouls that seemed to inhibit him from establishing a rhythm. His best basketball this season lies ahead, but it's important for the Hoosiers to get their senior on track in time for Saturday's meeting with Notre Dame in Indianapolis.
Filed to: Evan Gordon, Noah Vonleh, North Florida Ospreys, Stanford Robinson, Will Sheehey