The Minute After: North Florida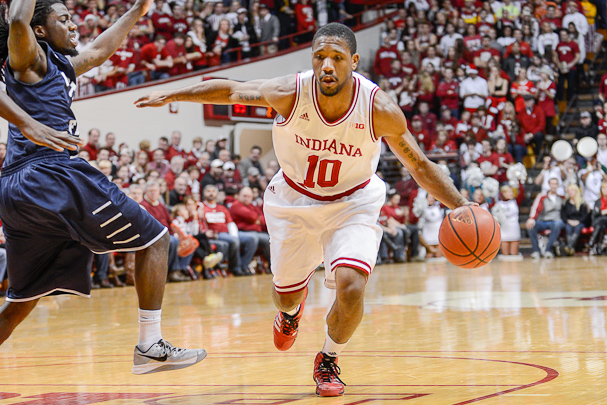 Thoughts on a 89-68 win over the Ospreys:
Beyond bouncing back to form after the Syracuse second half debacle, two things stood out in this one. The first is the Hoosiers started hot from beyond arc. Austin Etherington stopped passing up shots from distance tonight and starting taking them (2-of-3). The Hoosiers were 5-of-9 from distance at half. By the end of the game they cooled off after a string of late misses (6-of-19, 33 percent). Still it's encouraging to see players other than Yogi Ferrell taking and making shots from 3-point range, as Evan Gordon (1-of-2) and Jeremy Hollowell (1-of-2) also connected from beyond the arc this evening.
The second is the Hoosiers, who have been quite turnover prone so far this season, did a great job of taking care of the ball — save for a sloppy stretch in the first half. The Hoosiers turned the ball just 11 times tonight and only three times in the second half. That's good for a turnover percentage of just 14.0. The team also shared the ball well, as it assisted on 17 of 32 makes and posted an assist to turnover ratio of 1.5.
Once Big Ten season hits, the Hoosiers stand a better chance of winning ball games if they can find another consistent shooter or two outside of Ferrell that'll keep defenses honest and spread the floor as 3-point threats. This team is one of the better rebounding teams in the country and likes to get out and run. But when they're forced into the halfcourt — which is bound to happen in the Big Ten season at times — and each possession becomes crucial, less turnovers (and thus, more opportunities to end a possession with points) and more points per possession off a 3-ball could be huge in close contests.
Gordon had his best game of the season, as he led the team with 15 points and was 7-of-7 before missing his final two field goal attempts. Stephen Bardo talked about the Hoosiers looking for a third scorer outside of Ferrell and Noah Vonleh on the broadcast tonight with Gordon being one of his candidates. Still a lot of season left and there are other candidates here (Will Sheehey, Troy Williams, Jeremy Hollowell, etc.), but Gordon has so far shown he can get to the rim and shoot it from the outside a bit.
He also has a ton of experience and a maturity to his game which is likely to continue to warrant him good minutes once the Big Ten season hits — and maybe even a return to the starting lineup on occasion. Vonleh did as Vonleh does (13 points, 11 boards, five steals) and Stanford Robinson (six points, eight rebounds) and Hanner Mosquera-Perea (eight points, three rebounds) also chipped in with some nice stretches.
North Florida was a bit more athletic than most of the non-conference home opponents so far this season and it showed up at times, like their five blocks on the evening or that slick spin move freshman point guard Dallas Moore scored on in the second half. (Moore was pretty brilliant tonight, scoring 27 points and hitting 4-of-5 from beyond the arc.) So this wasn't quite a wire-to-wire blowout, as the Ospreys actually got a string of easy looks to start the contest. But once the Hoosiers settled in a bit more on defense, it was clear this one wasn't going down to the wire.
Filed to: Evan Gordon, North Florida Ospreys