Indiana moves past Syracuse, focuses on North Florida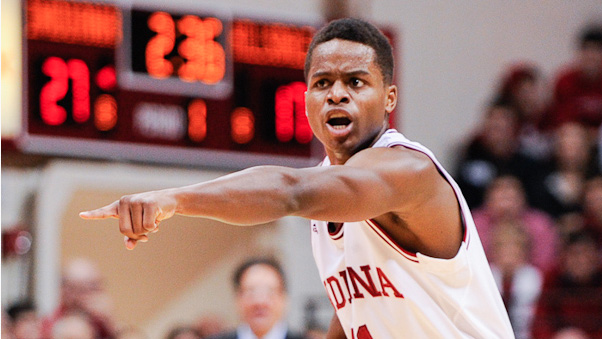 Indiana coach Tom Crean sensed in the postgame locker room on Tuesday night that his team wanted to quickly move on from the loss.
After the Hoosiers lost their second game of the season in a 69-52 collapse at No. 4 Syracuse, Crean questioned everything from Indiana's spirit to its leadership. His team trailed only 33-29 at halftime, but in the second half, a 23-3 Orange run would ultimately doom the Hoosiers.
"The other night was a lot of different things for us, but at the end of the day, it was the first true road game," Crean said on Friday afternoon in advance of Indiana's game against North Florida tonight. "And in the second half, we played like that."
When Crean looked at his team in that locker room in Syracuse, he saw that his players knew they were capable of more. There wasn't going to be much dwelling on the loss, Crean thought, because he could sense the hunger and desire for his team to move on and stay locked in.
And in the practices since the team arrived back in Bloomington, Crean says his players have done exactly that.
"I think our guys from the other night, they knew they did not play the way they are capable of in the second half," he said. "They have not needed a lot of reminders on that. They have come out with great energy and focus and resolve."
So, Crean has put the Syracuse loss on the back burner, for now. When it's time for Indiana to play on the road again, he'll go through with his players how to ensure history doesn't repeat itself.
Especially with a young team, Crean said, he has learned he and his players cannot afford to look far ahead. Instead, they will take it one challenge at a time.
"No matter what it is with this team, we have to stay completely locked in to what our improvement is like, because they are very young, inexperienced and don't know what it is like to win on the road, even though that was our first real road game," he said. "The bottom line is we are trying to stay focused on the things that we can control, and they can control how much better they are getting everyday with the way that we practice. That has been very good for us."
Hoosiers focused on North Florida
Tonight in Assembly Hall, Indiana will start a three-game in one-week stretch, highlighted by a matchup with 5-2 Notre Dame on Dec. 14 in the Crossroads Classic.
But to the Hoosiers, first up and most importantly at the moment is North Florida (5-5), who they will tip off against at 7:30 p.m.
"They're a highly talented team," freshman Troy Williams said. "They get a lot of threes up, and they have one of the leading 3-point shooters on their team. So we're just looking to close out on the other shooters and having a good game. It starts on defense."
In fact, nine North Florida players have already made at least three 3-pointers this season. Only three players on Indiana have achieved that same feat. One of the Ospreys' other strengths comes from its offensive rebounding, where they grab 32.8 percent of their misses.
And their depth has been impressive as well: North Florida has 10 players seeing at least 14.5 minutes of action per game, topped by senior Travis Wallace who in 24.1 minutes per game averages 12.4 points and 6.9 rebounds.
"We're going to get the whole team," senior Evan Gordon said. "They're a fast-paced team. They get it out on the break, and they do score on it more in their transition, so we've got to work on getting back and make sure we've got our defense."
"One thing that sticks out to me," Williams added, "is that most of their players average between the 6 and 12 points mark. So any given night could be somebody's night."
Where North Florida might struggle, though, comes in its offensive efficiency, as the Ospreys have an effective field goal percentage of 47.0, which ranks 245th nationally. Combined with Indiana's holding of opponents to a 41.2 eFG% — the No. 7 mark in the nation — the Ospreys could struggle from the field tonight.
And as Indiana has enjoyed living off blocked shots this season, it could again be the case tonight, too. North Florida has 13.3 percent of its shots blocked (No. 314 in the country), while the Hoosiers block 15.3 percent of the shots they face. The Ospreys also turn the ball over on 22.5 percent of their possessions, one of the worst rates in the country.
But especially after a loss, nobody on Indiana is looking ahead. All that's on their minds is the desire to win.
"I think you can just read it in people," Crean said. "They are ready to go. There is not a great deal of experience here, but there is a lot of hunger. I think when you have a group of guys that are hungry, they want to get right back at it."
Filed to: North Florida Ospreys, Tom Crean