Crean: "I'm the first one that's getting too far ahead"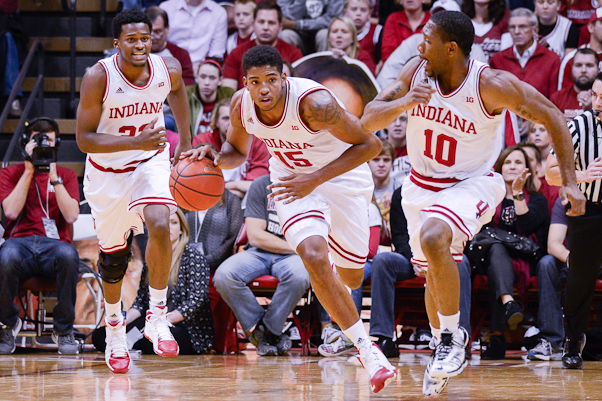 Indiana coach Tom Crean saw his team's potential in perhaps its worst half of the season.
On Friday, Nov. 22, in the 2K Sports Classic final against then-No. 18 Connecticut, his Hoosiers went 9-for-24 from the field, had 12 turnovers and somehow only trailed, 30-24. Though Indiana would subsequently lose the game, 59-58, Crean was convinced.
"You've got limited time and you're trying to not wear them down and they are young guys, and you've got a million things you're thinking about," he said on Nov. 26, following Indiana's 77-46 win against Evansville. "But the bottom line is we just have to get better at certain things every day and not get ahead of ourselves. We never get ahead of ourselves game wise, but we are asking them to learn a lot."
Seven games into the season, Crean has a lot to be optimistic about.
As of Saturday morning, Indiana (6-1) was the No. 4 offensive rebounding team (45.6 offensive rebounding percentage) in the nation and was No. 11 in getting to the foul line with a free throw rate (FTA/FGA) of 60.6 percent. His team is playing to the pace he wants with an adjusted tempo of 74.3 possessions per game, which ranks 20th nationally.
Indiana is also averaging 86.4 points per game — No. 24 in the country — and is limiting opponents to an effective field goal percentage of 39.5, which is fifth nationally.
But his team is still one of the youngest in the country, one that has six freshmen and five sophomores on scholarship. According to KenPom.com, the Hoosiers rank 325th in the country in terms of experience.
"I'm the first one that's getting too far ahead, and I realized that today," Crean said after the Evansville win.
"I think the hard thing for me, I see how good they can be. I see their talent level. I've known them for so long through the recruiting process and things like that. I want greatness for them."
His only returning starter from last season, sophomore guard Yogi Ferrell, is scoring a team-high 18.1 points and dishing out 3.9 assists per game. Freshman forward Noah Vonleh has started five of his seven games of his college career with a double double and is averaging 12.9 points and 10.4 rebounds per game.
That's only the tip of the iceberg, though. Ten players are playing more than seven minute per game, ranging from five of Indiana's six freshmen (excluding Collin Hartman) to both its seniors, Will Sheehey and Evan Gordon.
Indiana's depth, perhaps, is its best in recent memory.
"We've got a deep team," sophomore Jeremy Hollowell said. "A lot of different guys come in and play different positions. I mean, it really doesn't matter to focus on (starters) if you think about it."
Still, Crean knows there is a lot more to improve on.
Through seven games, Indiana's 3-point shooting, which last season was at 40.3 percent, is down to 28 percent, and Ferrell (17) has made more than half of the team's 30 makes.
Indiana also turns the ball over on 20.8 percent of its possessions — No. 280 of 351 teams in the NCAA. Its fast break game is nowhere near Crean wants it to be.
But he sees the potential in his team. It's hard not to, he says. But instead of focusing on the big picture, Crean will continue to focus on the next task at hand: this time stopping the No. 8 team in the country on Tuesday, No. 8 Syracuse (7-0).
"I'm saying as a coach, don't get ahead of myself and that we absolutely take each day for what it is," he said. "Improve what we've got to improve upon, emphasize what needs to be emphasized upon, adjust what needs to be adjusted and just keep making sure that every day we walk out of here, they got better fundamentally.
"And then I think the future takes care of itself so to speak. But we've got a lot of talent, there's no doubt about that. We have got a lot of willing guys but we have got a lot of things to learn and I've got to keep remembering that as a coach."
All tempo-free stats via KenPom.com.
Filed to: Noah Vonleh, Tom Crean, Yogi Ferrell