The Minute After: Washington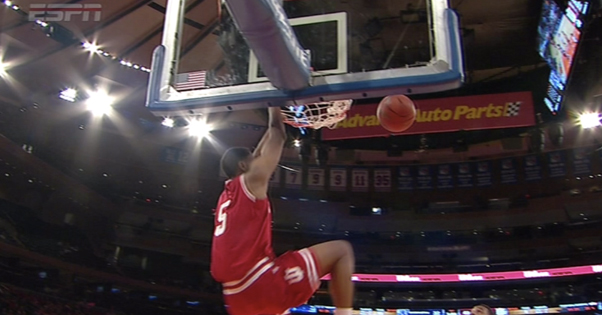 Thoughts on a 102-84 win over the Huskies:
All the spotlight on Noah Vonleh's sensational start to the season, but under the lights at Madison Square Garden fellow freshman Troy Williams finally got his.
In Indiana's first four games, Williams has had some near misses on home run plays, some steals where he's stepped out of bounds on his way to a sure slam. But tonight at Madison Square Garden, he couldn't miss. Williams finished an alley-oop from Stan Robinson on the break in the first half. He hit shots from the outside. He had some up and unders off the baseline in the second half that, like Will Sheehey, are becoming his trademark move. Williams did have another near miss, a dunk attempt where he was fouled in the first half that might have been his biggest "wow" play of the night. It was an electric 22-point (8-of-12, 6-of-7 from the line) performance. Williams was feeling it, he knew, we knew it, and it's perhaps a sign of things to come.
The Huskies tried throwing a zone at the Hoosiers in the first half, and though there were some possessions early where IU floundered around and had to jack something up late in the shot clock, they rarely settled for long twos or 3-pointers. It was shots at the cup with clean up, a 50-point first half performance where the Hoosiers shot 16-of-18 from the line and rebounded 71 percent of their misses for 19 second-chance points (1.37 points per possession).
Vonleh was all over the boards for easy put-back dunks again tonight when he wasn't making his own moves for scores in the post otherwise. His double-double streak ends (17 points, nine boards) tonight, but he continues to be hyper-efficient and forceful around the rim. Celtics President of Basketball Operations Danny Ainge was in the building tonight. Vonleh and Williams certainly gave him something to think about.
Yogi Ferrell had another strong performance (20 points, seven assists, just three turnovers). He continues to take the quick 3-pointer (3-of-7 from distance). He was vocal and fiery and there is just something in his eyes on the court this year. It's early and Ferrell really wants it all. It will be needed come the battles of the Big Ten. Sheehey was a little sloppy early, but had a great game when it was all over, scoring on his slashes to the basket off the baseline and wing (16 points on 7-0f-11 shooting) and finding some teammates on sharp passes (five assists).
The defense wasn't always up to par tonight. The Huskies got a string of points in the first half off penetration and managed 1.10 points per possession. The Hoosiers also popped out to some large leads, only to see Washington rip off a few runs to half the deficit. And yet, it was another decisive victory for IU where they relentlessly attacked, absolutely mopped up the boards and posted 100-plus points.
The toughest test of the young season hits tomorrow night at MSG against UConn. Can these Hoosiers keep it up?
Filed to: Noah Vonleh, Troy Williams, Washington Huskies, Yogi Ferrell