The Minute After: Chicago State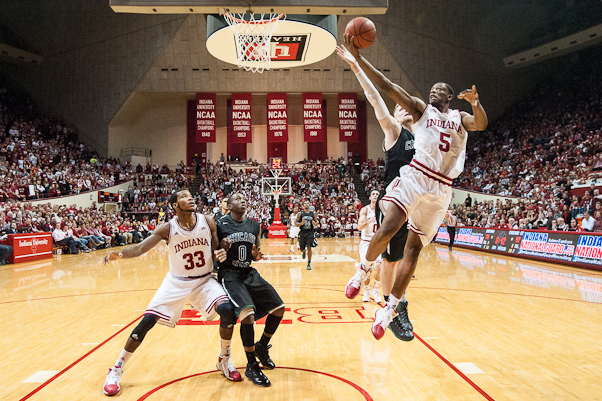 Thoughts on a 100-72 win over the Cougars:
Alex lined this game up as one that promised to be foul-heavy. It delivered. The Cougars and Hoosiers combined for 56 fouls and 82 total free throws attempts. Indiana shot 45-55 from the line (81.8 percent) and sported an insane 93.2 free throw rate (FTA/FGA). (Noah Vonleh was a perfect 5-of-5 from the line. That's got to make the kid feel good after his 0-of-8 start in two exhibition games.) The game dragged on in the second half. And with all the starting and stopping, all the turnovers and full-court press breaking and bricks, this one won't win any beauty contests. Still, there is much to explore from Indiana's opener.
First up: They threw an absolute block party on Branch McCracken Court this evening. By half, the Hoosiers had swatted eight Cougar shots. Indiana's high last season for a game? Just seven. (Done twice.) Tom Crean kept subbing. The rotations changed. But the blocks kept coming, 13 in all from six different Hoosiers. Jeremy Hollowell led the team with four. (Remember: Despite his limited run last season, he showed an ability to reject the opponent's shot.) Tom Crean trusts his ballhandling. In the first half, a silky smooth spin move off the left wing was one of the moments that showed what Crean's been talking about: Hollowell has control in traffic. For a team that continues to cough the ball up at red flag rate — nearly 22 percent of it possessions ended in a turnover tonight — that's so important right now. He finished the night with 16 points (9-of-10 from the line) and added four assists out of the starting lineup. This much seems clear: Jeremy Hollowell is no longer in the shadows, and he's beginning to spread his wings like never before.
The athleticism carried over to the other side of the court as well.
Hanner Mosquera-Perea threw down a dunk in the first half — the type he flashed with authority in high school but that never materialized during a tough freshman season. Troy Williams, despite a travel call just across halfcourt that resulted in one of his three turnovers on the night, threw one down at the hoop anyway. He would get his home run later with a right-handed, running-start slam. He tried, and failed, for back-to-back jacks on IU's next possession, jumping too far away from the hoop, eventually falling into a helpless Chicago State defender.
On top of Vonleh's free throws, he had 11 points and 14 boards (11 of those rebounds by half) and continues to show an ability to both push the ball on the break and play in the post. It's a unique skillset to have at his size. But Indiana's offense is still very much in flux right now. Yogi Ferrell is the general, sure. And some of the reliable contributors around him are beginning to emerge. But with so many new parts coming in and out of the game one after the other, the continuity just isn't there yet in a halfcourt set. And in a game like this with all the fouling, it's hard to find that flow possession after possession — especially with seeing zone, man and full-court pressure tonight.
That said, Crean likes his teams to get to the line. And he made an emphasis of bringing in referees for practice so his players better understand how the new rules work. If they continue to get to the line in droves, it'll help balance their lack of experience as a half court unit on the offensive side of the ball and the fact that outside shooting is still a work in progress.
Crean said after the game that "our guys showed a lot of the upside that's there." He was right. But Crean also admitted: "There's a, probably, five-page laundry list of things we need to be better at." Right again.
One game in the books, and despite all the youthful athleticism, this squad still has a ways to go.
Filed to: Chicago State Cougars