Chicago State pressure could present challenge for IU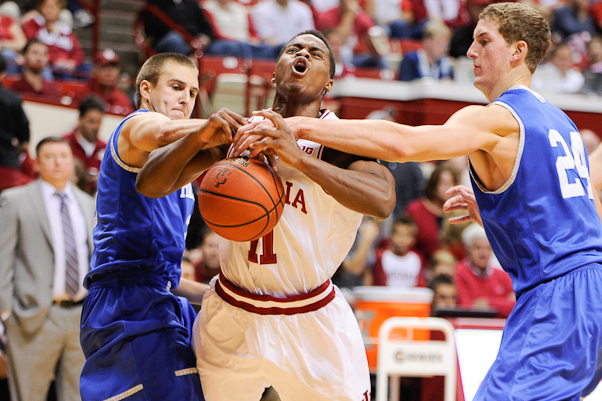 Forget the fact that Chicago State went 11-22 last season and started the year 1-12 against Division I competition. The Indiana Hoosiers believe they are in for a significant test tonight in their regular season opener to the 2013-2014 season.
Though Chicago State has not necessarily had the on-court success that typically garners the respect of an opponent — the Cougars are 21-74 in their past three seasons — Indiana has taken notice. And the Hoosiers think they are in for a battle.
"I mean, when you're going against a pressure team, you have to play basketball," Indiana coach Tom Crean said on Thursday. "It's going to be very good for us to have to do that."
So, why has Crean taken notice of the challenge Chicago State's pressure may present? After the Hoosiers turned the ball over 33 times in their two exhibitions, they are now facing a team that ranked in the top in the NCAA last season in steals per game (9.42). Even though it is a new season, the Cougars return eight seniors and many of their rotation players from last year. Indiana, in contrast, has only one returning starter and four upperclassmen.
Combine the age difference and experience factor with Chicago State's defense prowess, and the Hoosiers believe they have a challenge on their hands.
"I know they're a pretty good team," freshman Noah Vonleh said. "They like to press, so we've really been practicing hard and working on things to try to break that tomorrow. They're really athletic."
"They feed off their energy and they feed off their press," sophomore Yogi Ferrell added. "Once they get a couple steals from their press and get a couple of buckets, they're going to get fired up. So it's going to be a good test for us to see how well guys handle the ball and how well we can make certain passes. We just have to be patient with it and try not to speed up."
As Ferrell and Vonleh mentioned, breaking Chicago State's press will be one of the Hoosiers' priorities tonight. But that is just the beginning of the Hoosiers' concerns. Crean thinks the Cougars will play in multiple zone defenses, including the 1-2-1-1 and 2-2-1 press. He knows what Chicago State is capable of: trapping the ball, forcing turnovers, deflecting the ball.
So when the lights come on, the Hoosiers will try to limit their turnovers more than anything. After all, they think Chicago State "will create some havoc for us."
"The pressure that they're capable of putting on is enormous," Crean said. "We're gonna find out what kind of instincts we have. We can't come down and turn the ball over. This team will turn it into easy baskets."
Sheehey 'fine', according to Crean
Crean told the media on Thursday that senior Will Sheehey should be ready to go for the Hoosiers' season opener tonight.
After colliding with senior Evan Gordon early in the second half of Indiana's exhibition against Hillsdale on Monday, Sheehey left the game with an apparent calf injury. After the game Crean was optimistic but unsure of Sheehey's prognosis. However, as the week has progressed, Sheehey has been practicing as normal.
"He's been fine. He's practiced well," Crean said. "You really couldn't tell a difference with him. Sometimes Will thinks he's a little bit older than he really is."
Other notes
· After shooting 0-for-8 from the free throw line in Indiana's two exhibition games, Vonleh is well-aware of his poor shooting effort. Speaking to the media on Thurday, though, Vonleh said he isn't too worried about it heading into tonight's regular season opener."I'm not really concerned about it, too much," Vonleh said. "Everybody knows I went 0-for-8, but in practice I've been shooting the ball pretty well from the free-throw line. I've just got to zone everything out and focus on my shooting confidence and my ability."
· Sophomore Hanner Mosquera-Perea's footwork is so improved this season compared to last that it's among the most impressive improvements Crean has ever seen from one year to the next. Crean said Perea's much more comfortable this year, which has led him to improve not only his footwork, but his defense, fitness and even his shooting.
· It's been no secret that Jeremy Hollowell will have an increased role in this year's team. With an inherent lack of guard depth, the 6-foot-8 sophomore will be forced to play at both the forward and guard positions this season. That said, Crean has been impressed with his game so far but wants just one additional aspect to improve more."I would say it's the rebounding," Crean said. "And we really need that from him no matter what position he's in."
Filed to: Chicago State Cougars, Hanner Mosquera-Perea, Jeremy Hollowell, Yogi Ferrell