The Minute After: Hillsdale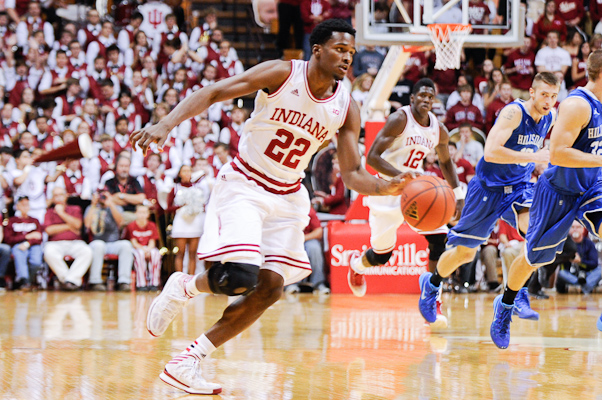 Thoughts on a 79-39 win over the Chargers:
I. Tom Crean voiced concerns about his team heading into this contest, and it was all on display to start. Indiana turned the ball over again and again — with freshman Troy Williams recording two of his own trying to go baseline. Hillsdale's motion offense rolled; the Chargers, by design, prevented the Hoosiers from getting out and running. Fresh off a tough, close loss to Toledo just last evening, the score read 13-2 Hillsdale.
But it wouldn't last. The Hoosiers starting finding their groove in the transition game, they turned defense into offense, they would hit a couple 3-pointers and get to the line. Hillsdale's tired legs were just no match. By half, IU turned an 11-point deficit into a nine-point lead despite coughing the ball up on 25 percent of its possessions. The second half would be an even bigger explosion, as the Hoosiers outscored the Chargers 46-15 over the final 20 minutes.
On a team with a lot of guys hunting for minutes and a rotation that continues to look deep, 11 Hoosiers scored.
II. Stanford Robinson and Devin Davis got into the mix this evening and both appear to be firmly in the hunt for minutes. After getting chewed out by Will Sheehey for a lackluster pass, Robinson went to work on the defensive end, getting back-to-back deflections — with the last leading to a steal and two made free throws after he was fouled at the hoop. The southpaw also scored on a couple crafty drives and was the middle man on the prettiest play of the night. Yogi Ferrell passed him the ball in the middle of the paint and he whipped the ball to Hanner Mosquera-Perea at the cup. The sophomore was fouled and scored. It was terrific, fun ball movement. After his nine points in 11 minutes performance, some are wondering if he'll eventually crack the starting lineup.
Davis finished with five points, six boards, an assist and steal in just 12 minutes of action. His size and athleticism continue to show that IU, despite its lack of experience and cohesion at this point in the season, can keep throwing bodies at you in waves.
III. Noah Vonleh had some strong back-to-basket moves for scores tonight. At one point, he also dribbled the ball down the court with speed and ease, another reminder of just how versatile the youngster is. But the free throws continue to be an issue. He missed all three of his attempts this evening and finished the preseason 0-of-8. Tom Crean said at Big Ten Media Day that Vonleh recently hit 84-of-100 in practice. But so far, such a mark has yet to translate into game action.
IV. Ferrell was strong on the offensive end for the second straight game, leading all IU scorers with 14 points. He's clearly bigger and stronger this season and it shows on his drives to the rim, as there's just a bit more strength as he attacks the cup. Ferrell wasn't as hot from 3-point land tonight (2-of-5). Sheehey helped pick up the slack, hitting 50 percent from distance (2-of-4)  on his way to 12 points.
V. Jeremy Hollowell got run again at the point tonight, but as both he and Crean eluded to at Big Ten Media Day, the sophomore is a versatile 1-4 type player. That showed, as Hollowell also played big and posted up on a few occasions. He also got the start tonight, unseating Evan Gordon, who started last week against Southern Indiana.
Filed to: Hillsdale College Chargers