Oladipo scores 12 in debut as Magic fall to Pacers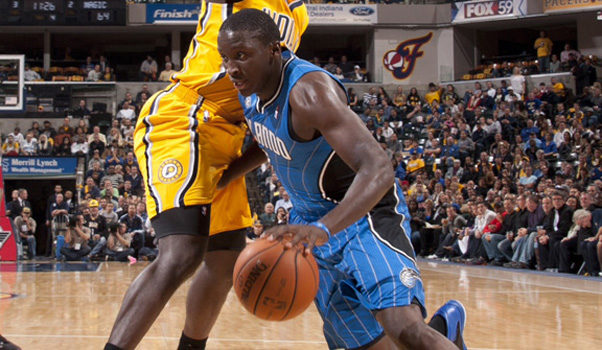 (Photo credit: Jessica Hoffman/Pacers.com)
Former Indiana All-American and Orlando Magic guard Victor Oladipo got his first official taste of the NBA on Tuesday night.
Oladipo, the No. 2 pick in last June's NBA Draft, came off the bench for the rebuilding Magic and scored 12 points in a 97-87 loss to the Indiana Pacers at Bankers Life Fieldhouse.
"This was my first game. I just got here. It's going to take time," Oladipo told reporters afterward. "You never know what to expect."
A strong contingent of Indiana fans showed up to watch Oladipo make his NBA debut as he signed autographs and posed for pictures before the game.
Tom Crean and his wife Joani sat courtside at Bankers Life Fieldhouse and current IU players Stanford Robinson and Troy Williams were also in attendance.
Oladipo entered the game at the 5:38 mark of the first quarter and scored his first basket on a 3-pointer with 2:57 remaining in the first quarter.
He finished 4-of-11 from the field and also had three rebounds, three turnovers, two assists and a steal.
"It felt good getting that reaction from the fans," Oladipo said. "But I like to win. Overall it was pretty good, it was amazing, they showed a lot of love out there. I'm truly blessed, grateful and thankful."
Oladipo won't have to wait long to get another shot at his first career win.
The Magic will be in Minneapolis tonight for a meeting with the Timberwolves before returning home on Friday for their home opener against Eric Gordon and the New Orleans Pelicans at the Amway Center.
"I know that it doesn't come overnight and that it's a process and that I need to be patient," he said. "It's frustrating because I want to be great and help my team win so much.  I just have to be patient."
Filed to: Victor Oladipo