Recruiting notebook: Okonoboh gets first look at IU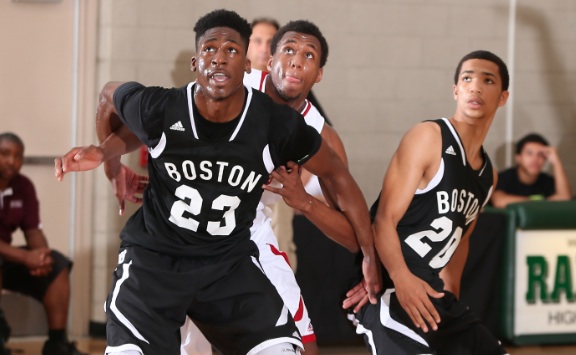 Several class of 2014 prospects being recruited by Indiana will be making official visits this weekend and our latest recruiting notebook takes a look at those campus trips as well as other notes from the first week of the fall recruiting period:
· Goodluck Okonoboh, one of IU's top targets in the 2014 class, will make his first official visit this weekend and Bloomington is the destination. The Hoosiers have long been considered one of the favorites to land Okonoboh and getting him on campus is the next logical step in making that happen. It's been well documented, but the relationship between Okonoboh and current IU freshman Noah Vonleh is a very good one and this weekend provides Okonoboh the opportunity for his first up close look at the Indiana campus.
· Lourawls Nairn hosted Tom Crean for an in-home visit earlier in the weekend, but the major development for Nairn this week was the addition of Michigan State to his list of three finalists. Nairn had been considering a final three of Indiana, Minnesota and Oklahoma, but the Spartans are making a late push with Tyler Ulis seemingly headed to Kentucky. Nairn will be in East Lansing this weekend and then Indiana will host him for an official visit next weekend.
· Devin Robinson begins his official visits this weekend with a trip to Oklahoma State, the first of five scheduled trips. Robinson hosted Oklahoma State for an in-home visit on Monday and Crean and Kenny Johnson were in on Tuesday. His other three finalists are expected in next week. Indiana landed the most ideal timing for an official visit of any of the finalists as Robinson will be on campus for Hoosier Hysteria weekend.
· The Robert Johnson recruitment is nearing an end as his decision is set for next Friday and he completes his official visit schedule this weekend with a trip to Florida State. Indiana, North Carolina and Virginia are the other three finalists for Johnson, but most of the talk is centered around the Hoosiers and Tar Heels to land Johnson. Indiana was in Richmond to visit Johnson and his family last Monday, which was the first day college coaches could be on the road.
· Indiana continues to recruit James Blackmon Jr. as Tom Crean was at his open gym on Thursday in Marion and also had an in-home visit. Michigan State had an in-home with Blackmon Jr. on Wednesday and North Carolina and Kentucky are expected in this weekend. The Wildcats have already scheduled an official visit with Blackmon Jr. for the weekend of Oct. 18. What's not clear is how a commitment from Devin Booker, who is strongly considering playing with Ulis in college, could affect Blackmon's interest in Kentucky. Michigan is another school that is making a strong push for Blackmon Jr. as he was recently offered by the Wolverines on an unofficial visit.
· Northwest Florida College big man Stephen Hurt will take his third official visit this weekend and Wichita State is the destination. The Shockers are believed to be in great shape with Hurt as assistant coach Steve Forbes recruited Hurt to Northwest Florida before leaving this summer for Wichita State. Hurt has already taken official visits to Kansas State and Miami (FL) and is scheduled for an official visit to Indiana next weekend.
· The recruitment of Isaiah Whitehead, a five-star shooting guard who made an unofficial visit to Bloomington a couple of weeks ago, remains somewhat of a mystery. Whitehead recently took an unofficial visit to Seton Hall and had Pittsburgh and Minnesota stop in this week to see him. Some tweets in recent weeks about not being able to peg down where schools stand with Whitehead have been retweeted by the player with the following commentary: "Just The Way I Want It."
(Photo credit: Kelly Kline/adidas)
Filed to: Devin Robinson, Goodluck Okonoboh, Lourawls Nairn, Robert Johnson