Robert Johnson Sr. talks recruiting, upcoming IU visit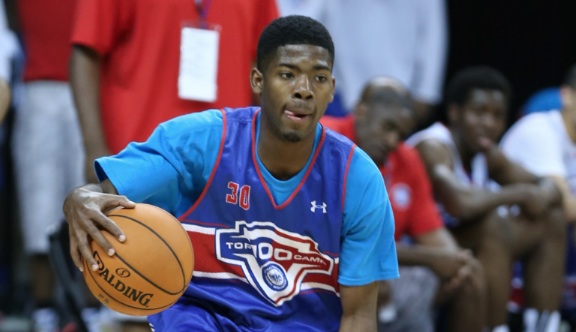 After a summer that saw his stock rise significantly after performances at the Peach Jam and the AAU Super Showcase, class of 2014 Benedictine (Va.) guard Robert Johnson is ready to begin visiting schools.
The 6-foot-3, 190 pound guard is working from a list of seven schools — Florida State, Georgetown, Indiana, Miami (FL), North Carolina, Pittsburgh, Virginia — and will make his first scheduled official visit this weekend to Bloomington. Louisville has also expressed interest in the combo guard.
Johnson received his first scholarship offer from UNC-Greensboro last year, but has steadily raised his stock over the past year.
The notoriety hasn't changed Johnson, according to his father, Robert Sr.
"Talking to Robert, I think he's handling the process really well," Robert Johnson Sr. told Inside the Hall on Sunday. "He's not a kid that shows a lot of emotion. He's definitely blessed by the attention that he has received because he feel like he's put in the work."
While Indiana didn't officially offer Johnson until late July, assistant coach and recruiting coordinator Kenny Johnson has been familiar with the Virginia guard and his family for quite some time.
"Coach Johnson was actually recruiting him when he was at Towson," Johnson Sr. explained. "Then when he made the transition over to Indiana, Robert was actually playing for the D.C. Assault at the time and he watched him then. He's been kind of tracking him."
The Hoosiers put on the full court press beginning in July, when Tom Crean was able to see Johnson average 20.2 points and shoot 46.2 percent on 3-pointers at the Nike Peach Jam.
"(This year) he played with Boo Williams in the live periods at the EYBL sessions at the Peach Jam and he (Johnson) wanted Coach Crean to see for himself the type of player that Robert was," Johnson Sr. said. "Coach Crean was able to see him at Peach Jam and pretty much put his stamp of approval on everything as far as what Coach Johnson was telling him."
In a story with ESPN.com late last week, the younger Johnson said that he could commit on a visit if "I find something I really like, I won't wait. I could commit on a visit."
Johnson Sr. told Inside the Hall that he's made it clear to his son that he'll support him in anything that he does, but was also wants to make sure that any commitment he gives will be final.
"Once you commit to something, there's no de-committing," Johnson Sr. said. "And I think that's why he's being real specific and strategic about it because once he commits, that's it. He's going to stick to that commitment."
As a parent, Johnson Sr. has a specific list of criteria that he'll be looking for as he accompanies his son on visits.
"Some of the main things I know I'll look at it is first, as a parent, the things we've instilled in Robert, the foundation that we've laid, I want somebody to carry on what we started and assist him in becoming a well grounded young man," he said. "Education wise, I want to see the graduation rate, how many guys graduate on the basketball team. What are they doing after basketball? Those are some of the things I want to see. The culture, the environment and will he fit in the environment?"
From a basketball perspective, Johnson Sr. believes the younger Johnson will be able to fit in with just about any system.
"He adapts to any system really. I think you would not see his best if you see him in a system where they're making multiple passes and he's not creating shots for someone, not creating shots for him," Johnson Sr. said. "Transition, he likes to get out in the open court and also as a trailer, hitting jumpers in transition.
"I've watched Indiana play and they pretty much let their guards loose. And he's the type of player that was always a shooter, but now he's been working on that high screen and roll, which a lot of colleges are running."
When Indiana offered Johnson a scholarship in mid-July, he told Inside the Hall that the program's recent success in getting players to the NBA was "definitely appealing."
The Hoosiers had two of the top four picks in June's NBA Draft with Victor Oladipo going No. 2 overall to Orlando and Cody Zeller going No. 4 to Charlotte. The IU presence at the top of the lottery wasn't lost on Johnson Sr., either.
"That's big, that's big. The player development is huge. I watch Indiana and (Victor) Oladipo, his freshman year, was really under the radar," he said. "He wasn't a great shooter and he's pretty much always had a good motor, but I think Tom Crean and the coaching staff did a great job with allowing him to keep the motor but they worked on the other facets of his game. I watched how they developed him and it's great."
Filed to: Robert Johnson