Q & A: Cody Zeller talks future in Charlotte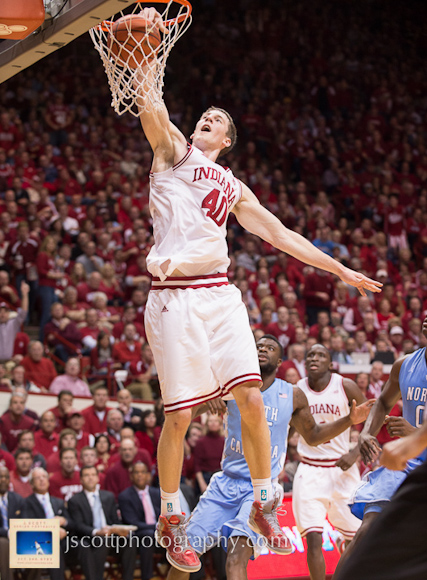 Former Indiana big man Cody Zeller was the No. 4 pick in Thursday's NBA Draft to the Charlotte Bobcats. Zeller met with assembled media at the Barclays Center in Brooklyn afterward for a brief Q & A (transcript via ASAP Sports):
THE MODERATOR: Start with an opening statement about your feelings about getting drafted.
CODY ZELLER: I'm so excited for Charlotte, playing with the Bobcats. It's an unbelievable feeling. It's one of my top choices just because it's a young group of guys with Kemba Walker and Kidd?Gilchrist especially. Guys with good motors that play the right way. They get up and run. It's a good group of young guys. Charlotte seems like a great city. I think all around it's a great fit for me.
Q. Cody, we talked before and you said you don't think you're going to be around in the end of the lottery. How soon did you know you were going to Charlotte?
CODY ZELLER: I was just kidding my agent because he didn't bail me out. He didn't tell me. I didn't know until David Stern announced it. It's a crazy process not knowing, but I'm definitely excited that I ended up with the Bobcats.
Q. Cody, I wanted to ask you about, Charlotte hasn't been the most stable organization in the past few years. Talk about going into that organization. Do you feel there's extra pressure, putting pressure on yourself and your teammates to be able to try to turn it around as quickly as possible?
CODY ZELLER: I've always dealt with pressure growing up with two older brothers through high school, through college. So I don't think that will affect me too much. I'm ready to go in there to work and make a difference. Bringing my work ethic every day and see where it takes me.
Q. Were you a Michael Jordan fan growing up? And have you talked to him at all during this whole process?
CODY ZELLER: Yeah, a huge fan obviously. One of the, if not the, best player to ever play the game. It is unbelievable. It's unbelievable I'll be able to talk with him and learn from him. It will be an unbelievable experience for me.
Q. Cody, the Charlotte Bobcats really don't have that franchise guy. Can you be that franchise guy?
CODY ZELLER: I'm not worried about the title of franchise guy or anything. I'm going to come in and try to be the hardest-working guy, is what I'm going to try to be. Hopefully the other guys there will follow my lead or I'll join them, if it's a good group of hard-working guys, then the team is going to start winning.
Filed to: 2013 NBA Draft, Charlotte Bobcats, Cody Zeller