Q & A: Victor Oladipo talks future with Orlando Magic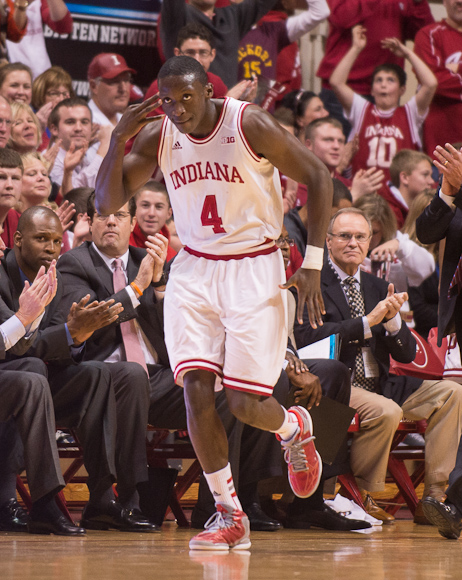 Former Indiana guard Victor Oladipo was the second pick in tonight's NBA Draft to the Orlando Magic. Afterward, the All-American met with the assembled media at the Barclays Center to discuss his future and much more (transcript via ASAP Sports):
THE MODERATOR: Could you start with an opening statement on your feelings.
VICTOR OLADIPO: Surreal feeling, man. I've been watching this draft pretty much all my life, and to actually be a part of it and to actually be the No. 2 pick in this draft is truly a blessing from God. Just going to continue to keep working hard. I'm just getting started.
Q. Victor, congratulations. So much to talk about. Orlando has a lot of good, young talent, and the possibility of Eric Bledsoe may be going there as well. How are you looking forward to being under the tutelage of a good leader like Jacque Vaughn as well as playing with some good young players?
VICTOR OLADIPO: I'm really looking forward to it. They're in a rebuilding process. I'm just glad they chose me so I could be a part of that. In Indiana we had a huge rebuilding process, so I know what it takes. I'm looking forward to going there and working hard and playing at a high level and help impact winning.
Q. Victor, as a rookie going to a team with veteran leadership and you have to make your role. Talk about how it's going to be as a young guy who is going to be joining another cast of young guys, and how you're going to be able to create yourself and find a role in the locker room.
VICTOR OLADIPO: There's no question they've been there and they've done it. So going into a program like that, I definitely have to earn my teammates' respect. I'm not trying to come in and do everything and try to outshine everybody. I'm going to come in and work hard. Because they're definitely a great program and they've got young kids who are working hard. I'm definitely looking forward to be a part of that.
Q. Victor, first of all, congratulations. When did you have a sense it was going to be Orlando? And what do you feel about that roster and how you fit that roster?
VICTOR OLADIPO: I had a sense when they called my name. My agent wouldn't tell me. It was kind of tough, but it was exciting.
I love the roster. Like you said, there's young great talent on there. I'm just looking forward to be a part of that, and helping them win.
Q. Victor, you've gotten a lot of comparisons to Dwyane Wade, your type of game. Do you see that in yourself? Are you that type of player?
VICTOR OLADIPO: You know, there's different parts of my game that compare to him, but at the end of the day I'm just trying to be the best Victor Oladipo as possible.
He's a great player and someone I actually look up to, and I can't wait to go against him on the court. It's going to be fun.
Q. Yesterday you discussed how your parents thought this was just a hobby, that you were eventually going to give up. Now that you're here, you're the No. 2 pick, what's the feeling your family has right now to see you reach this point and be the No. 2 pick?
VICTOR OLADIPO: I don't even know if my family still knows what's going on. I know they're happy. I know they're happy for me. This is probably a surreal feeling for them, too, to see the youngest, the baby boy, grow up to be the gentleman that I am today. And even in that aspect, I'm just getting started as a young man; just turned 21. So a long life ahead of me.
I'm just looking forward to making each day the best day and just getting better from one day to the next.
Q. Were you outside when Cody got picked? And what does it mean for both of you guys to be picked in the top four?
VICTOR OLADIPO: Yeah, I was out there when he got picked. I'm not surprised he got picked where he got picked. I was cheering just as loud as everybody else. I know how hard both of us worked to get to this point. It's huge for the Indiana Hoosier program for us to go in the top four. That program deserves the best because it is the best.
For us to just grow as players and as men in that program and then have the opportunity to be the No. 2 and No. 4 pick in the draft is a surreal feeling.
Q. Victor, congratulations on being drafted by a team that plays in a state with no income tax. You mentioned your agent. I'm always curious about this, is it like Jerry McGuire when you're a top athlete and people want to represent you? What was that process like?
VICTOR OLADIPO: It wasn't very difficult for me. I kind of say in every situation in my life, divine intervention leads me to all my goals in all aspects of my life. It was divine intervention that got me??
Q. But was it like Jerry McGuire with people making crazy promises?
VICTOR OLADIPO: The thing with me is I shut it down. During the season I didn't get any calls from anybody. I wasn't accepting any calls. Whoever reached any of my coaches, whether it be Coach Stevens, my AAU coach, my high school or Coach Crean, they didn't mention it to me. I was just focused on Indiana basketball and winning. If they tried, they didn't get to me.
Q. How did the process open up?
VICTOR OLADIPO: After the season I sat down with my coaches, and we got a select few guys and we interviewed each of them. I narrowed it down to two, and I had to meet with my family. I feel like after I met with my family, my family has my best interests in my heart. They have that sense of comfort. All sides point to Raymond Brothers, who is my agent right now. He means a lot to me already. He's done so much for me already. I'm just glad we're together and he's definitely going to fight this fight I'm about to fight with me. I'm looking forward to each day.
Q. Who do you have here with you tonight to celebrate? What does that mean?
VICTOR OLADIPO: I tried to bring the whole DMV with me. I got my sisters, my mom, my agent, and my father actually came today, which means a lot to me as well. It was hard for him definitely to come to a lot of my games. But for him to be here today is an amazing feeling.
A lot of my friends, a lot of my coaches and their family. Just my circle, my inner circle. I'm just glad that they're here to share this experience with me.
Q. Victor, after the past weeks and months of uncertainty, what's it like when you hear them tell you where you're going to live? You have a team and a roster? Moving forward with more clarity, what's that like?
VICTOR OLADIPO: It's like a weight vest you took off after running five miles. It's relaxing, man. But at the same time, you know it's just getting started, man. I'm just looking forward to getting there, getting to Orlando, meeting my teammates. I can't wait to meet my teammates. Just create a bond with them. That will definitely help us on the court and go to war with them every night.
Filed to: 2013 NBA Draft, Orlando Magic, Victor Oladipo