The Inside the Hall Mailbag: June 24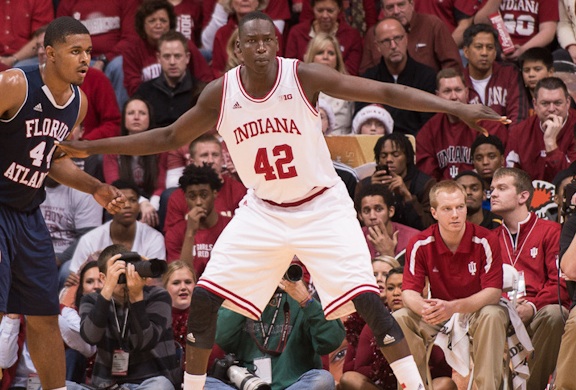 The Inside the Hall Mailbag is a collection of questions tweeted to us via Twitter (@insidethehall) and sent to us via our Facebook page. Submit your questions and we'll answer as many as we can.
John Cole writes: Any idea what Peter Jurkin's status is injury wise?
Tom Crean updated the status of Jurkin earlier this month at the IU Tailgate Tour stop at Huber Winery in Starlight, Indiana. Here's what he said, verbatim, in an address to fans: "It'll probably be somewhere near the end of summer before we can really get him back on the court in a full-time way, but he's out there working on it now."
Take that to mean that Jurkin isn't able to participate at 100 percent health at this particular time, but he's making progress and that Indiana is expecting him to be healthy later in the summer. With a young player that's had injury problems for a couple of years now, the cautious route is wise as there's no reason to risk Jurkin doing further damage and missing more time. — Alex Bozich
Andrew Miller writes: Will we see Yogi assume more of a scorers mentality next year or still just a facilitator of the offense?
I believe there will be plenty of games where Ferrell will lead Indiana in scoring and assists next season. As a freshman, his role was that of a facilitator, but given what the program lost, he's going to have to score more if Indiana is going to win games. Besides Will Sheehey, there's not a proven scorer returning on the roster and while many of the newcomers are capable of going out and getting 10 to 15 points on any given night, so is Ferrell.
The key, however, lies in him becoming a more efficient offensive player. His effective field goal percentage (45.4) as a freshman was by far the lowest of the starters and he's got to become more consistent from 3-point range, where he shot just 30.3 percent last season. If he can get that figure up near 40 percent, it wouldn't be surprising to see him average 12 to 13 points a game next season. — Alex Bozich
pistolpat411 writes: Which freshman other than Noah Vonleh will have the greatest impact next season?
Great question and I think there's a case to be made for Luke Fischer, Stanford Robinson and Troy Williams as the answer. I'll go with Fischer for two reasons:
1. He's coming in to fill a position of great need. With Cody Zeller moving on, plenty of minutes are available at the five and Fischer looks poised to grab a fair majority of them.
2. He might be the most college ready in terms of fitting into the system, embracing his role and producing. Robinson and Williams were accustomed to having the ball in their hands a fair amount during their respective high school careers. Fischer scored a lot in high school, but didn't always get the ball pounded inside to him for that purpose. He scored quite a bit in transition and off second chance points, which are two things that can translate to college. — Alex Bozich
Tom McGuire writes: Hollowell seems talented but not very hard working or focused, can Tom turn him around?
I totally disagree with your assertions that Hollowell doesn't work hard and isn't focused. Both have been common misconceptions dating back to early in his high school career. He may not always look engaged with his body language and he needs to become more vocal, but you don't come into a game in Assembly Hall against the nation's No. 1 team and block three shots as a freshman if you're not focused.
As far as the work ethic aspect, Hollowell is becoming a 365-day a year player, which is exactly what can help elevate his game to the next level. Few players on IU's roster can match Hollowell from a pure talent perspective and with a greater opportunity for minutes as a sophomore, he's a player that could break out in a big way. — Alex Bozich
@THowwwwse writes: what is your projected starting 5? Can we expect a different 5 at the end of the season?
Currently, I would go with Ferrell, Will Sheehey, Hollowell, Vonleh and Fischer with Evan Gordon as the first player off the bench. That said, there's a case to be made that starting Gordon because of his experience makes sense. But those would be my first six as of now, which is months before any meaningful basketball will be played.
Indiana started the same lineup in every game but one last season, but I don't see that being the case next season. This is a deeper roster, at least on paper, and guys like Robinson, Williams and Hanner Mosquera-Perea could also start at times. — Alex Bozich
@Beent12 writes: looking at our potential top 7 or 8 shows 3-pt shooting as a potential weakness. Who can crack the rotation due to his shot?
Austin Etherington and Collin Hartman could both crack the rotation as shooters who may also be able to contribute in other areas as well. Etherington is, according to Crean's comments earlier this month, currently the strongest player on the team and Hartman can play off the ball and do the little things that don't show up in the boxscore like set solid screens and dive on the floor for looseballs. While both guys might get on the floor because of an ability to shoot, if they hope to stay on the floor, being able to contribute in other areas is a necessity. — Alex Bozich
Filed to: Twitter Mailbag