James Blackmon Jr. in the midst of busy summer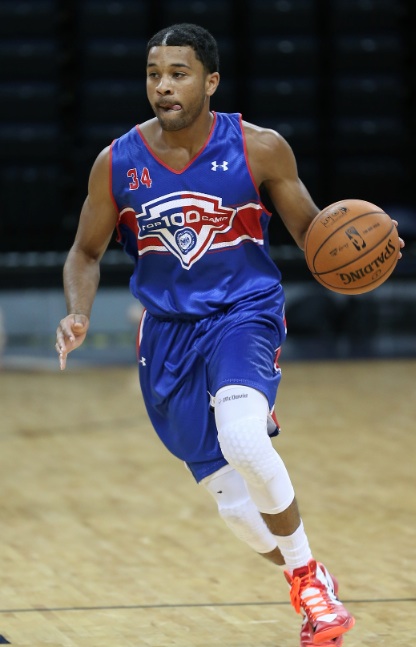 It's already been a busy spring for class of 2014 Marion (Ind.) guard James Blackmon Jr.
The future Indiana guard participated in four Nike EYBL sessions, four exhibition games for the Indiana Junior All-Stars and the National Basketball Players Association (NBPA) Top 100 Camp last week in Charlottesville, Virginia.
And there's plenty still to come this summer.
Blackmon Jr. was invited to the Kevin Durant Skills Academy that runs from June 28-30 in Washington D.C. and also the LeBron James Skills Academy in Las Vegas from July 5-9. And after that, it's off the EYBL Finals at the Peach Jam with Spiece Indy Heat, which finished the regular season 15-3.
"The goal is to win the whole thing, basically," Blackmon Jr. told Inside the Hall. "All of us, that's what we think we can do."
Blackmon Jr., who committed to Indiana in September of 2010 before playing his first high school game, has been one of the most efficient shooters in the EYBL. In 18 games, he's 56 of 118 on 3-point attempts and is averaging 19.3 points, a mark that ranks seventh in the league.
At the NBPA Camp, Blackmon Jr. was named to the 10-player All-Star team and averaged 10 points per game. He was recently moved into the top 25 of the ESPN.com rankings for the class of 2014.
"Just getting a chance to play against the top players is a real good experience and proving how good of a player I am," he said. "And (it's a chance) to see where you're at against the top players."
The camp also provided the opportunity for Blackmon Jr. to talk to other recruits considering the Hoosiers and lend some insight into what's being built in Bloomington.
One of those players was his camp teammate, class of 2014 forward LeRon Black, who is seriously considering IU.
"I talked to LeRon and just talk to guys to see where they are," Blackmon Jr. said. "Just based on what type of player they are and what they can bring to the table. I just tell them how they'd fit in and things like that."
The overriding message Blackmon Jr. likes to pass on to his peers focuses on the fan enthusiasm for one of the country's blueblood programs.
"There's nothing like the fans there," he said. "The school is great and basketball is the sport there."
With his college destination decided long ago, Blackmon Jr. can focus on staying healthy and working on his game for the remainder of the summer. The decision to commit early is a decision the future IU guard says he would do all over again.
"Getting offers and all that would have been nice, but really to me, you can only go to one school and this is the school that I think fits me best," Blackmon Jr. told Inside the Hall at the Spiece Run-N-Slam. "That really hasn't changed since I committed."
(Photo credit: Kelly Kline/Under Armour)
Filed to: James Blackmon Jr.