Cody Zeller discusses compensation for college athletes, decision to enter draft with Bloomberg Radio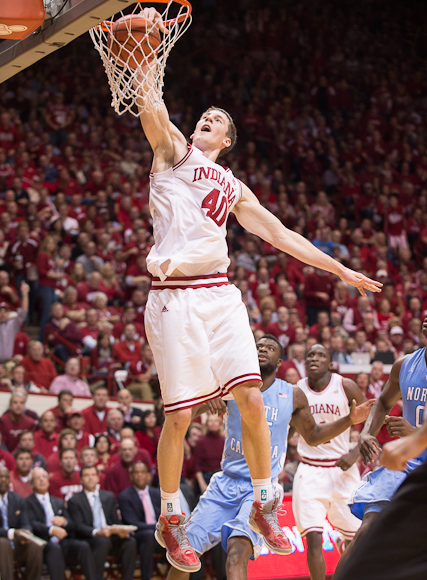 Former Indiana All-American Cody Zeller did a radio tour on Monday afternoon in advance of Thursday's NBA Draft, making stops on several national shows, including "The Hayes Advantage" on Bloomberg Radio.
With host Kathleen Hayes, Zeller discussed his viewpoint on compensation for college athletes, his decision to enter the draft, the style of play he'd best fit with in the NBA and much more.
Here's a transcript of the interview, in Q & A format, via Bloomberg Radio.
On whether he is pleased he stayed in school an extra year over entering last year's NBA draft:
"Yes. I was definitely excited to stay two years at Indiana. I could have left after my freshman year, but a big part of it had to do with not being as close to graduating as I am now. Right now I'm 35 credits from graduating from the Kelley School of Business after two years, so that's definitely within reach now."
On how tough the decision was to enter draft this year coming from a family that values education:
"It was tough for me, but like I said I'm within reach on it to go back for two summers to finish up, but education is important to our whole family just because you've got to have something to do after your basketball career ends. So it is very important to me."
On the biggest challenge he faces moving to the NBA:
"I think it will be an adjustment just moving to a new city where I won't know anyone, being 20 years old and on my own. And I think after I get settled in and meet new people that I don't think it will be a huge adjustment for me, but I'm definitely excited to figure out where I'm going so I can find a place to live and start getting going with all this."
On critics who feel he should have entered the draft last year:
"No. I don't worry about that at all. Like I said, an education is a big part of me, so I'm closer to graduating. And we had a great year this year and I wouldn't trade it for anything."
On whether he is surprised more players do not think about education:
"Yes. Somewhat. I think college basketball, playing here in the U.S. in college basketball is unlike anything else, playing in March Madness, playing against the best competition, for me personally I wouldn't trade that for anything if I had the opportunity."
On whether NCAA players should be compensated:
"I don't know. I've been a part of a lot of discussions and I can see both ways. I know for the big schools, the big basketball schools we earn so much money for the program. And obviously we don't get anything back, but I think it would turn into a big recruiting thing just because some teams wouldn't be able to pay as much. And so I think I like it the way it is, but there are definitely those discussions that go on a lot."
On who is his biggest competition in the draft:
"There are so many talented players, especially in this draft. I would say I'm looking forward to playing against both of my brothers. It will be interesting just because we've always played in the driveway or back at home, but it will be a lot different playing in an organized game with thousands of fans watching."
On where he would like to play pro ball:
"I don't really have any choice, so I'm excited for Thursday just to figure out where I'm going, where I'll be living and everything else. So I'm definitely excited for it."
On what type of NBA team would benefit from his skills:
"I'm more athletic and fast for a big guy, which is uncommon. So I think I would be best in a team that likes to get up and run, and score a lot of points on an offense. So I think I'll be able to help the team in that aspect. And hopefully I get on a team that plays that kind of basketball."
On advice given to him by his brothers:
"Nothing too much. I'm really close to both of my brothers, so it helps just having them go through all this stuff a couple of years before me. So I was always asking a lot of questions and being able to talk to them, kind of getting a feel for what it's like before I go through it."
On who will come out on top in the Big 10 this year:
"I think Indiana will be good again. We lost a lot of guys, but we have a lot of guys coming in as well. Our freshman class is going to be really good. And I think they'll be able to compete for the Big 10 Championship again."
Filed to: Cody Zeller