Recruiting Roundup: Nike EYBL Los Angeles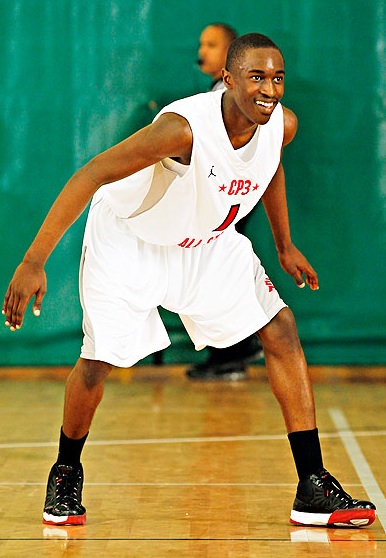 This weekend marked the first of two April evaluation periods, and one of the nation's top events was session one of the Nike Elite Youth Basketball League (EYBL) in Los Angeles.
Tom Crean and assistant Kenny Johnson were on hand at different points throughout the weekend tracking James Blackmon Jr. and various prospects being recruited for 2014, 2015 and beyond.
Here's a rundown of how many of the names on the IU radar performed over the weekend:
· James Blackmon Jr., Spiece Indy Heat: Indiana's lone commitment in the 2014 class had a terrific weekend in Los Angeles. Blackmon Jr. averaged 19.0 points and 4.8 rebounds and shot 53.4 percent from the field. Blackmon's high scoring game of the weekend (21 points) came in a 72-69 loss to Team Texas Pro, which features five-star point guard Emmanuel Mudiay. Spiece Indy Heat finished the weekend 2-2.
· Theo Pinson, CP3 All-Stars: Pinson (pictured), who is one of IU's top recruiting targets in the 2014 class, had a tough weekend shooting the ball as he hit just 32.6 percent of his shots over four games. His weekend averages were 12.3 points, 6.5 rebounds, 2.5 steals, 1.5 assists and one block per game. Pinson, who has already taken an official visit to Bloomington, has Indiana in his top three schools.
· Trevon Bluiett, Spiece Indy Heat: Bluiett's weekend ended prematurely as he did not play in Sunday's game after suffering a knee sprain. In three games, the Park Tudor senior-to-be averaged 18.5 points, 5.0 rebounds, 2.7 assists and 2.0 steals and shot 47.1 percent from behind the 3-point line. Bluiett worked in an unofficial visit to UCLA following the EYBL event.
· JaQuan Lyle, Spiece Indy Heat: As is typically the case with Lyle, he found ways to fill the statsheet besides simply scoring the ball. Over four games, the combo guard averaged 7.8 points, 6.0 rebounds, 4.0 assists and 2.8 steals. His turnover numbers, however, were a bit high at 3.5 per game. Lyle's list of schools remains at six with Florida, Illinois, Indiana, Louisville, Ohio State and Tennessee in the running.
· Elijah Thomas, Team Texas Elite: Thomas, who we profiled back in January, is one of the elite players nationally in the 2015 class. His list of suitors is full of the nation's elite programs and Thomas played well in Los Angeles, averaging 15.5 points, 7.0 rebounds and 1.3 blocks in 19.8 minutes per game. One area where the 6-foot-9, 225-pound Texas big man didn't excel was the free throw line, where he hit just 12-of-25 attempts for 48 percent.
· Phil Booth, Team Takeover: Booth, who took an unofficial visit to Bloomington for the Michigan game last February and said he expects to be back this fall for an official visit, left Los Angeles with Team Takeover unbeaten in EYBL play at 4-0. Booth averaged 10.3 points, 5.0 rebounds, 4.0 assists and 1.5 steals in 22.0 minutes per game.
· Marcus Derrickson, Team Takeover: Derrickson, a 6-6 forward from Paul VI Catholic in Fairfax, Virginia, is one of IU's primary 2015 targets and took an unofficial visit with his high school coach, Glenn Farello, for the regular season home finale against Ohio State. In Los Angeles, Derrickson played just 13.8 minutes per game, but averaged 5.5 points and 4.0 rebounds. In late March, Derrickson told The Washington Post that he's taking time with his recruitment, which already includes offers from more than 16 schools.
· Marcus LoVett, Mac Irvin Fire: LoVett, a 2015 point guard who played his first two years of high school in California but is originally from Fort Wayne, finished the weekend with totals of 8.8 points, 4.0 assists, 1.5 rebounds and 1.3 steals in 19.5 minutes per game. Known as one of the best ball handlers nationally regardless of class, LoVett shot it well in the first EYBL session, knocking down 48.1 percent of his field goal attempts, including 53.8 percent on threes.
· Ahmed Hill, Southern Stampede: It was a tough shooting weekend for Hill, a 2014 shooting guard from Augusta, Georgia. In four games, he shot just 34.2 percent from the field and 63.6 percent from the foul line and finished the weekend with averages of 9.0 points and 2.3 rebounds.
Filed to: James Blackmon Jr., Theo Pinson