2015 five-star big man Elijah Thomas talks Indiana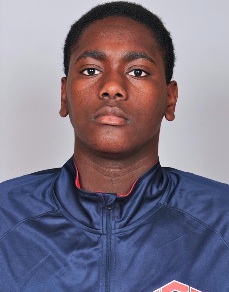 Indiana's ascent back to the top of the national rankings has been one of the major storylines in college basketball over the last year and that rise is shining a favorable light on Bloomington as a destination for the nation's top recruits.
After wrapping up one of the top classes in 2012 and 2013, the Hoosier staff continues to recruit aggressively for 2014 and beyond.
One of the latest names to surface on the radar is 2015 Dallas (Tex.) big man Elijah Thomas.
The 6-foot-9, 235-pound forward is rated the No. 6 player in his class according to ESPN.com and talked to Inside the Hall on Thursday night about his interest in the IU program.
"I've got a lot of interest in them," Thomas said. "I like watching them play. I like the way they develop players. And I like their style of play and how they're a family."
Thomas said he's spoken to assistant coach and recruiting coordinator Kenny Johnson and called that budding relationship "excellent."
He's also been watching Indiana games on television this season and said the way IU utilizes national player of the year candidate Cody Zeller is a major plus in his eyes.
"I like the way they let Cody Zeller make his own decisions," Thomas said. "They trust his basketball IQ so much. That appeals to me a lot. From watching coach Crean on television, he's just a really good coach. He knows how to push his players and make them successful on and off the court. I like that a lot."
Thomas spent his freshman season at Rockwall High School, but transferred to Prime Prep, which was founded by former NFL standout Deion Sanders, last month.
He also dropped 25 pounds, which has helped his explosiveness in the post.
"I'm strong [in the post]," he said. "I'm working on being a low post player because when I was younger I played guard so I have good ball-handling skills and a very high IQ. I'm a team player and don't really like taking bad shots. I can set screens for my teammates to help them score, block shots and start the break, score off of screens, get to the line and score in the low post one-on-one."
While he's still early in the process, Thomas reeled off an impressive list of schools that he's hearing from in addition to Indiana.
"Duke, Georgetown, N.C. State, North Carolina, Illinois, Baylor, Kentucky, Ohio State, Kansas, Florida, that's about it."
Filed to: Elijah Thomas