Five takeaways from Indiana's win over Penn State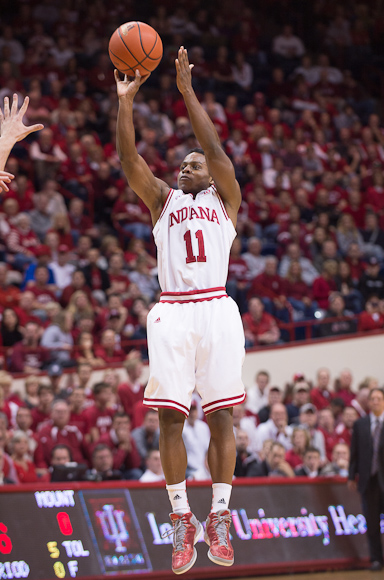 The Hoosiers completed a regular season sweep of Penn State with a 72-49 win on Wednesday night in Assembly Hall. Indiana has now won five straight over the Nittany Lions. The win moved Indiana, now 5-1 in the conference, to just a half game back of Michigan State, which visits Bloomington on Sunday.
Here's a look at five takeaways from IU's comfortable win:
· Yogi Ferrell built confidence early and sustained it all evening: Tasked with running the nation's No. 1 team to begin the season, it hasn't always been easy this season offensively for Ferrell, a McDonald's All-American. But the freshman point guard continues to improve as the conference slate rolls along and Wednesday night was perhaps the most assertive we've seen him in terms of looking to score the ball. "I was just taking what the defense was really giving me," Ferrell said afterward. "Victor found me and Christian [Watford] in the second half a lot and I was open so I was going to shoot the ball." He finished with a career-high 15 points on 6-of-7 shooting, including 3-of-4 from behind the 3-point arc.
· Will Sheehey's defense helps resurrect his offense: After totaling just six points over IU's last three games, Indiana's junior spark plug scored 12 points in 24 minutes. His impact on both ends of the floor was felt by his teammates. "It's big for our team," Victor Oladipo said. "Ever since he came in here with me you know it's been big that we impact winning and him coming off the bench and having games like that and impacting them on both sides of the floor is big for us going along and hopefully he just continues to keep doing that." As Indiana enters a brutal stretch of three games in seven days (Michigan State, at Purdue and back home vs. Michigan), it was perfect timing for Sheehey to find his footing as a scorer off the bench.
· Cody Zeller doesn't score a field goal, Indiana doesn't miss a beat: If you needed any further proof that Indiana's offense is one of the nation's best, you got it Wednesday night when the Hoosiers didn't get a field goal from Zeller and still won by 23. With the perimeter game operating at near peak efficiency, including eight straight 3-pointers at one point, IU's star sophomore didn't get many field goal attempts, but still impacted the game with eight rebounds. Penn State coach Pat Chambers said that the Nittany Lions playing zone may have limited Zeller, but it also opened up the perimeter. "I don't think Zeller played a ton of minutes; usually he gets in a lot more than he did tonight," Chambers said. "I saw him tweak his leg and I asked him if he was OK. He told me that he was. But the big thing was that we played zone. Sometimes that means giving up certain things, and they found our weaknesses by making the extra pass."
· IU contains D.J. Newbill and Jermaine Marshall: Although 30 of Penn State's 49 points came from their starting backcourt, Indiana played well defensively on both guys, particularly Newbill. The sophomore transfer from Southern Miss finished with 18 points, but needed 17 shots to get there and also had eight turnovers. Marshall, who had 47 points in his previous two games, finished with just 12 points. "Right now, the biggest thing we can work on is making sure that we are getting better as individual defenders, collective defenders, that our rebounding continues to improve, and that we keep turning defense into offense," Tom Crean said. "Sometimes you can do that in this league, and sometimes you can't." On Wednesday night, Indiana did it.
· Remy Abell's struggles continue: Indiana's bench got a boost with Sheehey's improved play, but Abell, one of the key substitutes for the Hoosiers, once again had a tough night. In six Big Ten games, Abell is averaging just 2.1 points and is 3-of-14 from the field. He hasn't made a field goal since the Penn State game on Jan. 7. It's tough to pinpoint exactly why Abell has struggled since the onset of conference play, but he played some of his best basketball last season later in the season and Indiana has to hope that's the case once again.
Filed to: Cody Zeller, Will Sheehey, Yogi Ferrell