Report: Jaren Sina has scholarship offer from IU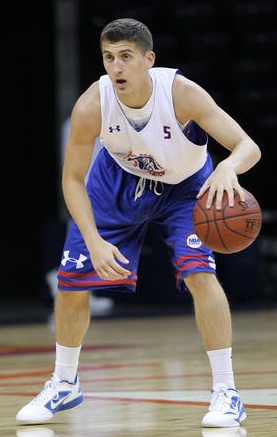 Indiana already has six signees in its 2013 recruiting class, but Gill St. Bernard's (N.J.) point guard Jaren Sina could make it seven for the Hoosiers.
In an interview last night at the Jordan Brand Classic Game, Sina told The Star-Ledger that he's still considering four schools — Alabama, Indiana, Northwestern and Seton Hall.
Sina, who was selected to play in the Jordan Brand regional game, did not play because of an injury.
Indiana was late to the party on Sina, but his conversations with coach Tom Crean have been positive and a scholarship offer has been made.

"Coach Crean has been recruiting me pretty heavy these last couple days," Sina told The Star-Ledger. "Especially with [guard Remy Abell] transferring out of the program. He's been on me pretty hard. We gotta see what happens with that. I was supposed to meet with him a couple days ago. Things happened with the schedule with the visit, but I'll have a chance to sit with him I think."
Sina originally committed to Alabama in January of 2011, but re-opened his recruitment in October of 2011 and signed a Letter of Intent with Northwestern last fall. He was then granted a release from Northwestern after the school fired Bill Carmody.
As a senior at Gill St. Bernard's, Sina averaged 21.2 points and 9.1 assists per game. He's rated a four-star prospect by ESPN.com.
Following the departures of Cody Zeller and Victor Oladipo to the NBA and the decision to transfer by Remy Abell, Indiana is currently at 13 scholarship players for next season.
Filed to: Jaren Sina