Indiana's dream season ended far too early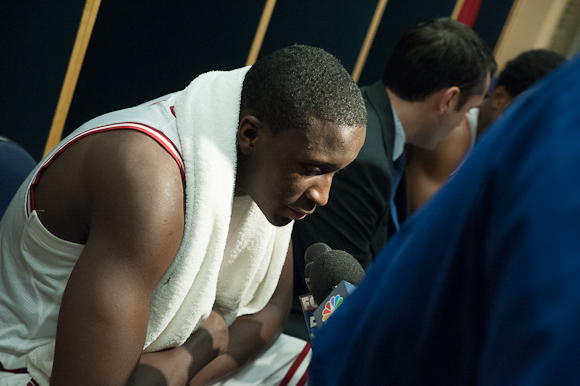 WASHINGTON — Jordan Hulls sat at his locker room in the Verizon Center, tears welling to his eyes when asked questions about the season and about his special senior class.
For four years, Hulls had dreamed of the opportunity he and his teammates had in front of them. They were a No. 1 seed, a favorite to reach the Final Four in Atlanta. All this after beginning from the very bottom with the NCAA Tournament a mere pipe dream.
This wasn't supposed to end so soon. This was Indiana's Dream Team, one constructed with so much talent and chemistry, it may never be replicated by Tom Crean and his staff. You can recruit all the top 50 players you want, but you can't make them like each other and play together the way these guys did. There will never be an Indiana team quite like this again.
Crean and his staff know that, which is what made this one hurt more than most. The Indiana coaching staff remained in the Verizon Center locker room until after 2 a.m., and the team bus didn't pull out of the arena until 2:21 a.m.
"There are no words to describe how I feel," junior guard Victor Oladipo said after Indiana's 61-50 loss to Syracuse in the Sweet 16. "I love playing with these guys. I'll never forget this team for as long as I live."
He should remember the good moments from this season. This team has earned that. Wins at Michigan, Michigan State and Ohio State. A Big Ten outright championship. Two All-Americans. A No. 1 seed. A second straight trip to the Sweet 16.
But, fair or not, the loss to Syracuse will probably always stick to the memories of the Indiana players the most. It was an opportunity missed, it turned an otherwise terrific season into a giant disappointment. The Hoosiers went to the Sweet 16 last year. This year, they needed to go further. They should have gone further.
"It's over," Hulls said, his voice cracking. "It's just tough. We prepared so hard, we just didn't go out there and execute like we needed to. It's a terrible way to go out."
All week long, we talked and heard about the challenge of the Syracuse 2-3 zone. The Hoosiers seemed confident on Wednesday, acting like they were prepared for the unique defense they would see.
But they were not. Twelve turnovers in the first half told you that. As hard as they may have prepared for Jim Boeheim's team, they didn't know and never did figure out how to attack and score against the zone.
"They're length is not really something you can practice against," Hulls said. "We turned the ball over, didn't hit shots. We were overthinking, didn't quite know what we wanted to do at certain times."
The Hoosiers made a run in the second half — they got it to within six points at one point — but they couldn't sustain it for a fairly simple reason: They didn't make shots. To beat the Syracuse zone, you have to make some perimeter shots to loosen it up. Indiana was 3-of-15 from beyond the arc.
"We were a little anxious, a little overwhelmed," Oladipo said. "We all just needed to take deep breathes and slow down, and after we did that, we started coming back. But we dug ourselves too deep a hole."
There's plenty of blame to spread around. Crean deserves some because he never found a way to beat the Orange's defense. Still hasn't in three career games against Boeheim. Hulls and Ferrell deserve some for their offensive ineptitude. Neither scored a single point.
"I'm sure the strength and the size of the Syracuse guards had something to do with it," Crean said. "It's a matter of where you enter the ball from, and we got tentative shooting the ball, which we didn't need to do. Our whole thing was to get our guards off the point so we could play more off the wing and enter the ball more from the wing and that was easier said than done."
Zeller deserves some blame, too, for not protecting the rim as well as he should have and for continuing to go up too soft to the rim at times. He'll be an NBA player someday, but he needs some serious work in the offseason.
But Syracuse deserves a helping of credit, too. The Orange entered the game as one of the hottest team in the country, a team too hot for Indiana to contend with.
"They're not where they're at for no reason," Crean said.
This group deserved to have a fairytale ending. It felt like they were destined to get one for much of the season. But that's it, it's over, and the team will never look the same. Hulls, Christian Watford and Derek Elston are gone. Maybe Oladipo and Zeller and Maurice Creek, too.
When the Hoosiers return for next season, they'll be equipped with a brand new chip, this one larger than before. They'll once again be the underdog, no one will believe they can win it all.
But, hey, maybe that's not so bad. After all, that's when Crean and the Hoosiers are at their best.
Filed to: Cody Zeller, Jordan Hulls, Syracuse Orange, Tom Crean, Victor Oladipo