Source: Hulls played through shoulder separation in final IU games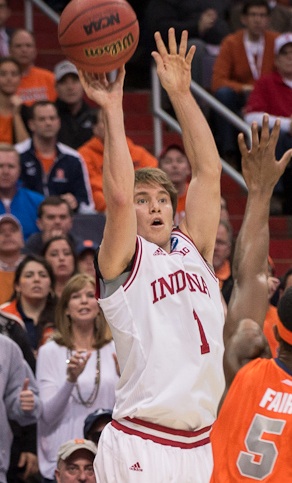 In the days leading up to Indiana's Sweet 16 game with Syracuse at the Verizon Center, much attention was paid to the health of the right shoulder of Jordan Hulls.
And that was with good reason.
After the IU senior was involved in a collision during the first half of IU's win over Temple, he returned in the second half wearing extra support under his jersey and scored five key points to help the Hoosiers move on to Washington D.C.
In the locker room after that win, Maurice Creek told reporters that Hulls told teammates that he'd "have to cut his legs off to keep him from playing" in the second half.
With three days of rest leading into the Syracuse game and comments on Wednesday from Hulls that he'd be fine to play in the regional semifinal, it appeared that his shoulder injury would not be an issue. Hulls knocked down 3-pointers from all over the court in IU's open practice on Wednesday and wasn't wearing any extra support underneath his jersey.
But when the ball tipped against the Orange, Hulls was again wearing the support under his jersey and a source tells Inside the Hall that the IU senior suffered a level 1 AC shoulder separation in the win over Temple.
The shoulder blade and collarbone are connected by the acromioclavicular or AC joint, which is held together by the acromioclavicular and coracoclavicular ligaments. In a level 1 separation, the AC ligament is partially torn, but the coracoclavicular ligament is not.
Hulls played 27 minutes against Syracuse, finishing scoreless (0-for-6 from the field) with three rebounds, two assists and a steal.
"I'm not going to make excuses about my shoulder," Hulls said after the Syracuse game. "I came into the game knowing if I got popped it was going to hurt. But I wasn't not going to play. I just had to go out there and make shots and I wasn't able to do that."
He's accepted an invitation to play in the Portsmouth Invitational from Apr. 10-13. Established in 1953, the Invitational invites 64 of the top college players (seniors) to participate in a four-day, 12 game tournament in front of representatives from every NBA team.
Hulls finished his career with 1,318 points and played in an IU record 135 games.
Filed to: Jordan Hulls