Five takeaways from Indiana's loss to Syracuse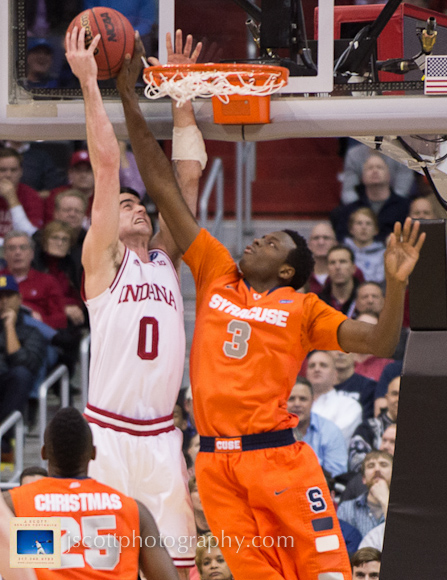 WASHINGTON — Indiana's NCAA Tournament run came to a screeching halt on Thursday night in the Verizon Center as the top-seeded Hoosiers were dominated by fourth-seeded Syracuse, 61-50. After winning the Big Ten regular season championship and spending ten weeks atop the Associated Press top 25 poll, IU failed to advance any further than it did a season ago.
Here's a look at five takeaways from the season-ending loss:
· Indiana was overmatched from the opening tip: This wasn't a game where Syracuse pulled away late or deviated from its game plan with some sort of trickery to foil the Hoosiers. Indiana failed to attack the Syracuse zone early and the game quickly snowballed in the wrong direction from there. The IU players and Tom Crean both talked on Wednesday about the team's lack of experience in facing a zone with the length and athleticism of Syracuse and it showed for nearly 40 minutes as IU committed turnovers on 27.7 percent of its possessions, a season-high. When the Hoosiers were able to get the ball inside, the Orange were erasing shots. In total, Syracuse finished with 10 blocks. "They come from a lot of different angles," Cody Zeller said afterwards in the IU locker room. "They're the best at it. We haven't seen it much throughout the year so it's kind of tough knowing what's going to be open and what's not. I don't know how you prepare any better for that. It's tough."
· Indiana's guard play fell way short of where it needed to be: A quick glance at the final stat lines for both starting backcourts paints an extremely one-sided story. For the Orange, Michael Carter-Williams and Brandon Triche combined for 38 points, nine rebounds, four steals, three assists and seven turnovers. For the Hoosiers, Jordan Hulls and Yogi Ferrell went scoreless and turned the ball over six times. In a tournament where guard play is a major factor for survival, Indiana's backcourt picked the wrong time to come up empty. Ferrell said afterward that Crean stressed developing more toughness to his players moving forward, an assessment the IU freshman couldn't disagree with. "I feel like that [we weren't tough enough]," Ferrell said. "Especially down low. I feel like we definitely could have finished better. It's not like we weren't tough enough on defense. We just weren't really as smart guarding the ball on defense. I feel like we could have been a lot smarter and that's on my part and the other guards, really."
· Indiana missed threes because it failed to get open looks: The Hoosiers have been in the top five nationally all season from behind the 3-point line in large part because of ball movement and finding open looks. Against a zone like that of Syracuse, simply swinging the ball around the perimeter from side to side didn't bear the openings that IU is accustomed to seeing. With IU's inability to establish a post game, Syracuse pretty much stood pat in the zone and challenged shots with length the Hoosiers hadn't seen all season. In fact, they had a couple of three-point attempts blocked. As a result, IU finished just 3-of-15 from behind the arc and Jordan Hulls missed six of those attempts, a performance he later said would likely haunt him for years. It was their second-worst three-point shooting performance this season.
· Cody Zeller finished with a double-double, but didn't play well: The final box score will tell you that IU's star sophomore finished what could be his final collegiate game with 10 points and 10 rebounds. A deeper dive into the numbers reveals that it wasn't a strong night for Zeller, who shot just 3-of-11 from the field and was unable to get to the foul line with any regularity. Time and time again, Zeller was blocked by C.J. Fair, James Southerland and Baye Keita and almost seemed surprised that whistles weren't coming. Zeller finished with three field goals, but five of his shots were blocked. But as we've seen at times this season, Zeller was dropping down on his way to the basket instead of finishing strong, which puts him at a natural disadvantage against long, athletic bigs who can just play him straight up. "We were just hoping the calls would come eventually," Zeller said. "But that's how it goes sometimes."
· Indiana failed to accomplish its goal: Late in the season, Tom Crean said in a press conference at Assembly Hall that this team "was trying to win a national championship." And with a trip to the Sweet 16 last March, a preseason No. 1 ranking and a Big Ten championship, expectations were, at a minimum, to advance further than last season. Given that that context, it's fair to say Indiana came up well short of where it was expected to be at the end of the season. The Big Ten championship, the program's first outright title in 20 years, isn't any less impressive now than it was before the loss to Syracuse, but ultimately teams are remembered for how they finish the NCAA Tournament. This team didn't take the next step that it talked about taking all season long and left plenty of unfinished business.
Filed to: Syracuse Orange