A second look at Indiana-Temple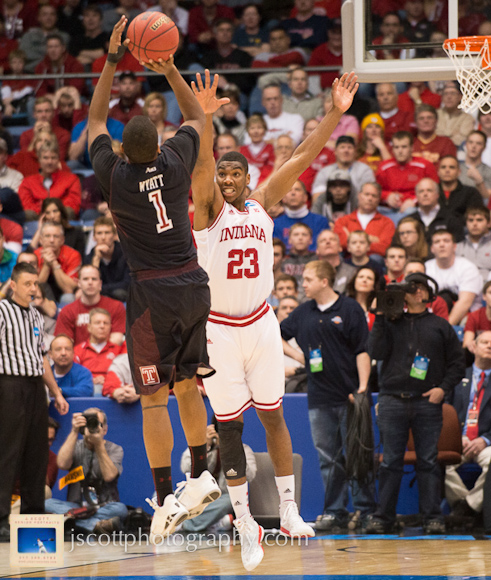 Sunday afternoon's game had so much to it, it was difficult to digest it all immediately after the game. Especially when a late March snowstorm was staring right at the greater Dayton area.
So, after more than 24 hours to think about and analyze the Hoosiers' 58-52 win over Temple, and how they got there, I took a look at the game in a much more complete way.
First, when I said in my column from Sunday night that the Hoosier won ugly, I wasn't kidding. It was UGLY in every possible way, and Indiana undoubtedly caught some breaks (like the fact that every Temple player not named Wyatt seemed to forget how to score), but to advance in the NCAA Tournament, you sometimes need an element of luck. Ask Marquette. Or Ohio State. Or Miami.
The fact of the matter is, in a game they had no business winning, the Hoosiers found a way to advance to the Sweet 16 for the second straight year. And ultimately, that's all that matters. I remember sitting on my couch watching the 2008 team play in the Tournament. There was no fight, no will, no desire. The Hoosiers faced adversity, and they quit.
When Tom Crean took control of the program, he vowed to change the culture. So give him credit because he has done that. Even when the Hoosiers trailed and couldn't seem to do anything right against Temple, they kept believing. They played hurt. They made winning plays.
That, more than anything, is what I take from Indiana's third-round win. Sure, it was ugly and there are many things that need to be corrected before it sees Syracuse on Thursday night, but we now know that this team has no quit in it (if we didn't already).
Who'd Wyatt score on?
Not everything about the Hoosiers' win over Temple, of course, was pretty. There was this guy, Khalif Wyatt, who went off in the first half and poured in 31 points. Wyatt's done it many times before, but his production against Indiana was a bit surprising because the Hoosiers knew how dangerous he was. And they had the Big Ten Defensive Player of the Year in Victor Oladipo to check him.
But nevertheless, Wyatt went off in a losing effort. So how much does it mean? How troubled is Indiana's defense going forward?
Answer: Not very.
Look, Wyatt dominated the first half. There's no denying that. But in crunch time when the best players shine, Wyatt was nowhere to be found. Oladipo started to guard him exclusively with about nine minutes to play in the second half, and Wyatt scored only two points down the stretch — on two free throws. Oladipo face guarded Wyatt all over the floor, and Wyatt too easily gave up and stood far away from the basket. He'd run Oladipo off one screen, and if he was denied, he'd run to the wing and stand.
Wyatt stopped getting to the lane where he could use his big body to get good looks at the basket. Instead, he settled for contested 3-pointers, and mostly missed them.
I went back and watched the game again, and payed attention to who was guarding Wyatt when he scored his points. Here's the breakdown:
— Against Will Sheehey: 10 points
— Against Oladipo: 9 points
— Against Remy Abell: 6 points
— Against Christian Watford: 4 points
— Against Cody Zeller: 2 points
Oladipo spent the most time on him, especially in the second half. And as I mentioned before, Wyatt scored only two points against Oladipo after halftime. Maybe Wyatt wore down, but maybe Indiana's defense improved and made adjustments. In reality, it was probably a combination of the two.
Zeller's struggles
I haven't ever been one quick to criticize Zeller because I know the kind of scrutiny he's been under since he got to Indiana and I know how much attention he gets from the opposition. But Zeller's performance against Temple left much to be desired.
He went up soft and failed to finish many times on the offensive end, and his defense wasn't great in the second half. In an effort to stay out of foul trouble, Zeller often just stands straight up when a player comes at him instead of moving and trying to alter the shot. Sometimes, that's effective. But many times, it's not. If Indiana is going to win a national championship, I think that needs to change, at least some of the time.
Hulls says his shoulder is 'fine'

Jordan Hulls hit two big shots down the stretch in Sunday's win, but he knew he was going to be sore on Monday. Hulls took a hit to his right (shooting) shoulder in the first half and had to head to the locker room at one point. But he played in the second half and was a big factor in the Hoosiers advancing.
"It's good," Hulls said after the game. "We'll see how it is tomorrow."
Filed to: Cody Zeller, Jordan Hulls, Khalif Wyatt, Tom Crean, Victor Oladipo