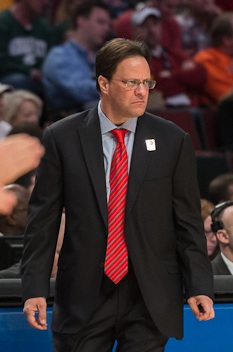 Update (10:55 p.m.): Despite trailing by double figures in the second half, Louisville rallied to beat Syracuse and claim the Big East tournament championship. The Cardinals have now won 10 consecutive games.
Suddenly, Selection Sunday becomes very interesting for Indiana because, as mentioned below, Louisville could threaten the Hoosiers for the top seed in the Midwest region. Both teams' resumes are updated below, and they are certainly very close.
Even with Louisville's win, CBS bracketologist Jerry Palm still had Indiana has the top overall seed in the tournament, as did CBS' Seth Davis. ESPN bracketologist Joe Lunardi moved Louisville to the top overall seed.
—
CHICAGO — Indiana isn't on the bubble. That's the good news for Hoosier fans. But Indiana's 68-56 loss to Wisconsin in Saturday's Big Ten Tournament semifinal might impact what region the Hoosiers end up in when the bracket is revealed Sunday night at 6 p.m. on CBS.
Had the Hoosiers beaten the Badgers, they likely would have locked up the No. 1 overall seed in the NCAA Tournament, and more importantly, the coveted Indianapolis Midwest regional. But after losing a 12th straight game to Bo Ryan and the Badgers, the Hoosiers could get shipped elsewhere.
While Indiana (27-6) will still end up with a No. 1 seed, the Hoosiers could be placed in the East region (Washington D.C.) or South region (Dallas), depending on what happens in other games around the country.
ESPN bracketologist Joe Lunardi still had Indiana in the Midwest region as of Saturday afternoon, but he has Gonzaga as the top overall seed and Louisville as the second 1-seed. If Louisville beats Syracuse in tonight's Big East championship game, Lunardi will give the Cardinals the top overall seed.
At this point, Louisville is the only team that could knock Indiana out of the Midwest, so let's compare the two teams' resumes.
Indiana
· Record: 27-6 (14-4 Big Ten)
· RPI: 5
· SOS: 11
· Home Record: 17-2
· Away Record: 7-2
· Neutral Court Record: 3-2
· vs. RPI Top 1-25: 7-2
· vs. RPI Top 26-50: 2-4
· vs. RPI Top 51-100: 3-0
Louisville
· Record: 29-5 (14-4 Big East)
· RPI: 3
· SOS: 8
· Home Record: 15-1
· Away Record: 8-3
· Neutral Court Record: 6-1
· vs. RPI Top 1-25: 4-3
· vs. RPI Top 26-50: 6-1
· vs. RPI Top 51-100: 5-1
The NCAA selection committee used to take into account how well teams were playing entering the tournament by considering their record over the the last 10 games. While they no longer do so, it's hard to ignore the eye test and how teams have looked lately.
The Hoosiers enter Selection Sunday with a 3-3 record in their last six games, and Louisville has won nine games in a row and 12 of 13 entering tonight. If the Cardinals win tonight, it will be extremely close as to which team is seeded higher Sunday night.
Filed to: NCAA Tournament