Five takeaways from Indiana's loss to Wisconsin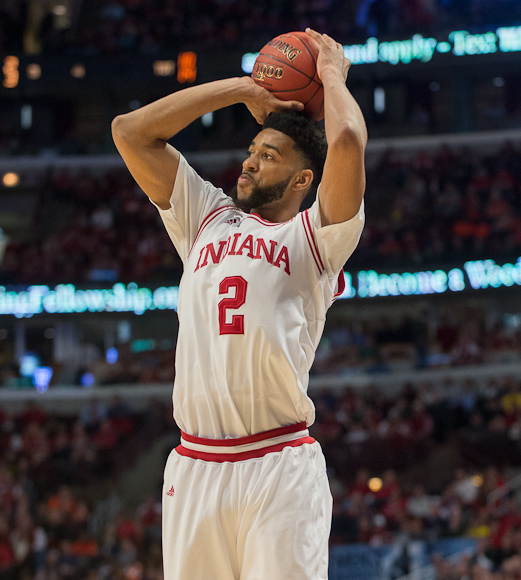 CHICAGO — In front of a pro-Indiana crowd on Saturday afternoon at the United Center, the Hoosiers dropped a 12th straight decision to Wisconsin, falling 68-56 in the Big Ten Tournament semifinals.
Here's a look at five takeaways from IU's loss to the Badgers:
· Whether coincidence or a blueprint, Wisconsin has IU's number: This was supposed to be the season that Indiana would finally solve the Wisconsin puzzle. But when the Hoosiers fell to Wisconsin 64-59 back in January, it appeared IU would be forced to wait another year to end the losing streak against Bo Ryan and the Badgers. Saturday's game in the Big Ten Tournament offered the opportunity to avenge a loss for a second straight day. As Indiana mounted a 9-0 rally in the second half to draw the game even at 40, the Hoosiers had momentum and the crowd behind them. Wisconsin, however, never deviated from its plan to force Indiana into a halfcourt game and out-executed the Big Ten champs down the stretch. IU scored just seven points in the last 9:45 and was dealt its worst loss of the season. "We knew that we were capable of having success against this team if we stuck to our rules and played our style of basketball," Jared Berggren said. "And we were able to do enough of that today to come up with a win."
· Wisconsin didn't let Indiana win with the 3-pointer: The strength of Indiana's offense is its efficiency from the perimeter. The Hoosiers shot close to 42 percent in Big Ten games on threes, but in two losses to the Badgers, that figure dipped to 27.5 percent (8-of-29). Through the first 20 minutes, it appeared Indiana might be in line to break through from distance by hitting 4-of-8 attempts. The second half was a different story as IU went just 1-of-9 from behind the arc. The struggles were a combination of the Hoosiers missing some open looks and the Badgers shoring up many of the openings IU was able to exploit in the first half.
· Indiana didn't defend well enough to win: It wasn't Indiana's worst defensive performance of the season, but there were plenty of lapses the Hoosiers will be reviewing before the NCAA Tournament tips off next week. Among them: Poor rotations on perimeter shooters, defensive rebounding and allowing Wisconsin to score 30 points in the paint. The Badgers shot 7-of-18 from behind the 3-point line and scored 18 second chance points. "The biggest story for us is we've been defending the 3 the last six, seven games at an incredibly high level and today we didn't," Tom Crean said. "And they got some kick-out threes and things of that nature, but we got away from what had been making us better. We started to over-help again and tried to cover for one another when there was no need to do it. Those are the things we just can't do."
· Badgers bench more effective: A day after Indiana's bench was a strength in a win over Illinois, the Hoosiers again struggled to find points from beyond the starting five. Will Sheehey shot just 1-of-7 and finished with two points and while Remy Abell played well with six points in 15 minutes, Wisconsin's bench put together 17 points. Freshman Sam Dekker was especially crucial for Wisconsin, scoring seven straight points in a second half run and later pushing the Badgers back to a seven-point lead with a dunk in transition at the 4:08 mark. "A lot that we don't talk about is guys like Frank [Kaminsky] and Sam coming in and stepping up, how big that is for us, guys off the bench," Ryan Evans said. "That's needed if you want to win championship in any tournament."
· Indiana may have cost itself the No. 1 seed in the Midwest: It will be the storyline going into tomorrow night's NCAA Tournament selection show: Indiana vs. Louisville for the No. 1 in the seed in the coveted Midwest Regional being played in Indianapolis. The Hoosiers could have sewn up that path with a win on Saturday, but Louisville's Big East Tournament championship win over Syracuse thickens the plot heading into Sunday night. Opinions on the matter differ between bracketologists: CBS' Jerry Palm believes IU is still the No. 1 overall, while Joe Lunardi of ESPN has elevated Louisville to that spot with its win. Ultimately, IU fans will travel well regardless of the venue, but the advantage of playing just 45 miles away from Bloomington for a shot at the Final Four would be major.
Filed to: Wisconsin Badgers