The Minute After: Wisconsin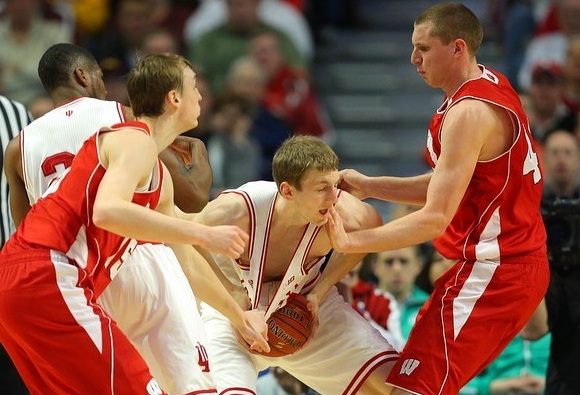 Photo via Dennis Wierzbicki-USA TODAY Sports
Thoughts on a 68-56 loss to the Badgers:
CHICAGO — Another shot at the Badgers for Tom Crean's Hoosiers, and a frustratingly familiar result. Indiana had its chances to finally put together the Wisconsin puzzle, but it still remains unsolved with Indiana left picking up the pieces.
Jared Berggren worked hard and denied Cody Zeller post touches. Against the Illini, Zeller dominated a weak frontline. But he had to work and work and work this afternoon and found but a few decent looks all game. Mike Bruesewitz said after that Berggren "set the tone early" by knocking entry passes away and made "life miserable for (Zeller)." The numbers back such a statement. Zeller didn't score his first bucket until the 3:49 mark of the first half — against a less-skilled post defender in Frank Kaminsky. He finished the game just 4-of-10, though a 5-of-7 performance from the line allowed him to sneak into double-digits (13 points).
"They do a nice job inside of not fouling, clogging the lane a lot," Zeller said of Wisconsin's defense.
But it was more than just the job the Badgers did on Zeller. Wisconsin's defense suffocated Indiana's offense over the final 9:45 of the game. After pulling to within one at 50-49, Indiana would score just seven points the rest of the way. The Hoosiers sat at 49 until a Christian Watford score at 5:13 gave them 51. Another score from Watford at the 3:42 mark and a late 3-pointer from Jordan Hulls (:34) would be the only points the Hoosiers mustered. They tried freeing Hulls. They tried Victor Oladipo going around ball screens. They tried going inside to Zeller. They tried converting on second-chance opportunities at the rim, only to miss. Wisconsin simply froze them in the halfcourt, took them out of what they tried to do.
"I think we played great defense," Ryan Evans said.
They did. Wisconsin's defensive efforts this afternoon resulted in Indiana's lowest offensive output of the season (.89 points per possession). It was Indiana's first double-dight loss of the season and the lowest final point total (56) of the season, too. The only other times Indiana has been held under 60 in 2012-13? Its previous loss to Wisconsin on Jan. 15 (59) and its loss to Ohio Sate on senior night (58).
And against this Wisconsin team, a team that bleeds the clock when it gets a lead and finds ways to score late in the shot clock to break your heart, it's an almost impossible quest to mount a comeback if you're not scoring on your own end. The Hoosiers used the 3-ball in the first half to stay close (4-of-8), but that went away in the second half (1-of-9). Indiana closed the gap twice in the first 10 minutes of the second half with runs, but the last 10 minutes it just didn't score enough to make this a game.
Wisconsin was sloppy and turned the ball over on 22.5 percent of its possessions. Indiana ripped steals (nine) and the Wisconsin turnovers led to 22 points for the Hoosiers. But the Badgers' halfcourt defense and strong work on offense (1.08 points per possession, 58.2 eFG%) more than made up for their miscues. Ryan Evans was particularly good, making his way around Watford with ease on a couple occasions. He finished with 16 points on 7-of-12 shooting.
"We would have liked to play better today, no question," said Tom Crean.
After a few blow-by handshakes this season and his dustup with Michigan assistant Jeff Meyer, Crean, perhaps with intent and design, was more cordial this time around with Bo Ryan. They stopped for an extended period and talked in each other's ear.
"I told him he was a great coach," Crean said of the conversation after the game. "I've always looked up to him and what he's done with his program. I hope they go a long way in the NCAA Tournament and hope his father starts feeling better."
Another chance, another loss, and Indiana will head into the NCAA Tournament licking some wounds. But six days off gives them time to regroup and refocus. And maybe most of all, rest, instead of playing three games in three games here at the United Center.
The real tournament awaits. Indiana's shot at banner No. 6 is here.
Filed to: Wisconsin Badgers