Five takeaways from Indiana's win over Illinois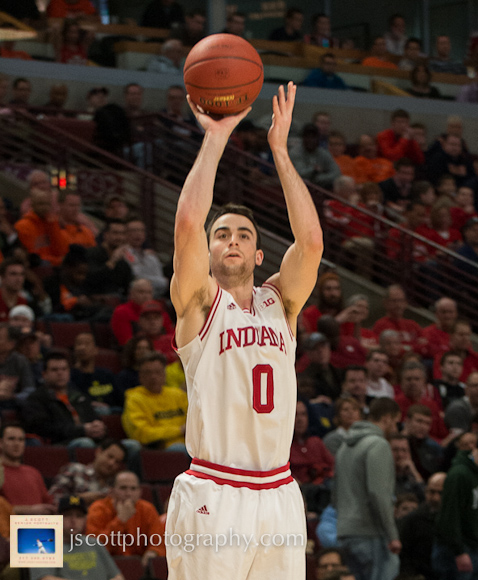 CHICAGO — Indiana advanced to the semifinals of the Big Ten Tournament for the first time since 2006 with an 80-64 win over Illinois on Friday afternoon at the United Center.
Here's a look at five takeaways from IU's comfortable win over the Fighting Illini:
· Indiana's balance reigns supreme: When the Hoosiers are at their best offensively, the ball is moving and that was certainly the case on Friday afternoon as IU had assists on 16 of its 27 baskets. For a while, it appeared Cody Zeller would be well on his way to a career-high, but as his looks decreased down the stretch, other Hoosiers stepped in to fill the void. Eight of Yogi Ferrell's 12 points and 10 of Victor Oladipo's 12 came in the second half. In total, Indiana had five players finish in double figures in scoring and Jordan Hulls, who didn't make a field goal, dished out seven assists. "Coach always says 'just spraying the court.' When we do that and we're just flowing, out there playing, I feel like that's when we're at our best," Ferrell said. "Doing that got us a lot of drives, a lot of open look shots."
· Productive minutes from the bench: A welcome sign heading into NCAA Tournament time was the production Indiana received from its bench. All five starters avoided foul trouble and played more than 30 minutes, but Will Sheehey and Remy Abell combined for 16 points in 29 minutes. Particularly of note was the performance of Abell, who hit a 3-pointer and a long two and finished with five, matching his total offensive output from his last six games. The play of Abell didn't go unnoticed by Illinois coach John Groce. "I thought he gave them positive contributions, made a couple of jumpers, which he typically doesn't do that," Groce said. "Those are big plays."
· Hoosiers avenge loss in Champaign: With less than 24 hours to prepare for Illinois, Indiana didn't have too much time to think about last month's collapse in Champaign. The Hoosiers led that game by 14 in the second half before a late collapse ended with a Tyler Griffey layup and a court storm by the Orange Krush. But as Illinois trimmed the IU lead to eight with 8:17 to go, the Hoosiers refused to allow the Illini to draw any closer in the rematch. IU quickly pushed the cushion back to 13 at the 5:31 mark on a Christian Watford 3-pointer. "All gas, no breaks" has been this team's motto all season and offensively, Indiana kept attacking down the stretch rather than playing tentative.
· Zeller continues his strong March: Tom Crean has talked about the importance of peaking in March and April rather than January or February and it appears that Zeller is saving his best basketball for last. Over his last two games, IU's star sophomore has amassed 49 points (19-of-30 FG's, 11-of-14 FT's) and 19 rebounds in 70 minutes. While Trey Burke and Oladipo dominated the conversation for the conference's player of the year award, Zeller is proving that he too belonged in the discussion. "He was a load," Groce said of Zeller's play on Friday afternoon. "There's a reason he's on all those magazines to start the season. First-team All-American candidate, probably a national player of the year candidate. He's a terrific player."
· Indiana stifles Brandon Paul: The Illini's leading scorer admitted that he didn't like Indiana following his team's win on Thursday over Minnesota and whether those quotes served as motivation for the Hoosiers is anybody's guess. But the Hoosiers played like a team hell bent on limiting the number of clean looks for Paul. When the final buzzer sounded, Paul's line looked like this: 2-of-13 from the field and three turnovers. If not for a 11-of-12 performance from the foul line, Paul's afternoon would have been a complete failure. "They get into you," Paul said afterward. "Obviously [Victor] Oladipo is a great defender. They play hard. They're scrappy."
Filed to: Cody Zeller, Victor Oladipo