The Minute After: Illinois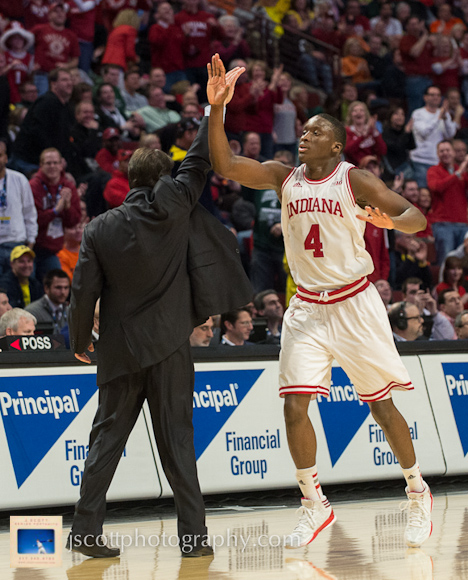 Thoughts on an 80-64 victory over Illinois:
CHICAGO — Two D.J. Richardson free throws closed the gap to 60-52 with 8:17 to go, and you wondered: Would it happen again? Would the Illini make a late charge like they did all those weeks ago in Champaign and make a game of it after the Hoosiers had controlled it for so long?
Nope. Not this time, not this team. It was as close as Illinois would get the rest of the way, as Indiana simply wouldn't allow for a collapse. It finished the game on a 20-12 run — enough for a comfortable 16-point victory and punctuated with a breakaway #nomee 360-degree slam from Victor Oladipo, who shut down a whining Brandon Paul (2-of-13) and posted yet another double-double (12 points, 11 boards).
Both teams would have difficulty adjusting to the United Center's sight lines to begin the contest. By the second TV timeout, the Hoosiers and Illini were only a combined 5-of-19 from the floor. At half, the teams combined to shoot only 2-of-14 from distance. It was also a bit of a slopfest; they combined for 19 turnovers. But the Hoosiers were able to take a 14-point lead (35-21) into the break because of their ability to score at the cup (18 points in the paint) and get to the line (10-of-12) — accounting for 28 of their 35 first half points. Indiana also put on a defensive clinic and held the Illini to just a 7-of-27 (25.9 percent) shooting from the floor.
Things opened up a bit for both team's in the second half, which allowed Illini that run to cut the gap to eight. But by game's end, the Hoosiers held U of I to under a point per possession (.96), just about what the Hoosiers' defense averaged in league play (.98).
Cody Zeller is dominant in his own right, but against Illini's weak frontline, he feasted all game long and was efficient in the process — a 9-of-11 performance for 24 points. He would post a perfect 6-of-6 line from the line and find Will Sheehey — who was strong offensively for a second straight game (11 points, 4-of-4) — on a nifty back door cut in the first half. His afternoon would not be without fault, though, as he did record four of Indiana's 16 turnovers. The Hoosiers turned the ball over on 21.3 percent of their possessions.
Indiana also kept things out of reach for the Illini on the strength of its rebounding. Carrying over from the Michigan game, the Hoosiers again got after it on the offensive end, snatching up an impressive 45.8 percent of their misses, leading to 12 second-chance points.
The Hoosiers had a typical share-the-ball offensive performance (1.24 points per possession) and had four players in double figures. The aforementioned Oladipo and Zeller, as well as Yogi Ferrell, who missed all five 3-pointers he took, but was perfect otherwise on a 5-of-10 performance from the field and 2-of-2 mark from the line for 12 points. Christian Watford was engaged and and hit 2-of-3 from distance and 7-of-8 from the line to cap a 15-point performance. Jordan Hulls finished with just one point, but his seven assists outpaced the entire Illinois roster (6).
This was a strong outing for the Hoosiers on both ends of the floor to start and it bodes well for the rest of the weekend. Tomorrow's opponent — be it Michigan or Wisconsin — is likely to bring a tougher challenge. It's hard to beat a team three times in one season no matter who they are. And Tom Crean has never beaten Bo Ryan as coach of the Hoosiers.
But if Indiana brings this type of high-level play Saturday as well, it should be well positioned to advance to Sunday's championship bout.
Filed to: Illinois Fighting Illini