Crean, Hoosiers will look to end losing streak against Wisconsin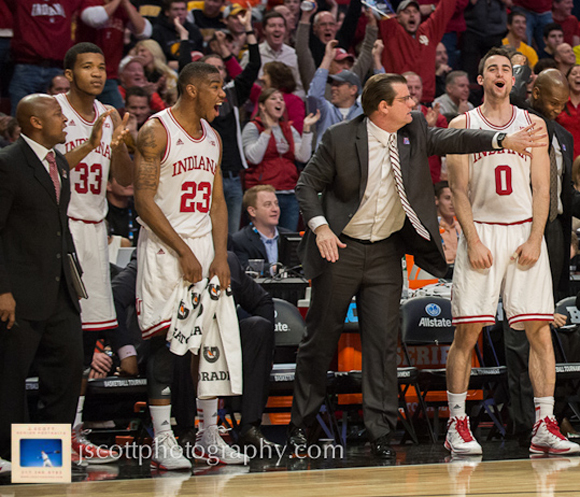 CHICAGO — Entering the Big Ten Tournament, there were only two conference teams the Hoosiers hadn't beaten this season: Illinois and Wisconsin.
The Hoosiers took care of the first one in an 80-64 victory Friday afternoon at the United Center. They'll get a chance at the second on Saturday.
No. 3 Indiana (27-5) will play the Badgers for the second time this season at 1:40 p.m. Saturday afternoon. Wisconsin won the teams' only regular season meeting, 64-59, at Assembly Hall on Jan. 15. The Badgers beat Michigan on Friday to advance to the tournament's semifinal round.
Tom Crean probably wouldn't admit it, but Saturday's game has to mean a little bit extra to him because of the opponent. Wisconsin is the only Big Ten school Crean hasn't beaten during his tenure in Bloomington (0-9). Oh, and Bo Ryan is an old rival from Crean's days at Marquette.
Why the success against the Hoosiers?
"I don't know about anything that you're talking about," Ryan said. "What would I know about that? … I don't even think about those kind of things. Never have. People that know me will tell you that."
Wisconsin freshman guard Sam Dekker provided a better breakdown, but he wouldn't go as far as to say the Badgers have Indiana's number.
"It's always a big stage," Dekker said." Indiana is a storied program, it's always a game that we get amped up to play. Whenever you're playing a team that that's good and whenever you have respect for a team like that, you want to go out there and knock them off and let people know what you're made of."
Wisconsin (22-10) limped into the Big Ten tournament by losing two of three games down the stretch, and the Badgers didn't exactly look like an elite team in the first half of Friday's game against Michigan. But like they always do, the Badgers slowed the game down, mucked it up a bit, and won.
That's the formula that has helped Wisconsin own Indiana of late. The Hoosiers want to get out and run. Wisconsin would like nothing more than to keep them from doing so.
"The past few times we've played them, we've done just enough to find some wins," said Wisconsin forward Jared Berggren. "We've had some success against them. We know that they're gonna be hungry to get some revenge on us."
Playing to win
Every year around conference tournament time, there is talk of the fatigue associated with making a run to the championship game. Some will always argue losing on Saturday is better for the team in the long run.
Will Sheehey was asked after Friday's game whether the Hoosiers' goal is to win the Big Ten tournament title. Sheehey shook his head, and then smiled.
"Of course, man," he said.
The reporter rephrased his question. Sheehey's answer didn't change.
"We wanna win it," he said. "I think every team in it is equally as hungry as us."
Regardless of whether the Hoosiers advance to Sunday and win the tournament, their seeding in the NCAA tournament is likely already secured. Indiana all but locked up a No. 1 seed with its win on Friday, and likely in the Midwest region. The only thing still to play for is the No. 1 overall seed, which isn't all that significant anyway.
"I would hope we have done enough [for a No. 1 seed]," Crean said. "I think when you have the league the way that it is and you win it outright the way that we did. And I think one of the bigger things is the way we played on the road and the only home losses that Ohio State, Michigan, and Michigan State have are to us. And that says a lot, because those are three teams that can win a national championship and have been considered that way most of the year. So I would hope that we have, but that just remains to be seen."
Inside the locker room
Here's some of the best reaction to Victor Oladipo's 360-degree dunk against Illinois on Friday.
"I'd give it an '8'. You should see what he can do. He can do better than that."
— Will Sheehey
"I've seen it all. So anything you guys see that you think is 'Wow!' I just think is normal from him."
— Yogi Ferrell
"There's plenty of options, but I just went with the safer one."
— Oladipo
Filed to: Bo Ryan, Sam Dekker, Tom Crean, Wisconsin Badgers