Elston's bumpy ride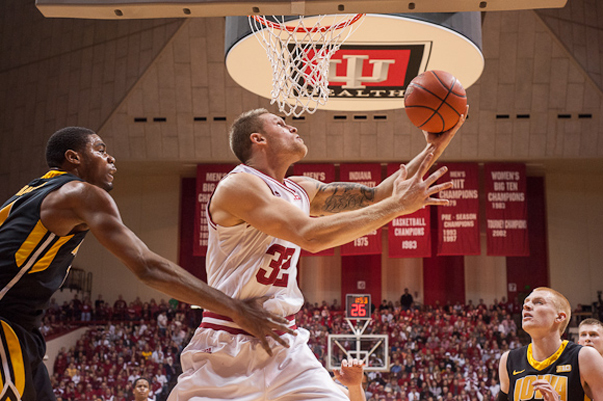 Faced with a career full of obstacles, Elston still found ways to contribute
By Justin Albers
Derek Elston and the rest of his class stepped onto campus in 2009, not knowing what to expect. Elston had honored his commitment to the Hoosiers despite a coaching change, but this wasn't what he signed up for.
Elston, a Tipton, Ind. native, committed to the Hoosiers in Sept. 2007 as a high school junior. Former North Central standout and current New Orleans Hornet Eric Gordon was set for his freshman season at Indiana, and would be a junior when Elston got to Bloomington if he stayed in school.
It was the dream Elston had always envisioned. He would play for the state school under a coach he really liked in Kelvin Sampson, and be part of a team loaded with talent.
That's not how it worked out.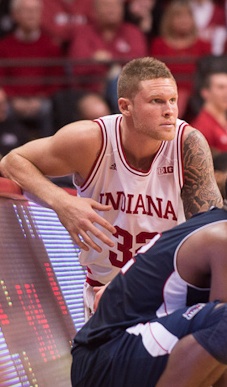 Bolt for Butler?
Sampson was gone in 2008, Gordon bolted for the NBA, and Tom Crean was hired to come in and clean up the mess. Others left too, leaving Crean and the Hoosiers with virtually nothing. IU finished its first season under Crean with a 6-25 record. The 2009 class arrived on campus and won only ten games in its first season at Indiana and 12 in its second.
Elston and his classmates started to wonder what they had gotten themselves into.
"Most of the questions came from my dad, just a couple questions about what I wanted to do," Elston said. "A couple guys on the team were kind of wondering what everybody was gonna do. At that time, we had some guys on the team that had a lot of talent. A lot of people thought maybe Butler would be the right move because, at that time, they had made it to the finals twice."
But no one left for Butler. The core of the class remained intact. Elston, who had never been recruited by Crean and didn't always see eye to eye with him in his early years at Indiana, honored his commitment and stayed with the Hoosiers.
'Why is he yelling at me?'
While everyone in the program experienced the struggles of the first two years under Crean, Elston's classmates eventually prospered. Christian Watford and Jordan Hulls have had memorable careers and have been a large part of Indiana's on-court renaissance.
Things never came as easily for Elston. His Indiana career has never been what he anticipated it'd be when he signed back in 2007. In his first two years, he struggled to understand and adjust to the college game. When he got on the court, he would too often be out of position, and he'd find himself right back on the bench.
A lot of Elston's struggles came as a result of an inability to understand Crean. When he made mistakes and Crean yelled at him in practice, Elston didn't know how to react. Associate head coach Tim Buckley eventually acted as a buffer.
"When coach Crean would get on me about things I was doing wrong, coach Buckley would grab me off to the side and just say, 'I realize he was yelling at you, but you have to realize what he was saying in those words,'" Elston said. "And that's what I kind of didn't get in those early years. I got coach Crean kind of yelling at me, and I was like, 'Why is he yelling at me?' And coach Buck would be, 'But what did you take from it?'"
It wasn't only Crean that Elston didn't feel comfortable with. He didn't really seem to click with the older players on the team, so he usually stayed quiet and tried to learn by observing.
"I didn't really ask a lot of questions just because I didn't really know the guys," Elston said. "A lot of the guys, it just wasn't there. You couldn't ask them, and they really didn't know. It was all kind of everywhere, everybody was everywhere."
Eventually, the game slowed down for Elston, and more talented players entered the program. But other issues emerged. After getting off to a solid start last season by scoring in double figures in two of his first five games, Elston suffered a broken nose that forced him to wear an uncomfortable mask. Again, it took him awhile to adjust.
And then, after spending the entire offseason shedding weight to prepare for his new role on the perimeter, Elston tore his meniscus just before the start of this season and has played a total of only 92 minutes.
"When I got the phone call from coach Crean telling me that I tore my meniscus, I was sitting on the couch at my apartment," Elston said. "When I hung up the phone, a little bit of myself kind of teared up, but I realized after surgery I couldn't just hold my head down and walk around and not say anything to the guys.
"Not only to tear your meniscus and have to sit out 6-8 weeks, but to not even know how you did it, it's unbelievable. I was so ready for the season to get going, and that kind of happened."
Filed to: Derek Elston