Notebook: Oladipo wins Big Ten player of the week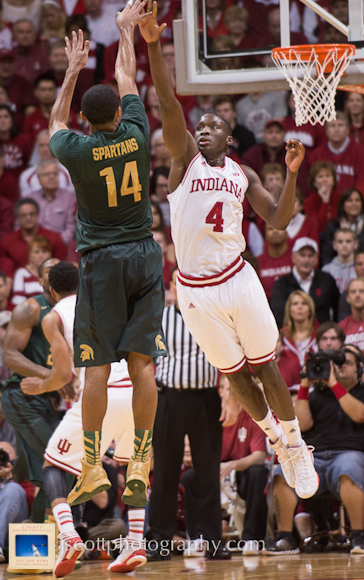 For the second time this season, Indiana junior Victor Oladipo was named Big Ten player of the week. The award is announced every Monday morning by the conference.
It was the second player of the week award this season for Oladipo, who scored 19 points, grabbed nine rebounds and had five steals in last Tuesday's 72-68 win at Michigan State.
"There were a lot of very deserving guys this week. There were a lot of excellent games as there usually is in the Big Ten," Indiana coach Tom Crean said earlier today on the Big Ten coaches teleconference. "Victor did some amazing things, especially at the end of our Michigan State game."
Oladipo also won the award on Jan. 28 and Cody Zeller has won it twice as well (Jan. 14, Feb. 4).
Michigan's Trey Burke has three player of the week awards, which leads the conference.
Oladipo injury update
Despite playing at what he described as 85 percent healthy, Oladipo put together what Michigan State coach Tom Izzo called a "MVP" type performance in IU's win at East Lansing.
But with a tough four-game stretch to close the regular season, a week between games could end up being beneficial for IU's player of the year candidate as he rehabs a sprained left ankle suffered in IU's 83-55 dismantling of Purdue.
"We were very careful with that," Crean said of Oladipo's ankle. "He looks fine. There's no question about it. We pulled him in and out of a few things, but at the same time though, he looked good."
Indiana had off days on Wednesday and Saturday because it played three games the week before, but the time off or the injury didn't stop Oladipo from putting in extra work as he's done all season.
"It sure didn't stop him from being in the gym extra, I know that," Crean said. "I think he'll be fine. What level he's at, I think we'll just have to wait and see what it's like tomorrow night, but I know it's a lot better than it was."
Hoosiers not unanimous No. 1
For the second straight week, Indiana sits atop both the Associated Press and USA Today/ESPN coaches top 25 polls. But even with IU's road win over then No. 4 Michigan State, the Hoosiers are not a unanimous No. 1.
IU received 64 of 65 available first-place votes in the AP poll and 28 of 31 available first-place votes in the coaches poll.
Gonzaga received the other votes for No. 1.
The Big Ten again had a heavy presence in both polls, placing five teams (IU, Michigan, Michigan State, Ohio State and Wisconsin) in the top 17 of each.
"Hoosier rising" DVD released
IU Athletics announced Monday "Hoosier Rising: The Past and Present of IU Basketball," a DVD release which "chronicles the spectacular history of Indiana University basketball."
According to a release from IU media relations, the DVD was produced by Ideogram Media in cooperation with IU Athletics, and features never before seen footage of the greatest moments in IU basketball history and exclusive interviews with IU basketball luminaries such as Randy Wittman, Steve Alford, Keith Smart, Jared Jeffries, Bobby "Slick" Leonard, Brian Evans and many more.
Hosted by John Laskowski, the DVD can be purchased online at www.traditionofsports.com for $29.95 and will be available in the IU Varsity Shop and the IU Bookstore for the final two home men's basketball games.
Inside the Hall's Justin Albers also appears in the film.
Filed to: Victor Oladipo